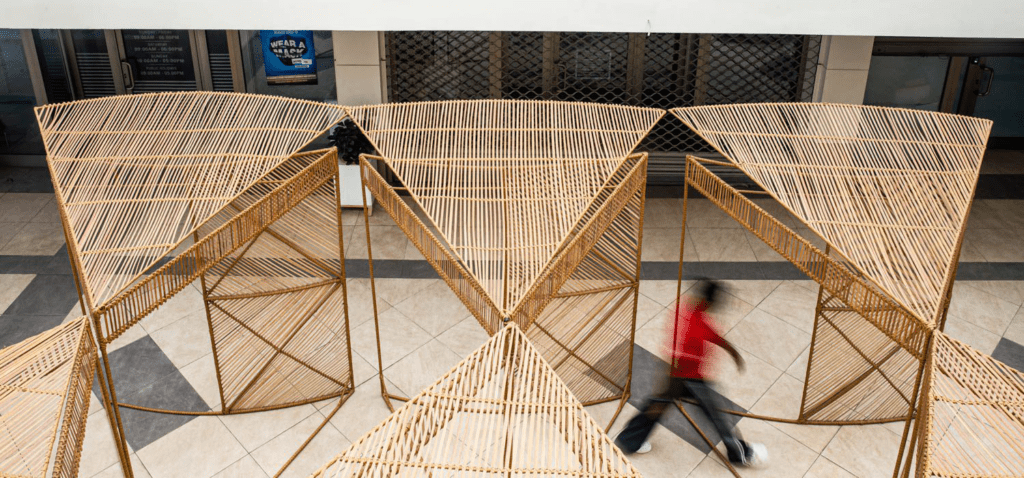 10 Questions With… Nifemi Marcus-Bello
Nifemi Marcus-Bello can't fathom how far his curiosity has gotten him—at first, he thought creating his eponymous design studio in 2017 would afford him all the answers to his questions but he admits he has much more to discover. On Zoom, there is something soothing about his voice as we giggle about the poor network issues in his native Nigeria.
In the past few years, the designer has been one of several ushering new life into the country's design scene—creating products that aren't just unique but eccentric in gaze. Marcus-Bello earned his bachelors and masters degrees at the University of Leeds where he studied industrial and product design. Then he worked for a few companies and returned back to Nigeria to start NMBello Studio where he designs and collaborates with renowned brands at home and abroad. The designer prides himself on creating products from a historical perspective with a contemporary redefinition.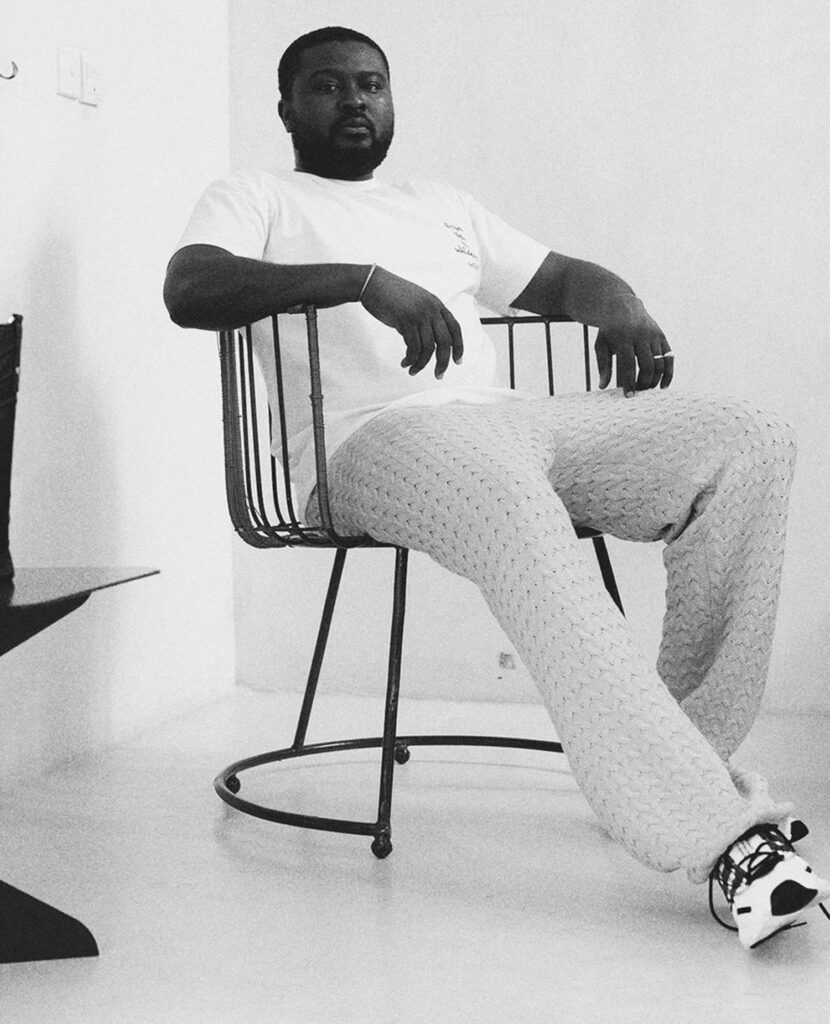 Interior Design had a chat with Marcus-Bello about his career progression and release of the M2-Shelves, which are on exhibition at the Biennale International Design Saint-Étienne until August 22.
Interior Design: Can you tell me more about the M2-shelves? What inspired them?
NMB: I currently have a new project, which are two-piece shelves: the D-shelf and the bespoke shelf and they are currently at the Tiwani gallery. The idea behind the shelves came from trying to design something that was sculptural and functional. I wanted to create a product that could stand on its own but be a functional piece as well. I really wanted the object in itself to be as obtrusive as possible so at the forefront of whatever space it occupies, it has a presence.
Currently, where I'm at as a designer, I have more questions than answers so anytime I'm approached to design an object, I tend to ask more questions. Some of the questions I was looking to ask were: What does old-age African design look like? What identity did it have? How can we sort of look at the past to create something substantial in the future? I think I looked into a lot of sculpture and figurines and objects that have the same shape-silhouette as the shelves, which is functional but at the same time would give a sculptural definition. I was looking for a way to translate these objects into a contemporary perspective. One of the main objects I drew inspiration from and looked at was the Ogbom 19th century artifact from the Igbo tribe, which is actually a wooden sculpture itself.
ID: During the production of these projects, how did you source for material and what did you work with?
NMB: I wanted to create something from a fusion of the old and the contemporary—all the materials were locally sourced. For my own design process, I tend to design around production capabilities and manufacturing capabilities that are available in Lagos. This tends to drive and dictate the final form and also the design direction. With most of the design I have done in the past, this is the approach I take. Even if I have inspiration, I can only be realistic with what materials are available and what can be made around me. So for these shelves, the metal parts were made by a generation manufacturer based in Ikeja and the wooden parts were made with a joinery company in Lagos as well.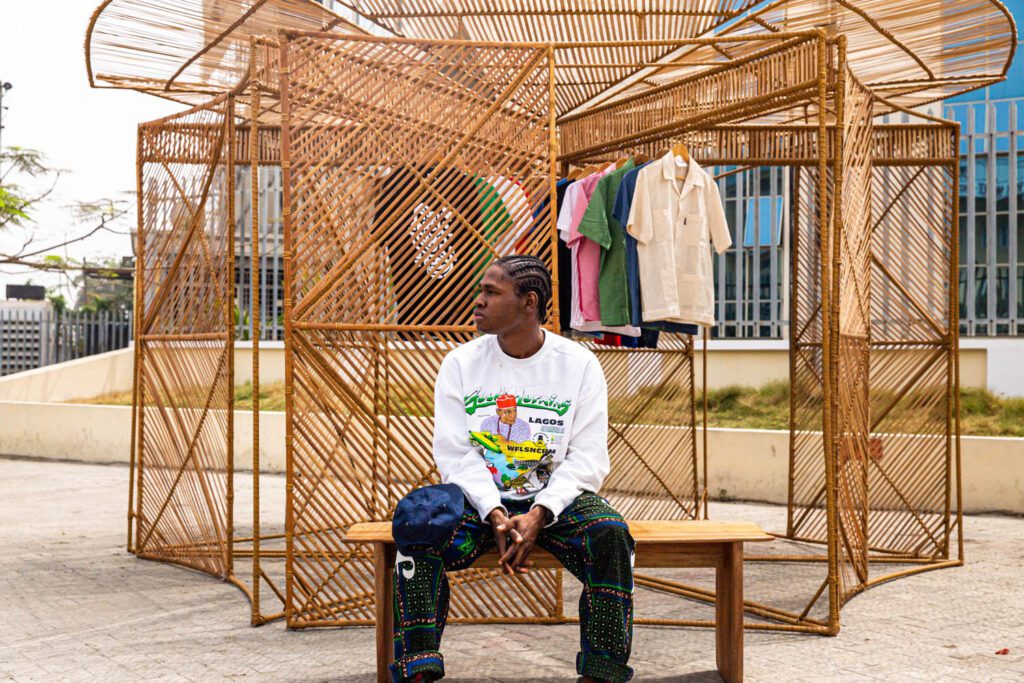 ID: How did you start your brand, the NMBello Studio?
NMB: My interest is in Industrial design. I studied industrial and product design at the University of Leeds. However, I designed medical devices and smart phones for a couple of years before I eventually worked with a few architectural firms designing furniture. I started the studio to feed the curiosity I had basically of creating objects and products that I believe could feed from production and manufacturing that was available across the continent. I also wanted to figure out what it meant to design in Africa in a contemporary way. I think I had a lot more questions than answers and I was hoping that my studio actually answers some of the questions that I had because I feel like I still have these questions.
ID: What do you think about the Nigerian designscape? Has there been growth since you started your career?
NMB: I think the Nigerian design industry is at a great place; it's growing tremendously every year. There is raw talent everywhere you look in Nigeria when it comes to creativity, craft and even technology—so design isn't at the backbone, it's actually at the forefront. I feel like there is so much going on. In a couple of years, we will see what time like this has dictated and how people have created works in our society that would eventually be called masterpieces.
ID: Shape and texture seem to be among the most important things to you as a designer, like the LM stool, can you tell me about that?
NMB: For me, again, I feel like one of the design approaches I take is that the available materials dictate the forms. I don't go with predetermined or soon-to-get type of a form—the materials and manufacturing processes dictate the forms that eventually come out.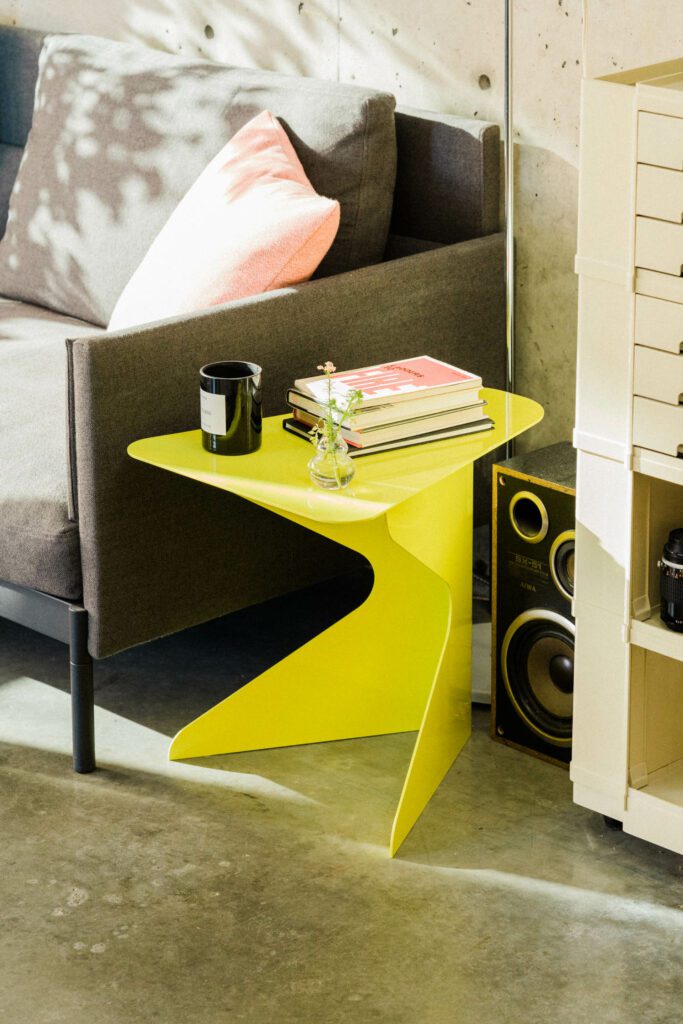 ID: It seems like most of your designs have a historical perspective but with a modern touch. Do you intentionally make them that way?
NMB: Yes I do, I love the saying: you have to know where you come from to know where you are going to. I think it's important to look back but also not to cling to it too much. It's important to use and understand contemporary production and manufacturing to create products at that's considerate to how we currently live and how we want to live.
ID: The LM stool was such a magnificent work of yours. Tell me about it?
NMB: The inspiration behind the LM stool is very tricky to put to words. I had quit my job at the time and I started my previous job, which was designing satforms for Tecno Mobile, and I started looking into what type of production and manufacturing capabilities were available across Lagos. While I was doing that, I kind of stumbled on a generation case manufacturer and I eventually visited their factory, looked at their production and manufacturing line and understood what the constraints and capabilities were. Once I had done that, I started designing around the production line and the manufacturing capabilities. I think the inspiration to go with the stool was that I wanted to create something really simple but also complex form-wise to push the constraints and open up their minds to the possibility of what they could use the production that they already have to do. I think that was the premise of how the LM stool was born.
ID: As a product designer working in Lagos, what has been your biggest challenge?
NMB: For me, I will say it would be the lack of the integration of design or interpolicy or decision making as a hope for Nigeria because I think what's happening is that a lot of our people and even people in the government take design for granted. And I'm not just talking about product design— I'm talking about architecture, home planning, landscape design and others — I really feel it's been taken for granted. And apart of the economic viability of these practices, I feel that one thing that people take for granted is the emotional side of these practices, how can design sort of help us live better and live longer, have a better day-to-day experience, improve day-to-day interactions within ourselves and also how do we help improve the mental states of our citizens with the spaces they occupy and interact with. So I see this as a challenge because for me, what I try to do is that I try to think of design holistically even if I'm designing a product, I try to look at the bigger picture.
ID: Tell me about the Waf kiosk. What inspired the design?
NMB: The waf kiosk was designed for skateboarding brand, Waf. The idea was to design a modular installation that will be used during their activation across the city. The modular design is both modular in form and experience so that each activation is different from the last with the use and help of one Architectural system. The design direction was inspired by a series of events while exploring manufacturing techniques and materiality in West Africa.
ID: As a designer, what do you hope for your designs in the coming years?
NMB: Integration and understanding on what it means to be a designer in contemporary Africa.