FIT Honors Provocative Design Firm LOT-EK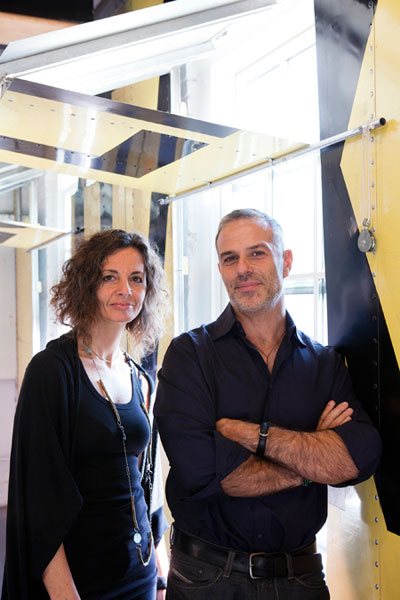 Ada Tolla and Giuseppe Lignano. Photo by Danny Bright.





Fashion Institute of Technology (FIT)

has selected Ada Tolla and Guiseppe Lignano, the trendy founding partners of

LOT-EK

, as the recipients of the 2014 Lawrence Israel Prize. Since 1998, FIT has bestowed the coveted prize, endowed by architect Lawrence J. Israel, to individuals or firms whose work most benefits the studies of Interior Design students at FIT. In tandem with the award, Tolla and Lignano will discuss their work in a talk entitled "O+O (Objects and Operations)" on April 22, 2014 at 6 pm in the Katie Murphy Auditorium at FIT.

"We are very pleased to be honored with the Lawrence Israel Prize from FIT," says Tolla. "As educators, Giuseppe and I are especially pleased to have our work cited as an example for FIT design students."

In a statement released by FIT, the award's selection committee called Tolla and Lignano "provocateurs," celebrated as much for their large-scale architectural works as for their highly considered interiors. FIT recognizes the designers,  the statement says, for "crafting not just great works but defined new approaches to industrial artifacts that formulate a sustainable mode of operation."

LOT-EK is an award-winning architectural design studio based in New York and Naples. Founded in 1993 by Tolla and Lignano, the studio has gained much attention for its sustainable and innovative approach to construction, materials, and space through the adaptive reuse of existing industrial objects. The firm has designed global commercial, residential, and institutional projects, including the Museum of Modern Art, the Whitney Museum, the Walker Art Center, and the Guggenheim Museum.



A Band of Outsiders boutique by LOT-EK.





Van Alen Books by LOT-EK.