Floating House Wins Flat Lot Competition in Michigan



Image courtesy of The Flint Art Project.



The winning proposal in

The Flint Public Art Project

's

Flat Lot Competition

is a reflective house that seems to float atop a mirrored pedestal. Titled "Mark's House," it's the brainchild of Two Islands, an architectural firm with offices in London and Madrid. Launched last fall, the contest invited architects from around the world to create a temporary structure that would fill no more than eight parking spaces in Flint, Michigan. Flint Public Art Project worked with the

Flint Chapter of the American Institute of Architects

to cull through more than 200 competing proposals.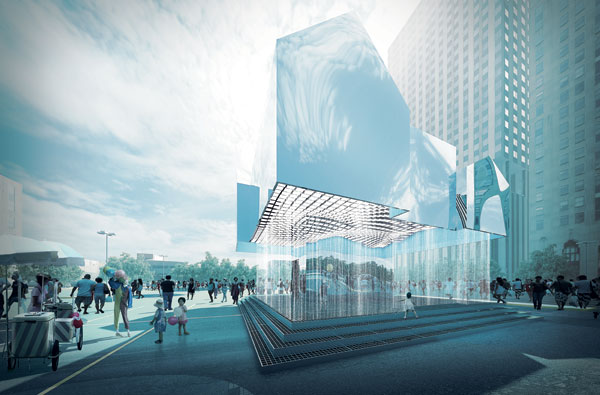 Image courtesy of The Flint Art Project.

The winning structure can hold up to 1,500 gallons of water, which, come summertime, will be released as a cooling spray. The co-founders of Two Islands had never been to Flint—a city of 102,000 that has been hit hard by deindustrialization—but they didn't let that deter them from finding its pulse, focusing not only on the city's decaying past, but also its future. "I think where others may see misfortune we tend to see potential," says firm co-founder William Villalobos. "After all, design should always be about optimism."
"During our design sessions we knew we had to offer Flint a pavilion that had a certain kind of emotion attached to the city, but at the same time offered a design that was looking to a new future," adds Cesc Massanas, another co-founder of Two Islands.
"Mark's House" tells the story of a fictitious man named Mark Hamilton and his family who lost their home due to foreclosure."The first sketch came at a very visceral moment, we had been reading a lot about the town, the people and its history," says Villalobos. "We thought, let's give back something that is really familiar to the place while at the same time reinterpreting its background, its society and ultimately the way we see the world."
Two Islands received a grand prize of $25,000. Because of its home base in Europe, the firm has teamed up with Austin, Texas-based

MF Architecture

and Los Angeles-based

Nous Engineering

to build the structure, which opens to the public on June 14.

Image courtesy of The Flint Art Project.