Gabon Gains Global Speed Thanks to WORKac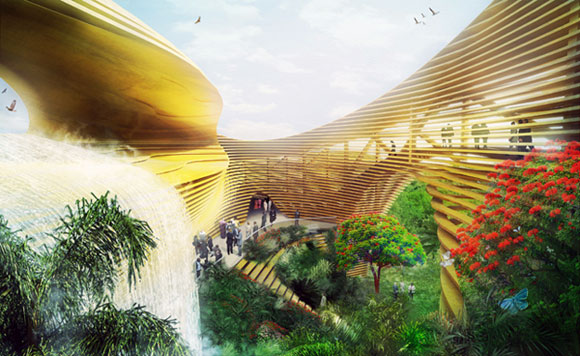 If you haven't heard much about the capital of Africa's Republic of Gabon, Libreville, you're probably about to start. For the past several years, the country's

Agence National des Grands Travaux (National Agency of Major Works)

has been, quite literally, designing Gabon's momentous debut onto the continental and global stage. Existing efforts include an ongoing National Infrastructure Master Plan collaboration with

Bechtel

. But there's more.
Recently the Agence chose Amale Andros and Dan Wood's

Work Architecture Company

, the practice behind Diane von Furstenberg's headquarters in New York and the new

Blaffer Art Museum

at the University of Houston, over entrants from four continents to design the assembly hall for Libreville's 2014 Summit of the African Union.
Andros' and Wood's winning plan, titled L'Assemblée Radieuse, incorporates African Limestone louvers, a sloping roof that collects runoff into a waterfall, a reflecting pool and gardened courtyards. These elements reference Gabon's three ecosystems and are intended to fulfill President Ali Bongo Ondimba's Gabon Vert vision for a seamless blend into the nature and demography of the city's hilly Diplomatic Quarter.
"The building will quite literally be on the world stage [. . .] and is a chance for Gabon to demonstrate its emergence to the group of leaders who will participate in the summit and, through media, to the world beyond," Wood said of the entry. "It will hopefully provide a dramatic and symbolic backdrop to their discussions and deliberations."
In 2014, summit participants will have the opportunity to admire the local cityscape and seascape from the courtyards of a linking promenade dubbed the "Philosopher's Path," eat in the building's triple-height banquet hall, and convene in the 1000-seat auditorium. How's that for a backdrop?

Renderings by Work Architecture Company.