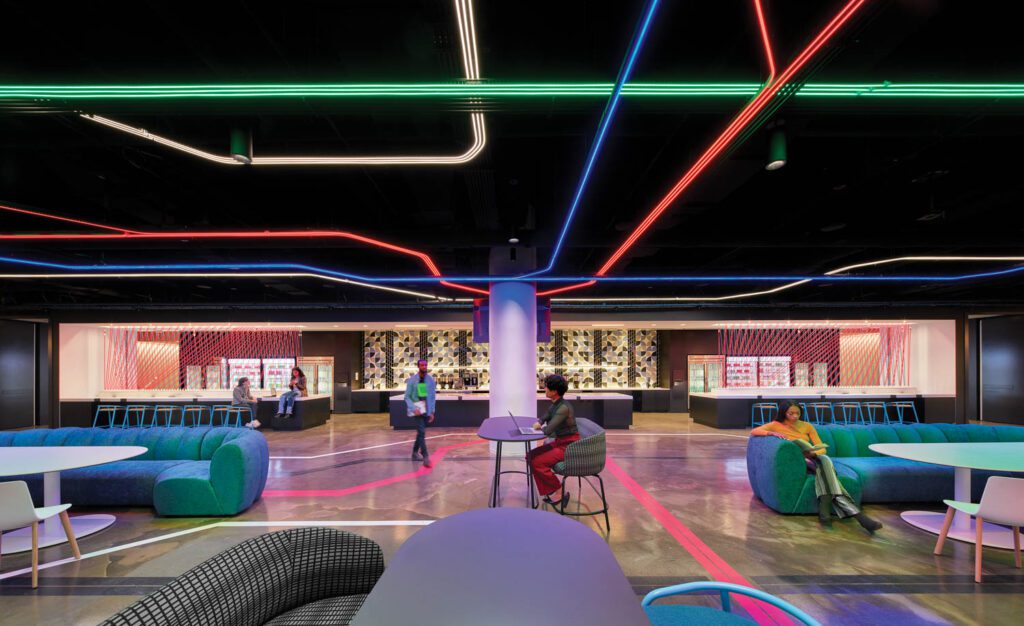 For TikTok's New York Office, Gensler Captures the Soul of the City
When TikTok touched down on American shores, i.e. Los Angeles, in 2019, it laid claim to the world's most downloaded app. The same holds true this year, which is also when the company expanded to Manhattan, staking out 150,000 square feet for 1,000 employees across the five top floors of the 58-story H&M tower—fittingly steps from Broadway and its myriad dance numbers. Now, as then, the Gensler project was led by design director and senior associate Chris Mitchell, who translated some of the West Coast tropes to suit the soul of the city.
For the TikTok New York office, the play of the neon elevator lobbies of L.A. have been re-envisioned with LED panels in colors and images representing pizza, yellow cabs, and the Statue of Liberty. In the café, LED tubes abstract the subway map, while, behind the servery counter, climbing ropes reference "Spider Man successfully scaling tall buildings," Mitchell says, adding that, "The boardroom is a circular space in a square building," its otherworldly oculus subtly recalling James Turrell's work. And everywhere, including from multiple balconies, are views stretching from the Empire State Building to the Freedom Tower.