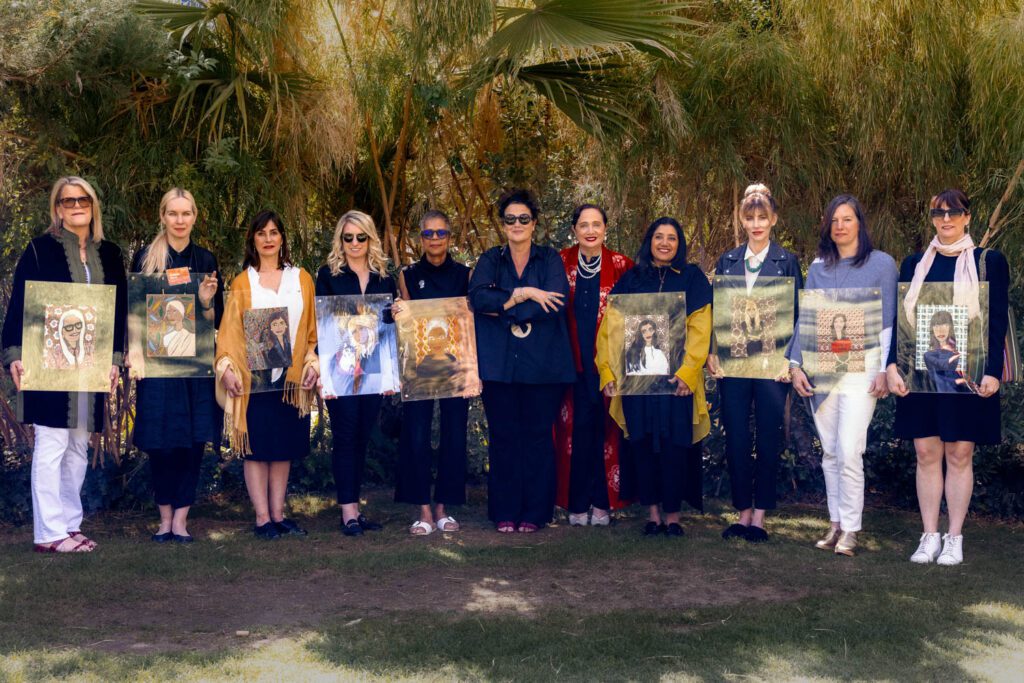 Giants of Design Speakers Shed Light on Innovations Shaping the Communities of the Future
More than 130 designers, architects, and manufacturers convened in Palm Springs, California this week for the return of Interior Design's Giants of Design. The three-day event celebrates the magazine's top 100 Giants, honoring innovation in all its forms, and was last held in early 2020.
Guests from across the country (and one from Canada) arrived at the Parker Palm Springs Monday evening—an occasion that, for many, marked a long-awaited reunion with friends and colleagues. With cocktails in hand, attendees mixed and mingled in the hotel's palm-lined courtyard and continued their conversations over dinner. But things were just getting started.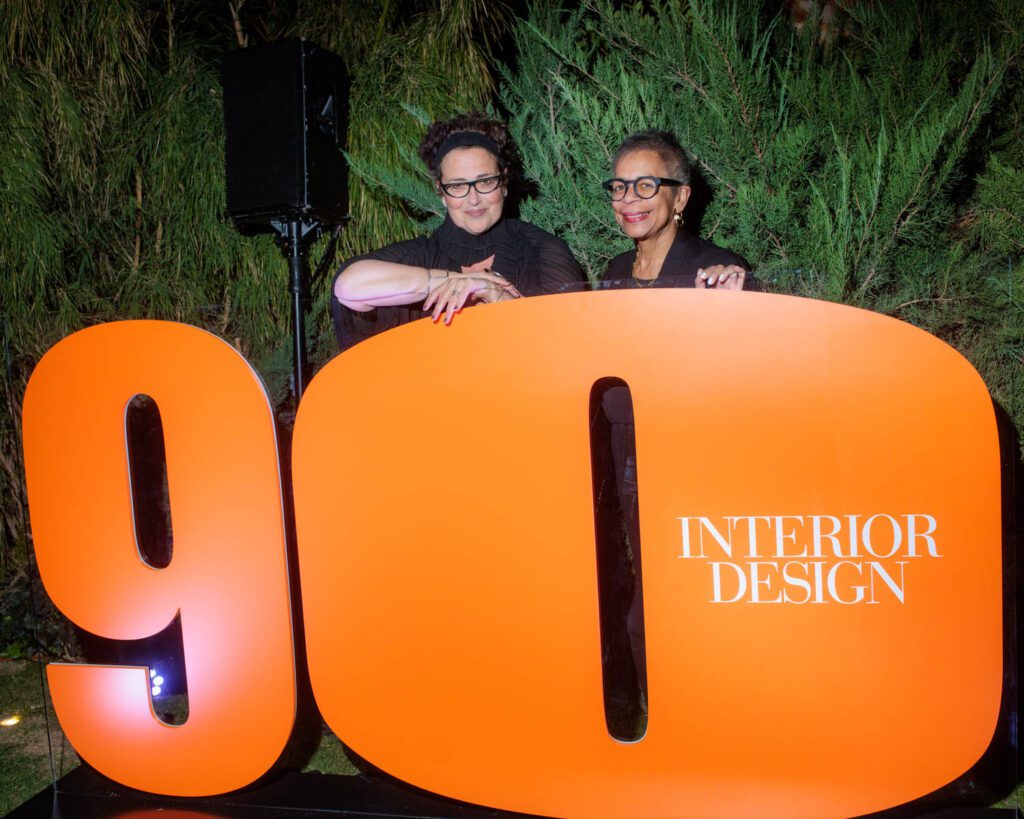 Day 2 Highlights
Tuesday morning, editor in chief Cindy Allen opened the festivities with a warm welcome, acknowledging the magazine's 90th anniversary and the vast accomplishments throughout the industry during that time. Then CEO and co-founder of LifeScore Philip Sheppard, also a composer and cellist, took the stage (he also creates musical environments for the Metaverse), treating guests to a morning performance while a slideshow of images detailing nine decades of design flashed across a screen behind him.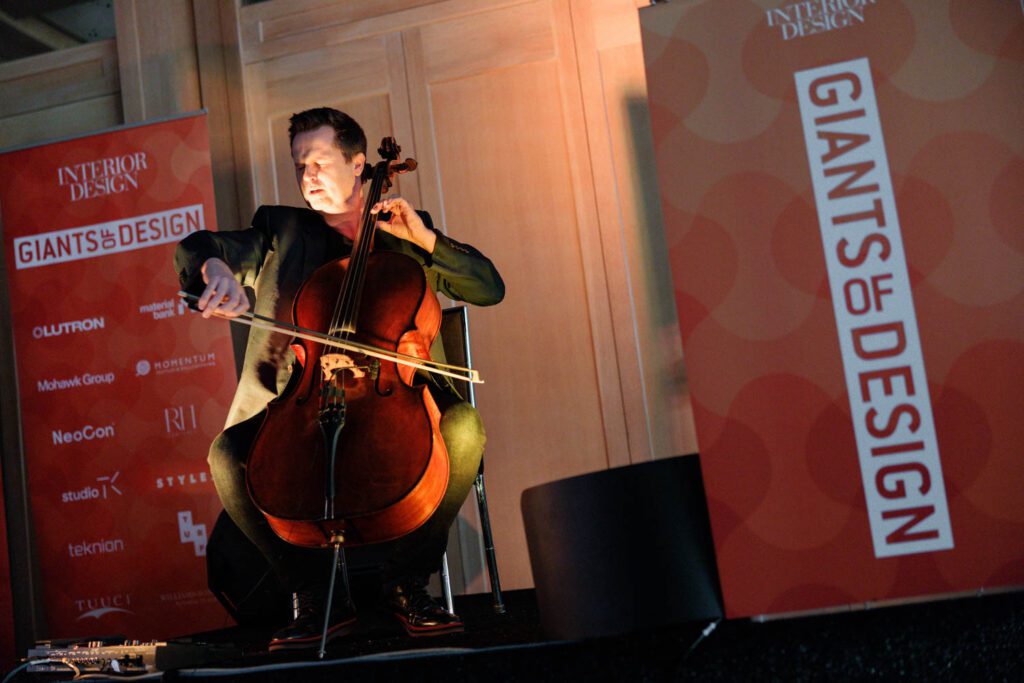 Following the performance, Allen acknowledged event sponsors, one by one, pointing out that Material Bank graciously offset the carbon footprint of event travel and accommodations with the purchase of verified carbon credits. She also touched on the challenges faced by all during the last two years. "Everyone remembers me saying: 'We may not be here for a while,'" Allen said, recalling her remarks at the last Giants of Design event held just before the global pause. After countless virtual events, the opportunity to connect in person seemed especially joyous. "We're going to feel empowered when we leave," Allen continued, noting the importance of applying the knowledge and connections gained here to communities near and far.
"And talk about empowering community, here is Michael Ford," Allen said with a smile, introducing the first speaker of the day. Ford, founder of Hip Hop Architecture Camp as well as founder and principal of BrandNu Design, dedicates his career to the intersection of architecture and urban planning through the lens of hip hop, which first piqued his interest as a kid in Highland Park, Michigan. Growing up in an apartment above a nightclub, Ford recalls: "Our house was the place to come to because there was a back stairwell, and you could go down and sit right next to the deejay… and see part of what was happening on the dance floor." That love of music stayed with him, shaping his career.
From his graduate school thesis, which examined the link between architecture and the patterns and structures of hip hop music, to his Hip Hop Architecture Camp for kids, Ford continues to revolutionize the field for generations to come. "Hip Hop offers an unfiltered critique of architecture," notes Ford. "But since only 2 percent of architects in the U.S. are Black, we're often not designing the spaces where we live… we're just critiquing them. That's what the camp is all about, let's take music and make it something you can see."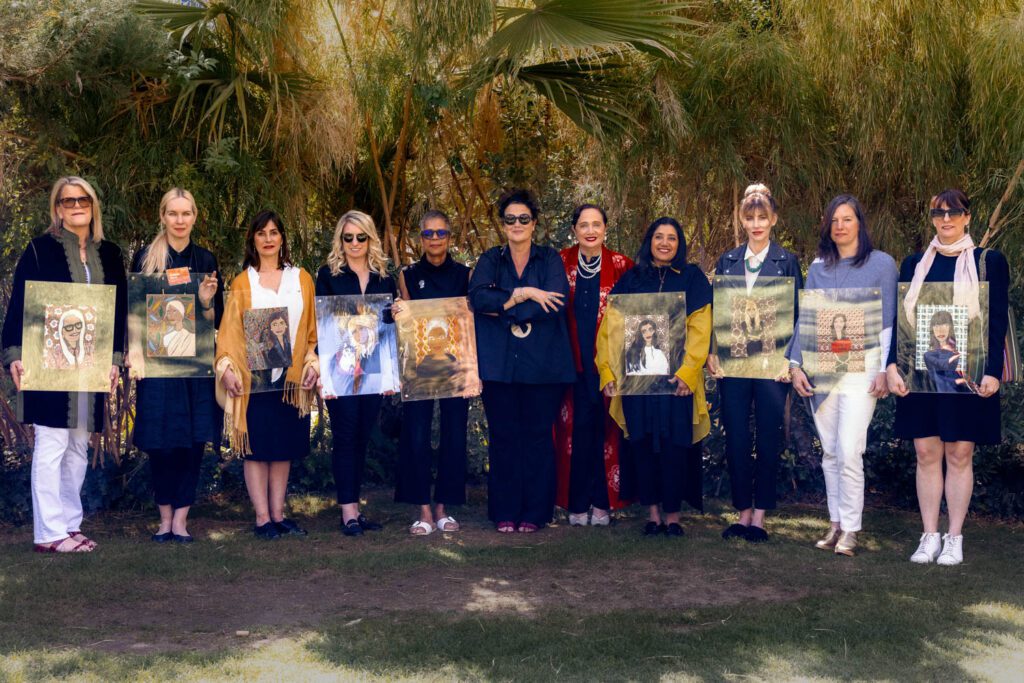 A conversation between Allen and artist and illustrator, Rebecca Moses, followed, celebrating International Women's Day. "When you start dressing women and creating for women, you learn a lot about them," Moses shares. "I've always been amazed by the power of women." Moses translates that amazement into art, creating portraits of women so full of life they seem to jump off the page—not to mention sketches of several Giants of Design attendees.
Then the focus turned to cutting-edge technologies as Behnaz Farahi, designer and assistant professor at the Department of Design, California State University, Long Beach, stepped up to the podium. "I'm interested to see how materials could become intelligent and responsive," she said, noting her fascination with environments that respond to beings within them, similar to the way our skin responds to internal and external stimuli. From wearable designs that sense the human gaze on various parts of the body to robotic ceiling installations that interact with human movement, Farahi stressed that design has no limits.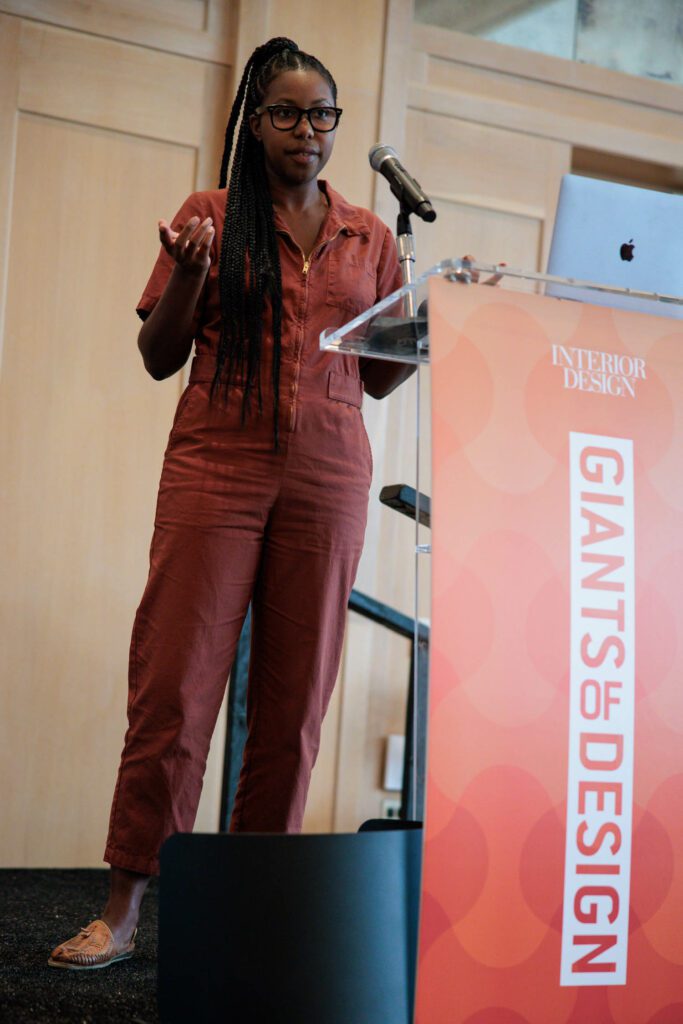 Designing without limits is precisely the concept Maya Bird-Murphy, founder and executive director of Chicago Mobile Makers, is introducing to kids interested in the field. "I worked at many firms where I was the only person that looked like me in the room," she shares, noting that the architecture world she first encountered consisted mostly of white men. To create more equitable spaces, Bird-Murphy started Chicago Mobile Makers, an organization that offers hyper-local design education, reflecting the unique needs of the surrounding community. "We are there to tell young people their ideas are meaningful and valuable," she adds. Mission accomplished.
Then Stanley Felderman and Nancy Keatinge, partners in life and work at Felderman Keatinge & Associates, joined Allen to discuss the importance of embracing the Metaverse as a design opportunity. "We are strategically positioned to become movers in this space," Felderman said, referencing the virtual world. "It's here; it's not going away… so do you want to be part of it or do you want to be forced into it?" added Keatinge. As designers, the answer is an affirmative: be part of it.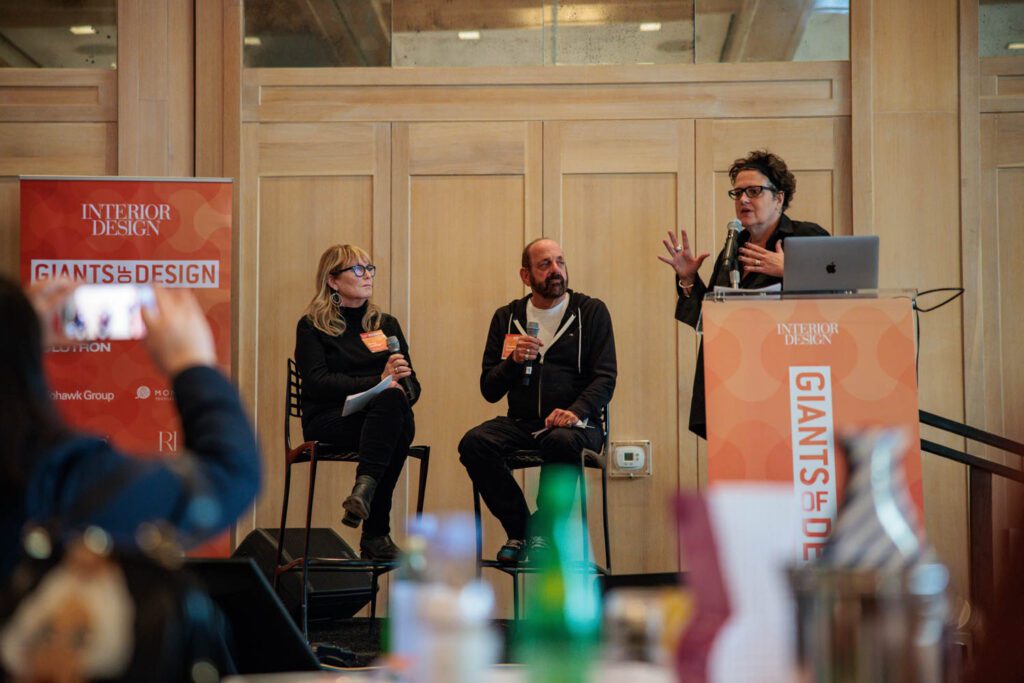 The afternoon ended on a light note as attendees headed off on excursions ranging from a nature hike to outdoor yoga before coming back together for an evening cocktail hour and dinner.
Day 3 Highlights
The third and final day of Giants of Design kicked off with another performance by Sheppard followed by insights on what to expect this year from ThinkLab president, Amanda Schneider. In asking big questions, such as: What just happened and where are we headed in 2022?, Schneider examines the pulse of the industry. While these are far from easy to answer, the Design Nerds Anonymous podcast host assured attendees that the industry remains positioned for growth, especially in the realm of healthcare, which is projected to remain ahead of hospitality through 2022. As for challenges, recruiting and retaining qualified staff remains an ongoing issue. Interior Design's Top 100 Giants are working with 48% less staff than they had pre-pandemic while Rising Giants staff is down 16%. But opportunities abound, Schneider asserted, especially when it comes to designing for the Metaverse.
Speaking of the Metaverse (or Metaverses, more accurately), Josh Rubin and Evan Orensten, co-founders of Cool Hunting, added another layer of thought to the hot topic. Citing projects such as Vice's Metaverse headquarters designed by BIG, the duo offered a breakdown of key virtual platforms as well as a brief introduction to the language behind them. "There is not a singular Metaverse—Metaverses is a more accurate name," they said, pointing out that designers already have one foot in the Metaverse by trying to answer real world design issues through the virtual world with digital models and renderings. Importantly, they stressed that community is no longer defined by geography, creating vast opportunities for building connections in nonphysical spaces.
Closing out the day, Suchi Reddy, founder of Reddymade Architecture & Design, also touched on bridging the gap between the physical and digital realms, emphasizing the importance of creating sensory experiences in both. With an eye toward play and facilitating empathy, Reddy talked about dematerializing screens to enable people to interact beyond a pixeled view. The virtual world also opens possibilities in terms of equity and accessibility, serving as a powerful portal for new designs. In sharing some of her recent projects, Reddy encouraged attendees to stay true to core design principles while braving new frontiers and, ultimately, aim to create a more equitable future.
Before Allen offered closing remarks, Sheppard returned to the stage to discuss ways music and design intersect. "Music is about doing, not about being passive: it's about the moment," he said. The same can be said of design. Like design, music reflects what Sheppard calls "the confluence of our experiences," holding the power to calm or energize in mere moments. After one last performance, Allen took the stage and bid farewell to those who joined the memorable, action-packed event. "This is our new memory; many stories of inspiration and of those making change; some of these stories from the trip can help push you forward," she said. "Give more love and inspiration to your clients."