Heatherwick Studios Opens Bombay Sapphire Distillery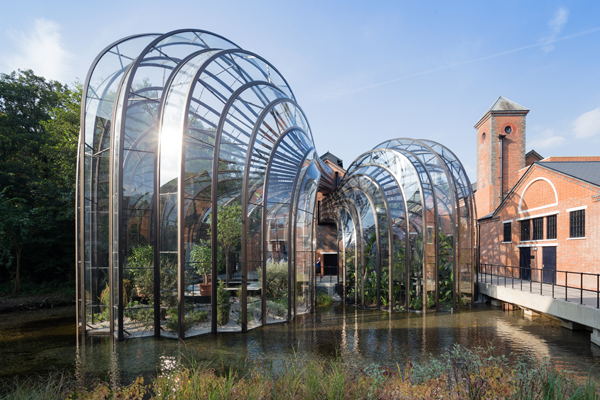 Photo by Iwan Baan.



The

Bombay Sapphire Distillery

at Laverstoke Mill in Hampshire, England—which includes a visitors' center and a bar—opened to the public on October 1. Designed by

Heatherwick Studio

in collaboration with

GWP Architecture

, the distillery sits on the five-acre site of a former paper mill, abandoned for a decade before work began in 2010.

"It was a collection of more than forty buildings, some dating back to the late 1800's and many of historical significance," says Eliot Postma, project architect at Heatherwick Studio. "Over the years more and more modern structures were built up around the original mill buildings, creating a maze like network of buildings masking much of the historic Victorian charm."

A huge part of the design process, he says, was turning the Victorian buildings into a state of the art, highly sustainable production facility that achieved a

BREEAM

(Building Research Establishment's Environmental Assessment Method) rating of Outstanding, the highest benchmark.

It's the first-ever refurbishment project and first distillery to achieve this certification, the second highest awarded. Green elements in the build include waste heat from the distilling process used to warm the glass houses, a hydroelectric generator and waste botanicals used to partially power the biomass boiler.

"Central to the site existence is the River Test, a beautifully clear chalk stream which runs through the heart of the master plan," says Postma. "This, like some of the Victorian buildings, was almost invisible, contained within a narrow high-sided concrete channel and covered over in parts with buildings."

Inspired by the distillation process—which includes the infusion of 10 herbs and spices—the designers created two intertwining botanical glasshouses where the plants are cultivated (thanks to a team from the

Royal Botanic Gardens at Kew

), a nod to Victorian interest in the 'new' science of horticulture.

"Pushing glass technology innovation, the design of the glass houses adopted curved glass technology and the use of over 10,000 bespoke component parts," says Postma.

After wandering waterside, visitors arrive at the main production facility and the glasshouses, ready to be transported to the past while simultaneously looking to the future of production and design. Cheers!



Photo by Iwan Baan.