Highlights from Amman Design Week: Where Tradition Meets Modernity
Jordan's Amman Design Week is now in its third edition and has grown in maturity and ambition with each one. Responding to the theme of "Possibilities," the show featured work from 13 countries in three capital locations—an elegant 1930s electricity hangar in Ras El Ain, an abandoned series of heritage houses in Jabal Amman or the Crafts District, and a district of art galleries called Jabal Al Lweibdeh.
"What differentiates Amman Design Week from other design weeks happening across the region, is that it's one of the few that is non-commercial," says Noura Al Sayeh-Holtrop, curator of the main exhibition in the Hangar. "This means that it was possible for us to highlight more experimental work and commission larger installations specifically for the show. We wanted to showcase the ideas and synergies that exist between designers across the Arab World."
Various themes emerged with the main show divided into four areas: Material Explorations, Weaving Shelters, Territorial Reconsiderations, and Storytelling and the City. Throughout, there was an alluring tendency and desire to use existing local resources and skills and transform them into something unique and contemporary. Here are ten highlights.
The main exhibition at Amman Design Week takes place in a beautifully restored former electricity-generating hangar in Ras El Ain.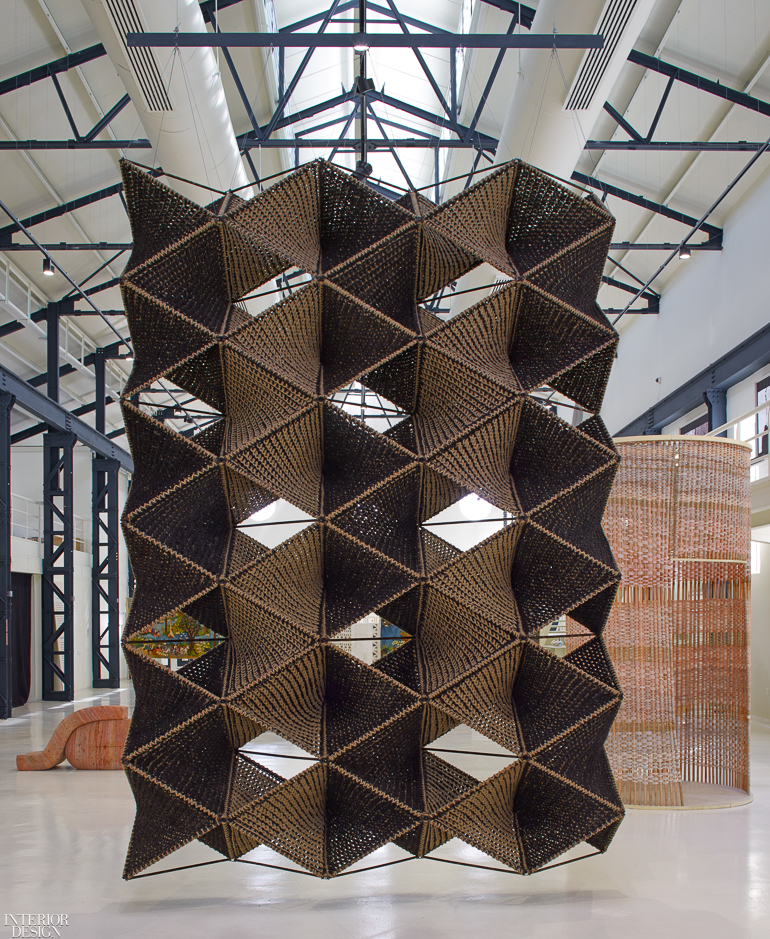 Meeting Points by Jordanian architect and artist Abeer Seikaly is a reconfigurable tapestry made of jute yarn, goat hair, and wood and steel connectors. The piece references bedouin tent-making crafts and communal practices of weaving and construction.
These ceramic pieces by artist and educator Aymen Azzam are part of his Candy Collection and explore the notion of opposites. Their natural organic pebblelike forms contrast with their vibrant hues and bubbling glazing effects.
Dima Srouji showed 'Ghosts', a haunting series of translucent replicas of ornate glass artefacts and vessels originally excavated in the Levant and now in the collection of New York's Metropolitan Museum of Art.
Amman research and design studio Arini curated the Crafts District offerings and also oversaw the creation of this poetic canopy installation on the main terrace. The textile pieces were dyed using natural indigo cultivated the traditional way by a women's cooperative based in the southern Jordan Valley.
This modular seating installation by designers Yousef Qussai and Daniel Elias of Daniel + Qusai was designed to encourage interaction and community while countering the social disconnection that happens through the excessive use of technology.
Artist Sama Shahrouri showed in the Material Innovations section of the Crafts District. Her figurative sculptures were made of glue-based bioplastics and gauze, starch and straw or rosemary sap, milk, and charcoal. Ingredients like sugar-free gelatin had been used to prevent mold, and natural clay as a coloring agent.
Amman design studio In Doi showed a new collection of minimalist and delicate containers, trays and vases made from waste marble found on construction sites that would otherwise go to waste.
This cantilevered coffee table by Rula Yaghmour is part of her "Kutleh" series in which she transforms stone cladding surplus found in construction projects into a new layered material. This piece showcases the natural or raw splits in the stone.
Farflung Studio, a Jordanian-Swedish collaboration between Mohammad Jabi and David Selander that aims to manufacture objects according to the skills and materials available on the local market, showed two lights made of powder-coated steel and concrete terrazzo anchors that double up as coffee tables. The armchair is made of recycled and re-bonded mattress foam.
Dubai-based fashion designer Faissal El-Malak reinterpreted and explored traditional Palestinian embroidery motifs with Beirut-based Studio Kawakeb and in three different media: textile print, ceramic vessels, and cement floor tiles.
Read more: 10 Questions With… Rana Beiruti