IIDA Announces Winners of 45th Annual Interior Design Competition
The annual celebration by the International Interior Design Association, the Interior Design Competition is recognizing and encouraging innovation in the design and furnishing of interior spaces for its 45th year. Its counterpart, the 26th annual Will Ching Design Competition, awards commercial projects by firms with five or fewer employees.
All submissions were judged—for their suitability and originality, with special attention paid to how finishes and furnishings are integrated—by a U.S. jury consisting of Mark Gardner of Jaklitsch/Gardner Architects, Mancini.Duffy senior associate and interior design director Ricardo Nabholz, and Diana Pisone, Ted Moudis Associates team principal.
One of the winners they selected, Gabellini Sheppard Associates's Beijing flagship for the clothing brand 1436, was previously published in Interior Design. Their other picks include Simeone Deary Design Group's Detroit Foundation Hotel; Gensler's headquarters for Nvidia in Santa Clara, California; Cherem Arquitectos's Birkat Itzjak temple in Mexico City; Department of Architecture Co.'s Mist Hot Spring Hotel in Xuchang, China; and Ministry of Design's Robotics Automation Centre of Excellence in Singapore. Li&Co. Design Limited's L'École des Arts Joailliers in Hong Kong took home the Will Ching award at the IIDA's black-tie Cool gala in Chicago on June 10, the kickoff to the 50th anniversary of NeoCon.
A terse challenge was posed by Nvidia co-founder and CEO Jen-Hsun Huang: Create a headquarters that enables the company's 2,500 employees to interact with one another. Gensler design director Philippe Paré and managing director Hao Ko responded by conceiving the 500,000-square-foot, Santa Clara, California, building as a campus, rather than a campus of buildings, which was the usual program for the tech company's counterparts. Read More.
2. Mist Hot Spring Hotel by Department of Architecture Co.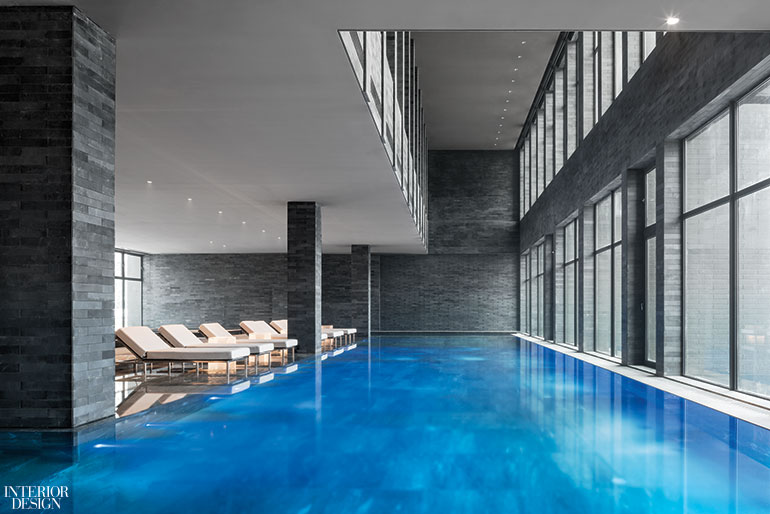 Xuchang, in eastern China, is renowned for its geothermal hot springs, which generate a misty steam conferring a soft focus to their surroundings. Department of Architecture Co. principal Amata Luphaiboon built upon that phenomenon for the city's aptly named Mist Hot Spring Hotel. A complex of four buildings totaling 400,000 square feet, the public spaces are unified by a series of glass installations suggesting light and water. Read More.
3. 1436 by Gabellini Sheppard Associates
The 1436 brand is known for the gossamer quality of its cashmere. This lightness is what Interior Design Hall of Fame member Michael Gabellini and his partner Kimberly Sheppard sought to breathe into the two-story, 4,300-square-foot interior of the company's Beijing flagship. With minimal materials but myriad details, Gabellini Sheppard Associates created "an ethereal environment, as if suspended between the earth and the sky," Gabellini recalls. Read More.
4. Robotics Automation Centre of Excellence by Ministry of Design
Robots are making some humans more productive by teaching new skills to those in the workforce facing changing markets. At least that's the premise behind a laboratory-showroom hybrid in Singapore called RACE, which stands for Robotics Automation Centre of Excellence. "It incentivizes mid-career professionals to embrace new technologies," Ministry of Design founder and director Colin Seah says of the 2,600- square-foot space that's dedicated to teaching. Read More.
5. Detroit Foundation Hotel by Simeone Deary Design Group
Two urban visions are merging in downtown Detroit. The former fire headquarters is now the Detroit Foundation Hotel. Simeone Deary Design Group's Gina Deary and Lisa Simeone transformed the 95,000-square-foot structure into a reflection of the city's past while embracing its present. Read More.
6. Birkat Itzjak by Cherem Arquitectos
Cherem Arquitectos was presented with a challenging site for Birkat Itzjak, an Orthodox Jewish temple for the Comunidad Maguén David. But the resulting serene interior belies the small corner plot on a busy Mexico City street. "When inside, it feels like another world," Cherem co-partner José Antonio Aguilar says of the five-story building, which includes worship and workshop areas, plus a library, study, and rabbi's office. Read More.
7. L'École des Arts Joailliers by Li&Co. Design Limited
Founded by Van Cleef & Arpels in 2012, L'École des Arts Joailliers claims it's the "first school to initiate the public into the secrets of the jewelry world" through lectures and hands-on workshops. That is where Johnny Li, managing director of Li&Co. Design Limited, infused local flair into L'École's 7,000-square-foot space, which has earned the IIDA's annual Will Ching award for a project by a firm with five or fewer employees. Read More.
> See more from the May 2018 issue of Interior Design