How Behavioral Science is Shaping Healthcare Design
Whether bringing to life safe and inclusive spaces or prioritizing sustainability, research shows that when people walk into a space designed to address wellbeing, mental and physiological benefits abound, imbuing a sense of calm. But there's no one-size-fits-all solution, industry insiders agreed during a roundtable discussion at NeoCon.
Hosted by AJ Paron, design futurist and EVP of SANDOW Design Group, and Helene Oberman, managing director of Interior Design, the exchange brought together nearly 20 designers, architects, and manufacturers at SANDOW Design Group's DesignScene space at THE MART June 13 to share insights about the ways health and wellness is shaping the future of design.
Sensorial experiences, and creating spaces that account for varying degrees of noise and stimulation tolerance, are top of mind. "Who is quicker to put big headphones on?" asked one designer, noting Gen Zers often opt for noise-canceling headphones in the office. Still, others said being able to work without distractions is a multi-generational need.
Healthcare Environments Prioritize Wellness Through Considered Design
When it comes to healthcare environments, designers are seeing an uptick in requests for respite rooms—and not just for physicians. "Now respite rooms are being considered for everyone in healthcare, and they've gone from the basement to the first floor, with windows and private as well as social space. They aren't the basic spaces they used to be," said a designer.
Generational shifts are partly responsible for these changes. Designers pointed out that early career doctors seem to be taking a more collaborative approach, for example, forgoing the need for personal offices, which frees up space for others. "The most used respite space for nurses during the pandemic was the bathroom," said one attendee. "We can do better than that."
Workplace trends are also leading to a growing demand for huddle rooms. "More doctors want a huddle space that could be multi-purpose, to have a huddle with a colleague about a patient before they go into that room." An informal space for private conversations is a priority on college campuses, too. "When we talk about telehealth appointments, where are those happening? In a dorm room? That's the least private space," said one designer. "We need to design a campus that supports the health and wellness services being offered."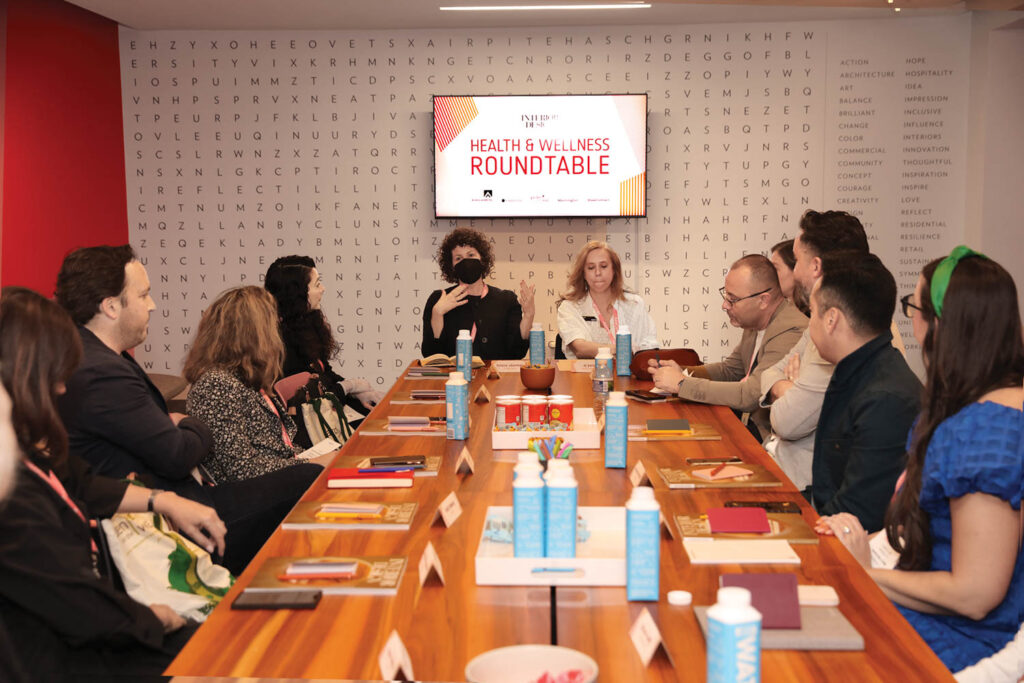 Designing Inclusive and Equitable Spaces
Switching gears, Paron asked the group how they're designing for Diversity, Equity and Inclusion. "Are people willing to pay to create something that addresses the issues they're trying to solve?" Paron asked. Several designers offered a quick yes, particularly for gender neutral bathrooms. "The dollar doesn't matter anymore," one designer said.
Art also offers opportunities to create community, from a building's users to the people living near it. "We're addressing diversity through art," said one designer. "People will not see healthcare if they cannot resonate with the environment—that's a researched fact. We cannot design generically anymore; we have to know the demographic."
Some attendees observed that the process of sourcing art is becoming more equitable, with a shift away from designers making the decisions, to members of a given community calling the shots. "We're asking community centers to be engaged, opening a dialogue to see what work people want to see," said another designer. Food offerings in commercial spaces are another means of reflecting the diversity of the local population. Bringing in local vendors instead of chain restaurants and coffee shops enables new businesses to build their brand and, ultimately, give back to the community.
How Design Furthers Social Justice
Design for justice spaces, such as prisons and family courtrooms, also appears to be shifting to empower the people within them, from family and staff to impacted individuals. "We're providing an outlet for detainees to have space to reconsider their lives and to have resources to make decisions for their own betterment," said a designer focused on that sector. Even small design decisions have a large impact, such as material use—moving away from sterile steel and toward woodlook finishes—and implementing biomorphic shapes, like curved rather than sharp edges.
"This is a delayed industry. Communities don't want to invest in prison design, but when you think about the potential a space could have—leveraging resources for the betterment of people in the community—it really comes down to engaging the community in that conversation," said one attendee. "I don't think we're quite there yet." The group agreed health and wellness-focused design decisions respond to basic human needs, like safety and security, but the specifics of how to meet those needs varies person to person, making communication a vital part of the design process.
---
Tune in to Once Upon a Project, a podcast hosted by AJ Paron on SANDOW Design Group's SURROUND Podcast Network for more behind-the-scenes insights into the design process.
---
Economic Impact on the Design Industry
As for projects in the pipeline, designers said clients are "way more hesitant" to make decisions now, especially when it comes to signing a lease for a workspace. At the same time, designers agreed their value is finally being recognized. "On the workplace side, this is the most exciting time in my career because I don't have to sell why I'm important when I walk into a room," said one designer.
While some designers are seeing RFPs slowing in Q3 and Q4, several noted that there are a lot of repurposing and adaptive reuse projects in the works for office buildings, particularly in New York City. "I don't think anything we can design is going to encourage someone to spend two hours in a car and pay for childcare—the only thing office buildings have going for them is access to people," noted one designer.
Others quickly agreed people are the most valuable amenity in the office. "The reason Class A buildings are doing well is because of the occupants. Law firms and banks have a lot money right now, but I'm worried. I think we're in the first quarter of the foreclosures we're going to see in downtown Class B and C buildings," said another designer. Clients also are hesitant to commit to new leases because of uncertainties on many levels, from interest rates to ever-changing return-to-work plans to unknown space needs.
Rising Interest in Behavioral Health
Given the emphasis on people, rather than the ping pong tables of offices past, behavior science increasingly is a vital component of design decisions, especially when it comes to cultural nuances. "Office culture is different than an overall corporation culture," said a designer. "What specifically are we designing? It's different for every single client."
As a focus on behavior health, and behavioral health services, grows, some design firms are turning to colleagues to tackle projects too large for one team. "We have some really big projects right now—think: billion dollar campuses—and one firm cannot do it all," said an attendee, adding that even these are moving slowly or on hold until 2024. "It's teaching us to be really collaborative and very clear in our scope of work."
With that, Oberman and Paron closed the two-hour conversation, thanking participants for their time and candid insights. "We've talked about some really hard spaces where we need good design to continue to grow, whether that's in education or the justice system," Paron said. "Behavioral health is hard to design for; aging is hard to design for but if we can figure out these things, everyone would benefit."
A special thank you to our sponsors: American Biltrite, Crypton, Garden on the Wall, Mannington Commercial, and Shaw Contract.