James Beard Foundation Honors 2 Outstanding Architecture Firms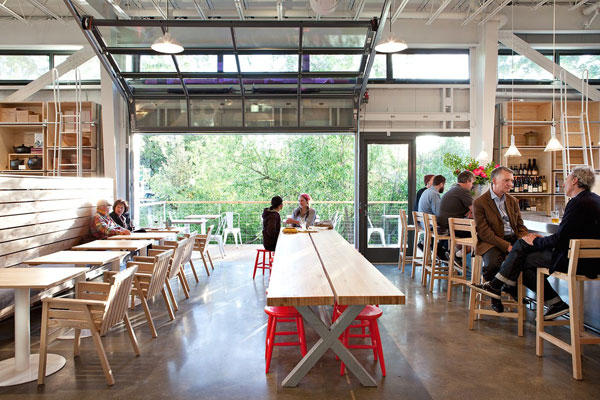 Shed by Jensen Architects.

Photo by Mariko Reed

.




Lincoln Center's

David H. Koch Theater

, usually the home of the austere New York City Ballet, was transformed into a veritable food hall on Monday, May 5, for the 24th annual

James Beard Foundation Awards

, which honored

Jensen Architects

and

Lawton Stanley Architects

for their outstanding work in restaurant design. Medals were also awarded, of course, for achievement in fields such as the culinary arts and restaurant management.

Jensen's work on

Shed

in Healdsberg, California, won for a hospitality space with more than 75 seats. When asked about the inspiration behind the multi-use hall, founder Mark Jensen says, "The clients' passion for food and craft inspired us to think carefully about fabrication, materiality, and the experience." Similar to

popular food halls

such as

Jeffrey Beers International

's

The Plaza Food Hall

and

TPG Architecture

's

Eataly

, Shed combines several food-service spaces including a coffee bar, a grain mill room, and a fermentation bar. Embracing sustainable food and design practices, the furniture and materials are highly eco-friendly and often sourced from local manufacturers. Kristina O'Neal, partner at

AvroKO

and juror for the awards, says, "Shed is one of the most unassumingly innovative projects I have ever seen. The structure as a whole, from furniture to fixtures, feels like a big white-washed hug."

Lawton Stanley won for

Grace

in Chicago for the 75 seats and under category. Inspired by the restaurant's chef, the architects chose to highlight materials in an unfinished and minimalist style. Brown ash, raw leather and wool, oil-rubbed bronze, and patinated steel all come into play, but the unmistakable centerpiece is the glass box kitchen, which gives guests a direct view of cooking activity. Restaurateur Caroline Styne, also a juror for the foundation, observed, "The juxtaposition of materials and textures throughout the space creates a beautiful tension that gives this quiet space an undercurrent of excitement."



Grace by Lawton Stanley Architects.

Photo by Michael Muser

.