Laith Sayigh Makes a Miami Warehouse Conversion an Artistic Collaboration
"I'll cocoon myself in the meeting room at my architecture firm, D Form A, and sketch until either I am brain-dead or I have a strong enough concept to present to a client. All my ideas start as drawings on layers of trace paper. I like to use red colored pencil. Oddly enough, it's very forgiving in a particular way. When developing certain aspects of a design, I'll tease out the detail with a different color on a new layer of trace.
Wynwood Arcade, which will be fully open this fall, is a conversion of three side-by-side Miami warehouses into a single retail and dining destination. My perspective drawing, executed in red and black pencil on 10 layers of trace, shows the original concept, how we sliced through the block-long buildings to create canyon-like breaks, some crossing the site as walkways that intersect to form a central courtyard oasis. To symbolize the slicing, the facade is meant to kind of 'bleed'—I know that may sound twisted. Then, in my facade elevation, the yellow colored pencil denotes the stucco planes to be painted by street artist Tristan Eaton.
They alternate with Cor-Ten steel panels, which make it look like the building fabric has been exposed. The combination celebrates the neighborhood's grittiness and the spontaneous feel, which is fast disappearing."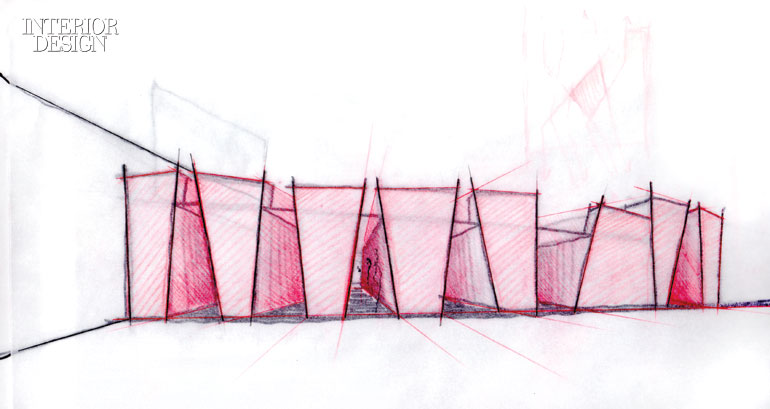 Sketches courtesy of Laith Sayigh. Portrait photography by Isauro Cairo.