London Architecture Students Transform Kings Cross Garden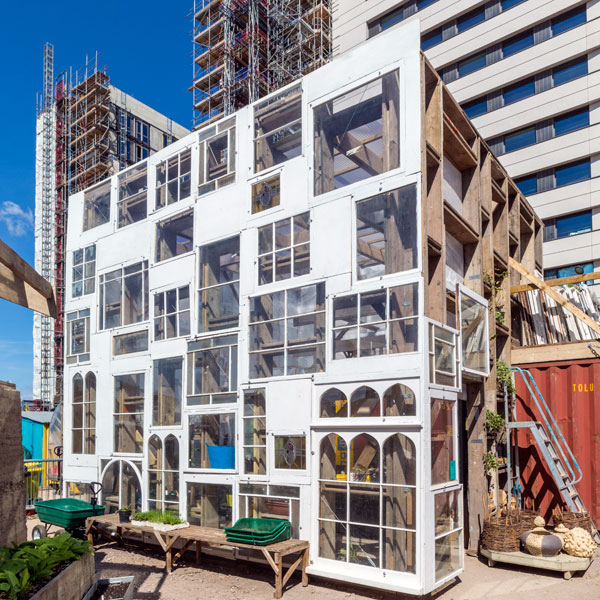 A vertical growing and dinning space designed by Rachael Taylor includes a low-tech curtain wall made from reclaimed sash windows supported with a scaffoldboard wall from old shipping container. Photography by John Sturrock.
As new homes, shops and office buildings pop up in place of the industrial factories and yards that once populated London's Kings Cross, a team of architecture students have come up with a way of transforming the construction site into an engaging public space.
The project—which sees reclaimed materials such as sash windows used to create a greenhouse dining space, railway sleepers used to form toilet cubicles and coffee sacks filled with earth to create energy efficient walls—is a collaboration between The Bartlett School of Architecture and educational charity Global Generation , which gives young people opportunities to create a sustainable future.
Valerie Vyvial created a coop for three chickens out of panels cut from a 3.4 meter-long Silver Birch tree joined by steel fixings to a bamboo structure. A leaf pattern laser cut into the panels creates a lantern effect at night. Photography by John Sturrock.
The new interventions created by the architecture students have been used to populate Global Generation's existing Skip Garden—a moveable vegetable garden built in skips that has been moved around Kings Cross three times over the past 10 years during the area's extensive regeneration process. "When people think of skips they think of construction, building and dirt. We didn't," says Jane Riddiford, co-founder of Global Generation. "We wanted to create a space that was both innovative, but served as a learning resource to the community."
The student's new additions, some of which had to go through planning before being built by teams of volunteers, include a chicken coop made from a 11-foot-long silver birch tree, a hydroponic hedge made from up-cycled glass wine bottles, and a dining hall with rammed earth walls.
"Full-scale making exposes students to real world challenges," comments Julia King, from The Bartlett's BSc Architecture. "Building your own structure and then inhabiting it engages you with your work in a very visceral manner and working with skip Garden has allowed the students to do just that." Jan Kattein, who runs the The Bartlett's BSc Architecture design unit, UG3 alongside King adds, "As professionals nowadays, we're trained to be risk averse and really only by making mistakes can students learn. And what is a better way of learning than making something at 1:1 that has failed and has to be rectified and fixed? That's an understanding that the students will never forget."
In warmer weather, a crank-operated mechanism allows the canopy to open up around a central pivot offering up views across the garden. The wetland dining area below the canopy, designed by Yangyang Liu, is London's first large-scale commercial reed bed water filtration scape, for recycling greywater. Pedal pumps are integrated into the system to lift the filtered water into a water storage tank where it can be then used for gravity-led irrigation. Photography by John Sturrock.