Luxury Fashion Turns to Interior Designers and Architects to Appeal to Lifestyle Consumers
Imagine a fun-and caffeine-filled week of parties and shows in Milan. Versace, Fendi, and Prada are the talk of the town. Everyone's abuzz about what Raf Simons is up to. No, it's not Milan Fashion Week we're talking about—it's Milan Design Week. It's just one of the examples of the way fashion houses are increasingly eying 'home' as a relatively untapped opportunity to move beyond consumers' closets, or in some cases, capitalizing on the design aficionados in their core consumer base by bringing celebrated designers and architects into the fashion world.
Perhaps the biggest overlap of design enthusiasts and the world of high fashion was at Versace's FuoriSalone exhibit. The storied—and famously private—Versace Palazzo at Via Gesu was open for the public to view the newest lines in the Versace Home collection. To create the set for the exhibition, Donatella hand-picked New York City's own Sasha Bikoff.
The New York-based interior designer became an instant household name for her overhaul of an apartment in the Dakota—at just 25 years old—and again for her colorful contribution to the 2018 Kips Bay Decorator Show House. Her signature aesthetic, color-filled and vibrant, was a natural fit for Versace; after all, when it comes to fashion, the muse of the Italian design house is usually the girl who's the life of the party. Channelling a shared fondness for Miami, Bikoff created a technicolor ode to maximalism inspired by archival prints from the ad campaign shot by Richard Avedon for the fall/winter 1994 ready-to-wear collection.

Read More: Cass Calder Smith Designs Sarah Jessica Parker's Second Shoe Store in NYC
"She used Versace Home pieces but completely reimagined to complement the atmosphere and that's why she used metallic neon leather or fake furs to cover the various pieces of furniture. The result is incredible. Art-deco meets fantasy," said Donatella Versace, who was thrilled with Bikoff's interpretation.
Elsewhere at Milan Design Week, Louis Vuitton commissioned one of the interiors world's favorite designers, Marcel Wanders, to add the newest pieces to its Objets Nomades furnishings collection.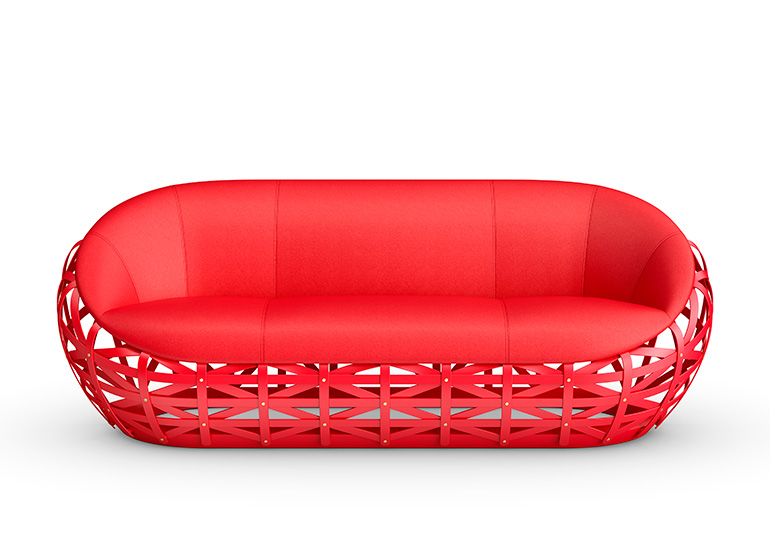 Wanders designed a vase, sofa, armchair, and a lamp for Objets Nomades, which also showed as part of FuoriSalone. His pieces are evocative of Lous Vuitton artistic director Virgil Abloh's structured tailoring for the fashion house's spring 2019 menswear collection. The scarlet hue used by Wanders also bears a striking resemblance to the hue used by Abloh in the same collection. A harness-like motif repeats throughout the collection, as an intertwined ash base on the seating and vase and around the lamp in leather. Intentional or not, the motif calls to mind the harness in actor Timothée Chalamet's Abloh-designed ensemble for the Golden Globes red carpet; variants of the accessory were also part of the fashion house's recent collection.
Prada also had a presence at Milan Design Week, albeit in a different scope. The Italian design house tapped prominent architects Liz Diller, Cini Boeri, and Kazuyo Sejima to reimagine the classic nylon bag for the Prada Invites spring/summer 2019 collection. The designs were toasted at a cocktail party at the Prada store in the historic Galleria Vittorio Emanuele II.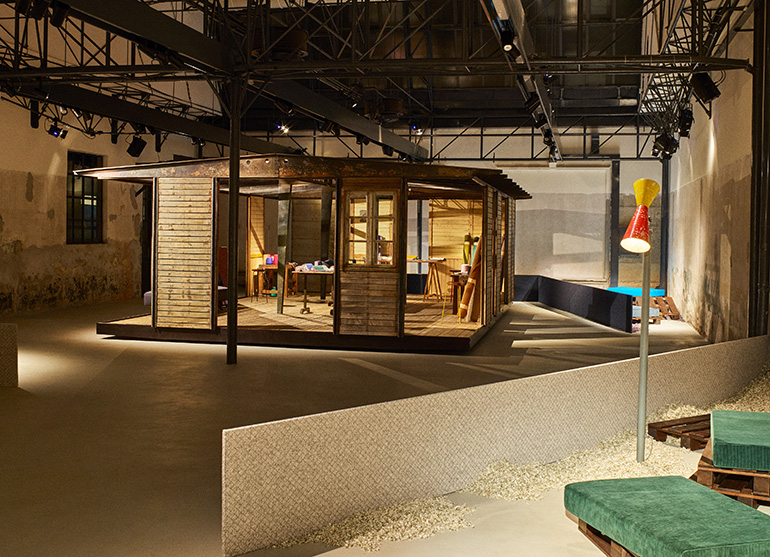 While a number of luxury fashion heavyweights showed with star creatives from the architecture and design fields, Danish textile company Kvadrat drew considerable interest for its collaboration with Raf Simons. The furniture-turned-menswear designer has been a fixture on the fashion circuit since founding his eponymous label in 1995.
Read More: Fashion and Fantasy Shared the Stage at Paris and Milan Fashion Weeks
In the wake of his departure from Calvin Klein last December, Simons has chosen to focus on his label and his six year-long partnership with Kvadrat. Though the partnership between Kvadrat and Simons has spanned upwards of half a decade, this year's collection was highly anticipated as those engaged with the fashion world have awaited any news of Simons' recent moves with bated breath.
The strategy of boosting business by appealing to consumers' inclination toward good design in both fashion and a broader lifestyle sense extends to brands who don't target the ultra affluent. Just look at the forthcoming collaboration between Rent the Runway and West Elm.
Rent the Runway was founded in 2009 as an e-commerce platform for women to rent designer evening wear for special occasions. Nearly a decade later, the company has five brick-and-mortar outposts to complement its online presence. Three pricing plans allow women to rent designer accessories, maternity wear, workwear, casual clothing and evening wear. The company made headlines in March for announcing its valuation of $1 billion in its latest round of venture capital funding. News of the valuation nearly eclipsed the company's other big March announcement that it would partner with West Elm to provide curated textile bundles for rental starting this summer.
The bundles include decorative pillows, throws, shams, quilts, and coverlets, according to a statement from West Elm detailing the partnership.
"We are making it easier than ever for customers to discover great design for their spaces," said Alex Bellos, president of West Elm, in the statement. "Each of our 26 curated home bundles encourage subscribers to translate their playful and bold style to decorating, and allow them to experience West Elm's original, modern products from the comforts of home."
Prestige brands, particularly in fashion and the arts, have collaborated with creatives who are emblematic of the cultural zeitgeist throughout history. Now that consumers have virtual access to whatever they want in the blink of an eye, the competition is on to stand out in today's saturated, design-heavy lifestyle market. Only time will tell how purveyors of upmarket fashion will continue to innovate in how they choose to extend their distinctive lifestyle experience into the categories of home and décor.
The April issue of Interior Design is the fashion issue; revisit your favorite articles online now!