Margaret McCurry: 1990 Hall of Fame Inductee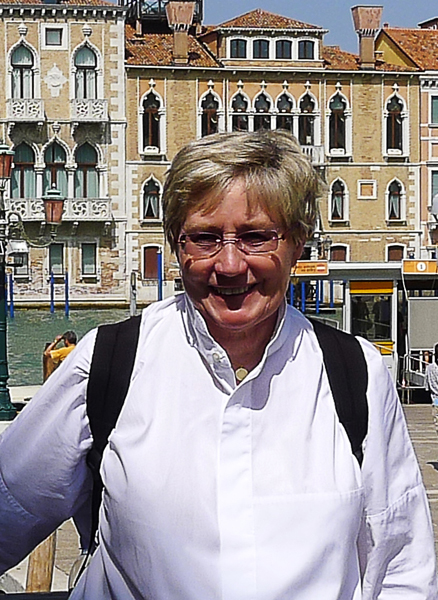 Put together, their resumes run to 19 pages–single-spaced, double-columned and in reduced-size type. But as the protagonists are Stanley Tigerman, and his partner and wife Margaret McCurry, hardly anyone in this industry should be surprised. Their careers, jointly (since 1982) and separately, have indeed been extraordinarily full and productive.

It is precisely because the achievements of this most famous present-day architect/designer couple are so well-known that the emphasis here is less on professional than on personal particulars. How did they meet, do they find it easy to work together? Responds Stanley: "Meeting Margaret was fixed up (by a professional colleague) in 1975. I pursued her like mad, and we were married four years later. On most of our jobs we work jointly, and criticize each other constantly. Actually our opinions differ a lot; as they should, because we are different people. The most satisfying job we have ever done? For me, the best one is always the next one. All right, if you insist: Our house in Michigan, which we did together." Margaret McCurry, interviewed later (but not briefed by her husband), emphatically agrees that they disagree almost always, then proceeds to confirm everything he said. They're both strong-minded, she admits, and tend to take different views; but after protracted tugs of war, the better idea invariably wins out. Each brings something that contributes to the success of the work. And again yes, their own weekend place is a most happy house. There is little time for extracurricular activities but working as one during days does not mean they need time apart. We're professional and personal friends," she concludes, noting also that she still skis and plays golf – although Stanley gave both up years ago but they do both enjoy reading, drawing and travelling to abroad.

The bare-bones statistics: Margaret McCurry, FAIA, FIIDA, ASID, a principal partner of the WBE architectural and design firm

Tigerman McCurry Architects

is the recipient of Honor Awards from the National AIA, Distinguished Building and Interior Architecture Awards from the Chicago Chapter, and both National and Local Interior Design Awards from IIDA and ASID.  She has been inducted into Interior Design magazine's Hall of Fame as well as being named the "Designer of Distinction" for 2002 by ASID national.   A native Chicagoan, McCurry received her BA in Art History from Vassar College and her Loeb Fellowship in Advanced Environmental Studies from the GSD at Harvard University. Her award winning projects have been published widely in architectural and interior magazines and exhibited at museums and galleries in the United States and abroad. She has lectured at many design conferences as well as schools of architecture where she has taught design studios.  In addition to authoring articles for architectural journals and catalogs, she is the author of two monographs: Margaret McCurry: Constructing Twenty-five Short Stories (2000) and Distillations: The Architecture of Margaret McCurry (2011).

McCurry has served as Vice-President of the Chicago Chapter and Chair of the National AIA Committee on Design. She has also served as Vice-President of the Illinois Chapter of ASID and currently serves on the boards of the Architecture and Design Society and the Department of Textiles at the Art Institute of Chicago. She has been President of the Alumni/ae Council of the Graduate School of Design at Harvard University, a Director of the Harvard Alumni/ae Association (HAA), and President of the Harvard Club of Chicago.  Margaret McCurry is known for distilling the essence of place by creating sustainable works that while representative of her own time also resonate with historical linkages. The grist for McCurry's architectural mill is always an amalgam of her clients' personalities and programs, coupled with their particular locales.


<<Back to All Hall of Fame Members