City Museum Exhibits Amazing Tile Ceilings



City Hall subway station, 1904. Photo by Michael Freenman/Museum of the City of New York




New York's often overlooked, yet undeniably magnificent, tile ceilings created by architect Rafael Guastavino and his son are the focus of a rare exhibition at the

Museum of the City of New York

.

"Palaces for the People: Guastavino and the Art of Structural Tile"

opens March 26 with architectural drawings, artifacts, photographs, and video, all documenting the legacy of the architect. Additionally, a replica of a Guastavino vault will be on view for closer inspection.

After he immigrated to the U.S. from Barcelona in 1881, Guastavino quickly rose to prominence for his innovative Guastavino tile, patented in 1885. Based on the Catalan vault found throughout his home country, his system created self-supporting arches from a network of interlocking terracotta tiles and mortar. The architect and his son worked during a New York building boom, and they incorporated their signature method into over 250 buildings throughout the city. Famous examples include Carnegie Hall, Grand Central Terminal, the Ellis Island Registry Room, and the Cathedral of St. John the Divine, and the old Pennsylvania Station. They also completed the interior work for the city's first subway line, dubbed an "underground cathedral," featuring chandeliers, skylights, and intricate tile patterns—all of which helped to dispel the subway's bad reputation. Private projects include work for clients such as the Rockefellers, the Astors, and the Vanderbilts.

According to John Ochsendorf, MIT professor and creator of the exhibit, "Names like Cass Gilbert and Charles McKim [of McKim, Mead & White] would design a building, but on their plans and drawings, they would write 'Guastavino here.'" Such high demand made his work a defining feature in the city's Beaux Arts architecture. As Susan Henshaw Jones, the Ronay Menschel Director of the museum, says, "The immigrant family literally helped create the face of New York."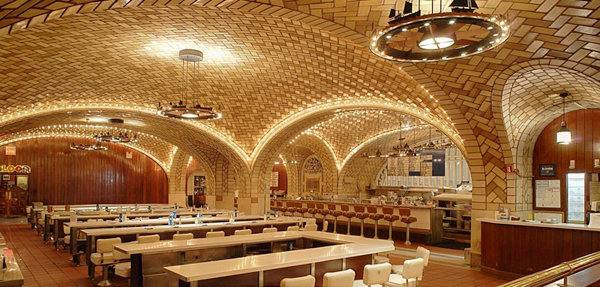 Grand Central Oyster Bar, 1912. Photo by Michael Freenman/Museum of the City of New York.