Messe Frankfurt Partners and the UN Are Using Trade Shows to Promote Sustainable Fashion
Representatives from the United Nations Office for Partnerships (UNOP), the Messe Frankfurt Textpertise Network, and the Conscious Fashion Campaign gathered at the United Nations Headquarters in New York on Monday to announce their official partnership. Per this new initiative, Messe Frankfurt—an international trade fair, congress, and event organizer whose textile industry network includes the 22,500 companies that exhibit at its 50-plus trade fairs per year plus 530,000 annual fair visitors—will adopt the United Nations' Sustainable Development Goals, a 17-goal outline to increase ethical manufacturing across the globe first introduced in 2016. The company will gradually implement the initiative's principles at its events, particularly its trade fairs, with each one promoting SDGs in full force by 2022.
Following a welcome by UNOP Executive Director Robert Skinner and opening remarks by Ambassador Jurgen Schulz, Deputy Permanent Representative of Germany to the United Nations, Detlef Braun, a member of the Executive Board at Messe Frankfurt, provided an overview of the new initiative: "Along with digitalization, sustainability is a topic currently exerting a significant influence on the global textile industry. Messe Frankfurt has been accompanying this development with its worldwide textile events under the umbrella of the Texpertise Network for more than 10 years. It is therefore a logical conclusion that the Sustainable Development Goals should be integrated in our worldwide textile events to generate acute awareness of the importance of sustainability in the textile industry."
This is not the UN's first campaign related to the fashion sector. Earlier this year, UNOP and seven other organizations formed the UN Alliance for Sustainable Fashion, a common platform for the eight groups to promote their sustainability initiatives. The alliance's website highlights jarring statistics about the clothing and textile industry's ecological impact, from the scope of its greenhouse gas emissions (8-10 percent of the worldwide total) and industrial wastewater pollution (20 percent). It also employs some 75 million people globally, most of them women.
Speakers from Messe Frankfurt, the United Nations Office for Partnerships, and the Conscious Fashion Campaign cited these same statistics in their announcement on Monday. They also outlined methodology for presenting SDGs at Messe Frankfurt's numerous Textpertise Network events via interactive information stands, presentations, discussion forums, fair tours, and special activities.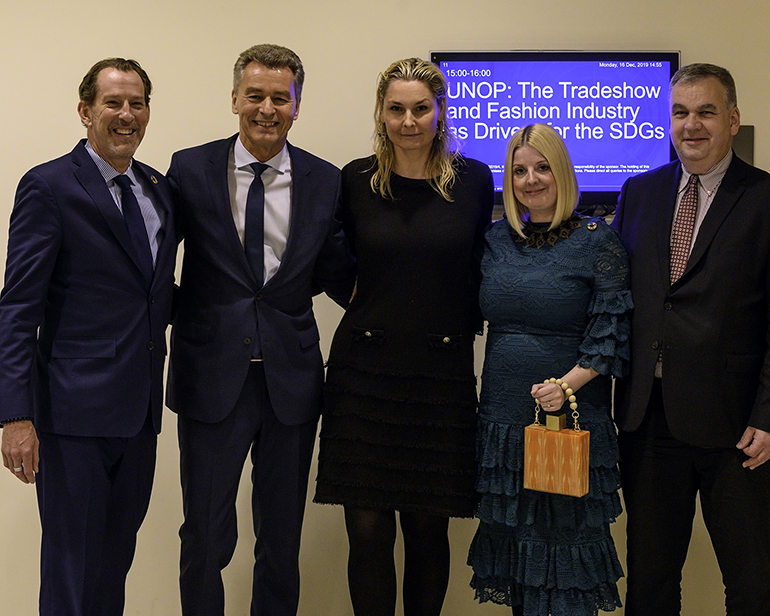 "Trade fairs have long been a place of communication, innovation, and the exchange of ideas," said Braun. Their prevalence is projected to continue, he added, citing a study involving Millennials and Generation Z. When surveyed, two out of three expressed a desire for increased face-to-face commerce as opposed to e-commerce. This holds especially true for the textile industry, where every sale hinges on a product's visual and tactile qualities. This year alone, some 3,000 exhibitors and 65,000 visitors are projected to attend Heimtextil in Frankfurt, the world's largest textile trade fair, which Messe Frankfurt hosts on its own fairgrounds.
For the past 10 years, Heimtextil has featured an index of sustainably producing companies known as the Green Directory. To be included, exhibitors are evaluated on the basis of three categories: social responsibility, which calls for social initiatives and living wages for workers; ecological responsibility, which prioritizes, for example, organic and recycled materials; and transparency and openness regarding the manufacturer's supply chain, from the original source of its raw materials through distribution. As of 2020, the SDGs will be integrated into this Directory, which will comprise 262 entries—a new record.