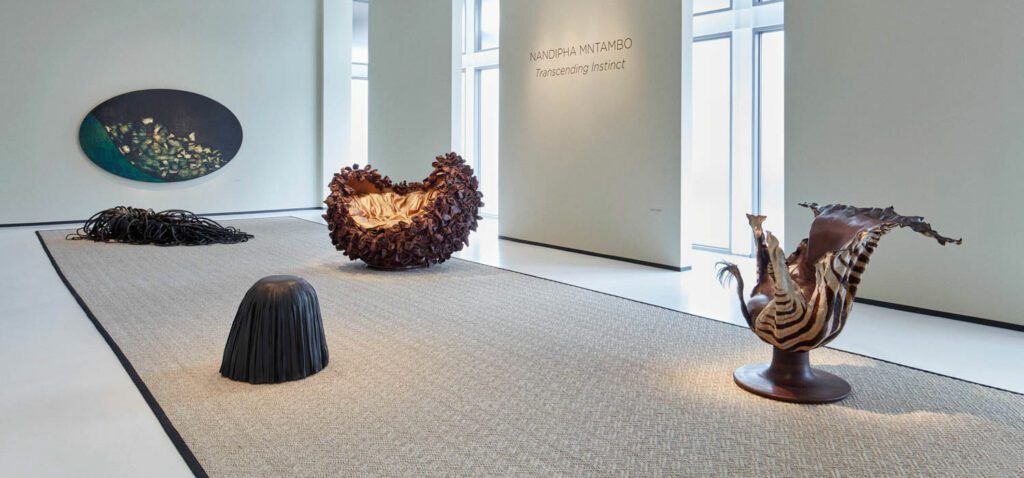 Nandipha Mntambo's Furniture Blurs Human and Animal Forms in a New Show at Capetown's Southern Guild
Until recently, the Eswatini-born and Johannesburg-based artist Nandipha Mntambo was best known for her uncanny cowhide-resin sculptures that explored, and exploded, the boundaries between animal skin and human figuration. "Transcending Instinct," her first solo show for Cape Town's Southern Guild gallery, on view through April 8, stretches her expertise into the realm of functional sculpture.
The result is a quartet of haunting seating. The Hypnotic stool reimagines her 2009 sculpture uMcedoas a hump concealed by tassels that pays tribute to the voodoo spirit Zangbeto. A coat she fashioned that same year, adorned with cow ears, inspired the unsettling cocoon chair Love Quest. A chaise, Serenity,invokes black holes and tentacles yet offers a cozy sheepskin seat in which to snuggle. The Pinnacle chair upends expectations entirely, conscripting an overturned Zebra to serve as a strange seat. "I'm using my current practice as a lens to look back," Mntambo said in a statement. And she's finding a range of deeply-bodied, provocative meditations on form—that of human beings, of animals, and what lies in-between.