Naomi Leff: 1991 Hall of Fame Inductee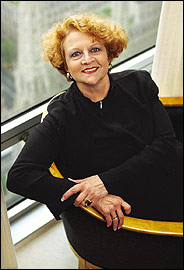 Photo courtesy of www.nytimes.com

(by Scott Frances).





Think of some of the great names in retailing: Bloomingdale's, Saks Fifth Avenue, Wilkes-Bashford, Holt-Renfrew (Canada), Neiman Marcus, FAO Schwarz, Bergdorf Goodman, Ferragamo, Gucci, Ralph Lauren and Giorgio Armani. Naomi Leff worked with them all.
Leff was educated at the State University of New York at Cortland where she earned a Bachelor of Science degree. At the University of Wisconsin she completed a masters program in Sociology. She also earned a Master of Science degree in Environmental Design with undergraduate studies in Architecture at Pratt Institute.
Her residential interiors included houses and clubs for many notables, among them Ralph Lauren's Double RL Ranch in Colorado and estate in Bedord, NY; the Beach Club and Beach Club Cottage at Windsor, FL for the founders Galen & Hilary Weston; homes for film stars Tom Cruise and Nicole Kidman; both the DreamWork's corporate headquarters at University City, CA and residences for Steven Speilberg in East Hampton, LI, Pacific Palisades, CA, and New York City; for Jeffrey Katzenberg, homes in Malibu, CA and Park City, Utah; and David Geffen's New York City and South Beach Miami residences; for Neil Hirsch, homes at the Palm Beach Polo Club and Watermill, Long Island; for Mike Nichols and Diane Sawyer's country residence in Sneden's Landing, NY; for Barry Diller, a renovation of his yacht, the Mikado, and his residence and guest house in Beverly Hills, and a mountain home for Edward Lampert in Aspen, CO.
In her more than 20 years of professional experience, Leff established the consummate store image for Ralph Lauren in her painstaking renovation of New York's Rhinelander Mansion, translating the designer's distinct blend of architectural form, feminine grace and luxurious comfort into his spacious store interiors. Her strengths were not only in design and implementation, but also in the development of image and prototypes often repeated on a nationwide scope. And for Armani, it was she who translated the Milan look into Boston's elegant collection boutique as well as conceiving the prototype for the couturier's A/X shops for casual, lower-priced clothing. Both of these projects won Leff "Store of the Year" Awards. For Saks Fifth Avenue, she developed the store's Real Clothing boutiques. The interiors of the Holt Renfrew stores across Canada and of Brown Thomas, Dublin's most fashionable store, were also designed by Leff.
Leff's expertise, however, extended beyond the boundaries of retail design. "Being a designer," she said, "means listening to your clients, seeing their vision and then interpreting." With this as her guiding principle, she completed an ever-wide range of projects.