Poltrona Frau Partners with Winery to Remake Iconic Chair



Poltrona Frau's limited-edition Pausa di Luce chair, originally designed by Renzo Frau in 1919.




Last week, venerable Italian furnishing company

Poltrona Frau

introduced a limited edition remake of its iconic 1919 armchair at the company's New York showroom. The armchair is part of a collaborative project with

Luce della Vita

, an Italian winery located in the Montalcino area of Tuscany, and is based on the original century-old design by Renzo Frau. The partnership between Luce and Poltrona Frau, which celebrated its centennial last year, is based on shared values such as artisanal tradition, craftsmanship passed down through the generations, and creative genius.
Called "Pausa di Luce," the chair is upholstered with an exclusive blend of leather called Pelle Frau® Century Luce that has been dyed a deep shade of red to mimic the winery's 2010 vintage, Luce by Luce della Vite, a blend of Sangiovese and Merlot. The finishing touches are an attached cup holder crafted from the same oak as the barrels used to age wine and a personalized numbered brass plate and gold button on which to engrave initials.
"Both [Poltrona Frau and Luca della Vita] have a similar philosophy and a similar story," Roberto Archetti, brand director for Poltrona Frau. "Both of our products are made by hand. With the Pausa di Luce chair, you can sit in comfort and sip a glass of wine."

Poltrona Frau plans to produce a limited quantity of chairs and are available only by request in a select number of its showrooms in Italy (Milan and Rome), Asia (Tokyo, Taipei, Hong Kong, and Shanghai) and the United States (New York, Miami, and San Francisco).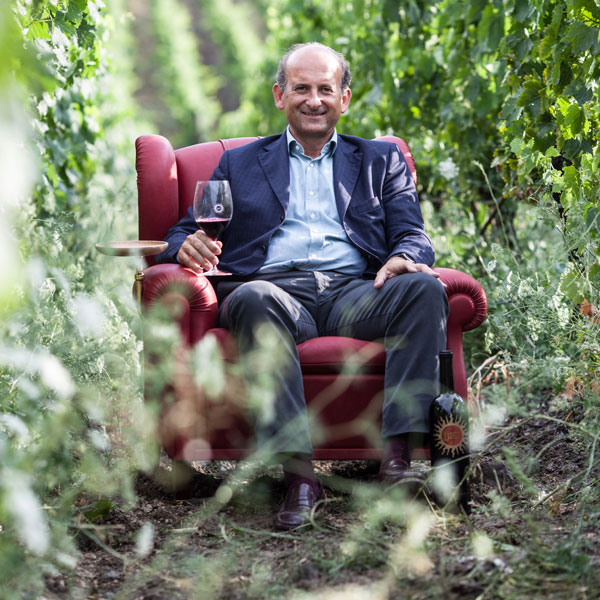 Lamberto Frescobaldi, president of Marchesi de'Frescobaldi and winemaker for Luce della Vite.