Richard Meier Breaks Ground on South Korea Resort
Richard Meier and Partners has broken ground on the firm's first project in South Korea, the HH Resort Hotel and Spa in the town of Gangneung. Situated at the top of a hill on the northeast coast, the hotel will feature 150 guest rooms, a banquet hall, an exhibition hall, an amphitheater, a beach house, a restaurant, and a wellness spa. Views of the sea will be available from most guest rooms, and those at the rear of the hotel will have views of the Taebaek Mountains and the Gyeongpo Lake.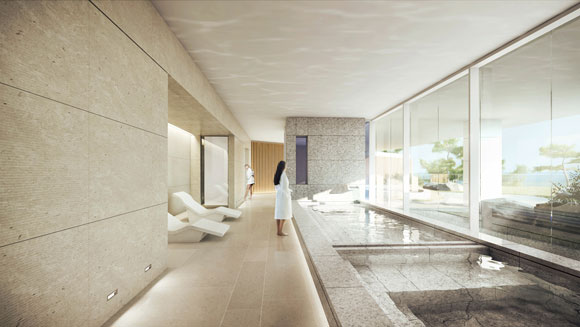 An interior view of the spa.
The hotel was designed to compliment its coastal landscape, with a banquet hall situated above the beach, elevated by pilotis and connected via a bridge to the main building's entrance plaza. The main building will be positioned at the summit of a densely forested hill above the beach, while the bold geometric form of the 15-story tower will stand in contrast to the organic shapes below, achieving a graceful harmony between structure and landscape.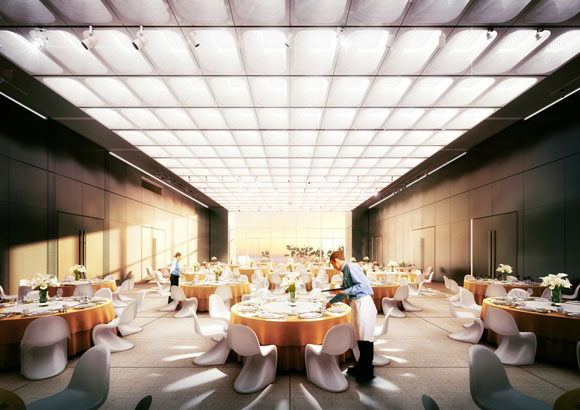 The hotel's banquet hall and grand ballroom.
The HH Resort Hotel and Spa is one of many projects currently being designed and built in the region. Gangneung will host all of the indoor sports at the Pyeongchang 2018 Winter Olympics, and all facilities will be newly built. Richard Meier and Partners expect the hotel to be completed in 2015 and ready well before the 2018 Winter Olympic Games.
Dukho Yeon, associate partner-in-charge of the project, says, "South Korea is an economic powerhouse and continues to grow rapidly, with a great appreciation of the arts and design. This first project is a result of the owner's vision to create not only a commercially successful building, but architecture with the highest standards and a lasting quality that everyone can appreciate."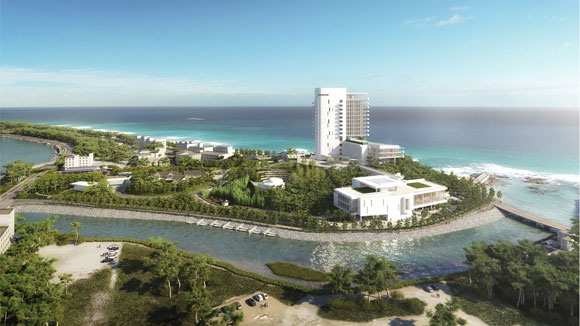 Aerial view from the south.