Designer Sebastian Paulson Debuts Saftiuk Furniture Line
Contemporary with a traditional, sleek and a deconstructive edge is certainly a mouthful, but well suited to Brooklyn-based

Saftiuk's

debut line of furniture. The designer behind the collection, Sebastian Paulson, was raised on the perimeter of the Manistee Forest in Northern Michigan. He moved Brooklyn, New York, in 2001 and began amassing woodworking tools and machinery in an old sewing factory. A decade later, Saftiuk was established with the well-received Kief table.







Epoxy Side Table



The new collection includes tables, seating and lighting, and each piece is distinguished by designer's Sebastian Paulson's distinctive surfaces: patterns of voids that create unique surface motifs sprawling across tabletops, seat backs and lamps.
"I grew up surrounded by Ukrainian art and embroidery; its geometric and very intricate," says Paulson, whose grandparents were Ukrainian immigrants. Paulson adds that the ornamentation does doubles as a functional element by "providing convenient routing for chargers and cords and computer connections." The tenored surface serves Paulson's environmentally friendly mission as well: this treatment reduces typical solid waste factors from 30 to five percent.



Cocktail Table



For those looking for a smoother surface, Paulson offers tempered glass for full or partial coverage and the more clever use of transparent epoxy to fill the voids. And for those who like to store their trinkets close at hand, there's the pocket option, which is a carved recess that offers a safe haven for things that might otherwise slip through the cracks.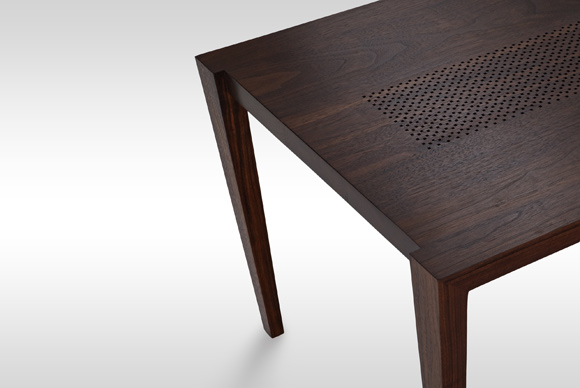 Side Table in Walnut



His line is still designed and made to order from Greenpoint, Brooklyn, and the future promises several additions to the collection including a credenza and pendant light fixtures.