Sergio Rodrigues Gallery Opens Inside Espasso in LA



Sergio Rodrigues with his Mole chair




When it came time to select which Brazilian designer's furniture collection he would dedicate ample floor space to inside his Los Angeles showroom, Carlos Junqueira, owner and curator of

Espasso

, had zero hesitation. He chose

Sergio Rodrigues

, who has been designing furnishings for more than a half century and has justifiably earned the title "the father of Brazilian furniture" thanks to his iconic contemporary designs employing tropical hardwoods from his native Brazil and his strong influence on other Brazilian designers. The approximately 1,000-square-foot shop within a shop, which staged its grand opening last week, features some of Rodrigues' most popular works, including his Mole Chair, a piece constructed of jacaranda wood and leather cushions supported by leather straps, and his Voltaire Chair, an upholstered throne fit for a king. The permanent collection also includes sofas, lighting, stools, and sideboards.








Sergio Rodrigues in Espesso LA




This is the second time that Junqueira has incorporated Rodrigues' work extensively in his gallery. He did so last October inside Espasso's TriBeCa gallery in New York, marking the 85-year-old designer's first store opening in America in more than 40 years. "I've known Sergio Rodrigues for 10 years and he's a good friend of mine," Junqueira says. "His work is timeless. So much so that I know grandparents whose grandchildren now buy his pieces for their homes." Espasso is located at 8687 Melrose Ave. in Los Angeles. For more information, visit

espasso.com

or call (310) 657-0020.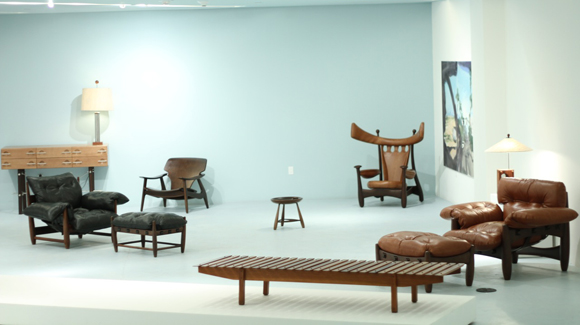 Sergio Rodrigues in Espesso LA



Images courtesy of Espasso.