Statement Kitchens Complete These Luxury, Sky-High Apartments
While there's no shortage of awe-inspiring residential interiors, the kitchen commands immediate attention in homes large and small. Whether the space is a minimalist nod to function or a luxurious area for entertaining, it's one designers cannot afford to overlook.
After all, the kitchen is a space that stirs the senses—each smell, taste, and texture draws on our memories and leads to new ones. It's also a heavily utilitarian area, inextricably linked with the notion of discovery. Given the hearth's ability to forge a communal atmosphere and connect us with our roots, it's no surprise designers turn to statement kitchens to create a lasting impression.
Thirty Park Place in New York, the Brickell Flatiron in Miami, and The Wilshire in Houston are three high-end residential towers that showcase brands found in the A&D Building, which are especially adept at offering designers a vast range of fixtures, cabinets, and more. Each manufacturer featured in these lavishly distinct apartments—namely Bilotta, Snaidero USA, and SieMatic—has extensive experience imbuing multi-unit residential buildings with rich materials that optimize function.
Project: Thirty Park Place
Location: New York, New York
Product Spotlight: Bilotta
Thirty Park Place, designed by Tom Vecchio, Bilotta senior designer, in collaboration with Robert A.M. Stern architects, includes 157 high-end kitchens complete with Bilotta cabinetry. Larry Silverstein of Silverstein Properties envisioned Thirty Park Place, which serves as the Four Seasons Private Residences in lower Manhattan, as the tallest residential tower downtown.
Each kitchen in the skyscraper features a soft neutral palette and includes Bilotta Collection Cabinetry in rift cut white oak with a custom stain, Gaggenau appliances, and Colorado white marble tops. The units are marketed by Corcoran Sunshine Marketing Group.

Project: Brickell Flatiron
Location: Miami, Florida
Product Spotlight: Snaidero USA
When it comes to towering residential buildings in Miami, Florida, a recent 64-story development downtown—Brickell Flatiron—is carving out its own space in the sky.
Brickell Flatiron, developed by Ugo Colombo's CMC Group with architecture by Luis Revuelta, redefines the meaning of luxury living with its top-notch finishes and amenities, which include a Sky Spa, theatre, billiard and cigar room, wine cellar, and personal concierge services. Each of the 549 units in the space offer residents the finest in kitchen finishes and appliances, such as natural wood cabinets by Snaidero USA, the leader in North American imports of European kitchen cabinets.
Brickell Flatiron's designers opted to use the Snaidero's WAY collection—a North American best seller and winner of the 2012 GOOD DESIGN™ Award. The collection, made in Italy and manufactured with environmentally-friendly practices, embodies the essence of European elegance, offering a clean and modern aesthetic.
Snaidero USA is the exclusive distributor of Snaidero products in the U.S. The company partners with developers, architects, and other design professionals for both retail and multi-housing projects.
Project: The Wilshire
Location: Houston, Texas
Product Spotlight: SieMatic
The Wilshire in Houston, Texas, is a relatively new development that enhances the upscale vibe of the city's River Oaks area. The 17-story high-rise, designed by Kirksey Architects, includes 97 kitchens featuring cabinets by SieMatic—a leading purveyor of fine kitchen finishes, backed by 90 years of experience.
Cabinet finishes at The Wilshire range from Titan Pine horizontal grain wood laminate to sterling grey laminate, creating a truly unique aesthetic. Each kitchen also includes an island with Sub-Zero and Wolf appliances, plus wood, tile, and stone finishes on flooring and counters.
While The Wilshire boasts the largest outdoor deck of any condo complex in Houston, with a 75-foot lap pool, cabana rooms, and a covered kitchen for grilling, the sleek, the minimalist kitchens in each unit are a true stand-out when it comes to the interior.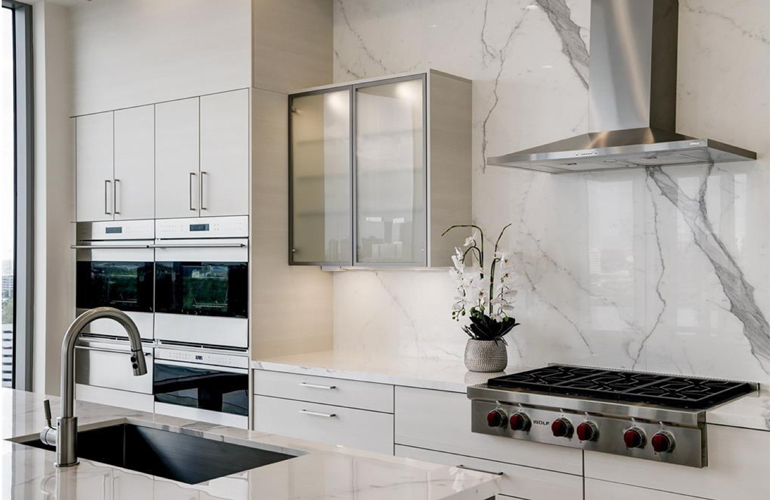 The A&D Building, which features 40 showrooms, picks up where company websites and product brochures leave off, offering designers and architects the ability to test and touch a multitude of materials from different manufacturers in one convenient location. Whether creating a jaw-dropping kitchen or updating another area of the home, The A&D Building serves as an infinite toolbox when it comes to adding distinguishing details to a space.
For more about these showrooms and 37 others, visit the A&D Building at 150 E. 58th St., New York's best address for kitchens, baths and fine furnishings or go online at adbuilding.com.