Steelcase and Microsoft Unveil 5 Spaces to Boost Creativity
Steelcase and Microsoft are partnering to develop a range of technology-forward spaces. The collaboration follows research conducted by both companies that explores creativity's role in future business success and how it is impacted by the integration of technology and furniture in the office.
The two companies concluded that, throughout the entire process, creativity requires diverse work modes as well as various types of technology, such as Microsoft's Surface Hub, an interactive whiteboard for use in collaborative settings. To fully maximize creative thinking, designers must tailor the workplace to accommodate working in solitude, pairs, and larger groups, which requires inspiring, high-tech spaces designed with the worker in mind. "The problems people face at work today are much more complex than they used to be," says Sara Armbruster, vice president of strategy, research, and new business innovation for Steelcase. "They require a new creative way of thinking and a very different work process."

Today, organizations tend to invest in technology and space as separate entities rather than approaching them holistically, resulting in creative conditions that are less than ideal. "Most employees are still working with outdated technology and in places that are rooted in the past, which makes it difficult for them to work in new, creative ways," said Bob O'Donnell, president, founder, and chief analyst at California-based technology research and consulting firm TECHnalysis Research.
Microsoft also announced that select Steelcase dealers have become authorized resellers of Microsoft's Surface Hub in the United States and Canada, with the United Kingdom and Germany to follow in the summer. The two companies are also developing high-tech workplace solutions built on Microsoft's Azure IoT technology, which will provide businesses with analytics that improve workplaces and solutions to help employees find the best places to do diverse types of work within the office.
Five initial Creative Spaces, each designed to foster different modes of creative thinking, are currently on display at the Steelcase WorkLife Center in New York City. These spaces—Focus Studio, Duo Studio, Ideation Hub, Maker Commons, and Respite Room—integrate Microsoft Surface devices with Steelcase architecture and furniture. Learn about each space below:
Focus Studio
A place for ideas to incubate, the Focus Studio is designed for individual creative work while allowing quick shifts to two-person collaboration.
Duo Studio
The Duo Studio enables two people to co-create shoulder-to-shoulder, supports more individualized work, and also provides a break-out area for quick team meetings.
Ideation Hub
The Ideation Hub is a high-tech destination that encourages active participation and equal opportunity to contribute as people co-create, refine, and share ideas.
Maker Commons
Designed to encourage quick switching between conversation, experimentation, and concentration, the Maker Commons is designed around socializing ideas and rapid prototyping—two essential elements of creativity.
Respite room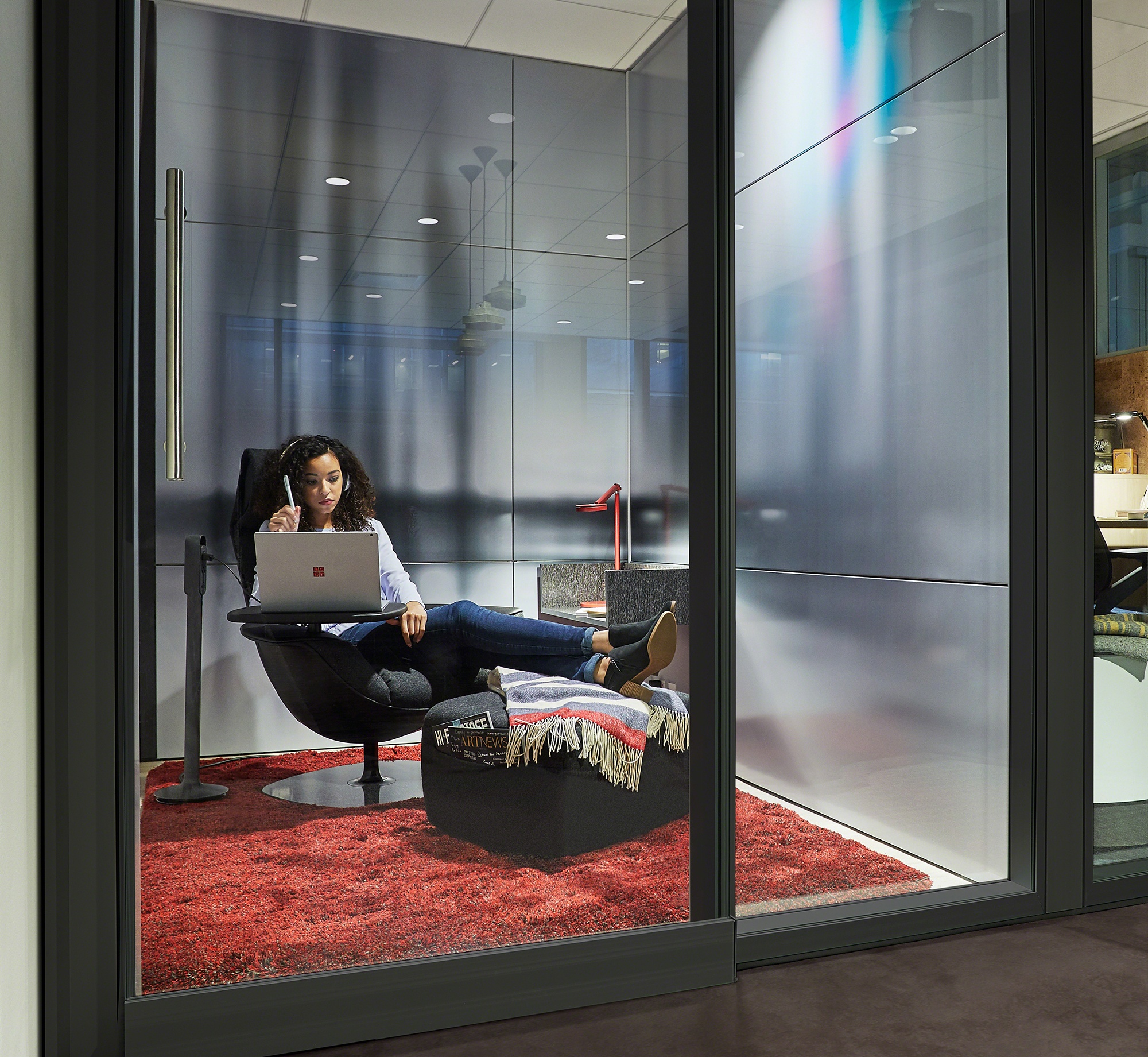 With creative work requiring many brain states, the Respite Room lets workers balance active group work with solitude and individual focus time.