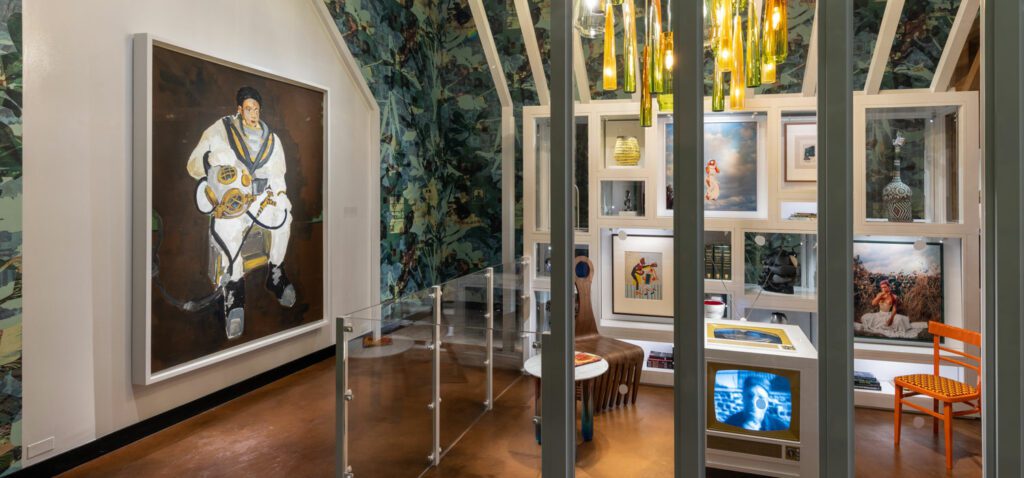 The Metropolitan Museum of Art Invites Viewers to Reflect on Community and Hope in Afrofuturist Period Room
The Metropolitan Museum of Art recently opened "Before Yesterday We Could Fly: An Afrofuturist Period Room." The long-term installation artfully blends a fabricated 19th-century domestic interior with new acquisitions from contemporary artists and designers such as Ini Archibong and Tourmaline. The resulting space appears untethered by time, embracing the African and African diasporic belief that past, present, and future are interconnected.
Woven throughout is the story of Seneca Village, a community of free Black tenants and landowners that prospered from the 1820s to 1850s in Manhattan—not far from The Met's current location—only to have their land seized by the city to create Central Park. The Met period room seeks to imagine a speculative future home powered by Afrofuturism—the creative mode that centers Black imagination and self-determination—had Seneca Village been allowed to thrive.
"The Met's distinguished collection of period rooms present not only outstanding objects and displays, but also complex relationships towards history and authenticity that call for reinterpretation and intervention," said Max Hollein, the Museum's Marina Kellen French Director. "As the first to present a constructed space of now and tomorrow rather than a filtered perspective on the past, the Afrofuturist Period Room offers an important opportunity to start new dialogues and illuminate stories that are yet to be told within our walls."
The space includes existing pieces from the Met collection including Bamileke beadwork and 19th-century American ceramics alongside targeted acquisitions from modern creators. These include colorful works by Cape Town-based ceramist Zizipho Poswa, Roberto Lugo's ceramics emblazoned with portraits of notable figures such as Stacy Abrams and Gabrielle Union, and British-Nigerian artist Yinka Ilori's Iya Ati Omo chair. Industrial designer, artist, and musician Ini Archibong's contributions include his symphonic Vernus 3 glass chandelier and the mesmerizing Orion table with chromatic glass legs topped by Carrera marble. The room is animated by commissions from Njideka Akunyili Crosby, Fabiola Jean-Louis, and Jenn Nkiru.
Conceived and designed by lead curator and designer Hannah Beachler, also known for her work on the film "Black Panther" and Beyoncé's iconic video album "Lemonade," the exhibition invites viewers to pause, offering what she says is "a necessary conversation with time, loss, community, and hope."