The WXY Principals Have Put Their Stamp on Nearly Every Corner of New York
They embody the word interdisciplinary. Claire Weisz and Mark Yoes work on every project type at every scale, from street furniture and small apartments to vast public plazas and neighborhood master plans. Battery Park's SeaGlass Carousel and the Brooklyn Cultural District streetscape are just a few of the sites envisioned with the help of Weisz and Yoes's studio, WXY Architecture + Urban Design, just named Firm of the Year by AIA New York State. Yoes describes the principals, who also include Adam Lubinsky and Layng Pew, as "collaborative auteurs." Weisz calls their forte "non-institutional institutional buildings," but that doesn't adequately cover the scope of the work, which defies summarization, not to mention convention.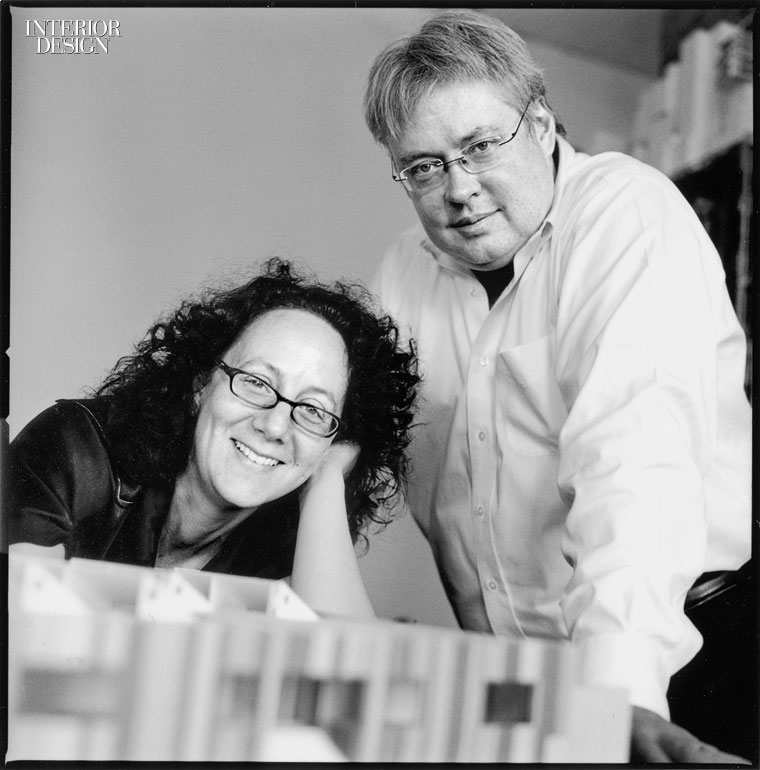 Interior Design: You've contributed to many iconic public spaces in New York.
Mark Yoes: We're super-local. Other than a pedestrian bridge we designed for a city in China and planning projects we've begun in Detroit, all our work is in the New York area.
Claire Weisz: But New York is almost as complex as an entire nation. There is such a diversity of conditions here.
ID: What accounts for the recent improvements in public space?
MY: When we started out, the attitude toward the urban realm was grim and utilitarian. The standard is much higher now, as are the public's expectations. Plus, the city has benefited from an improved economy. The evolution started with Mayor Rudy Giuliani, but Michael Bloomberg's administration was a massive catalyst.
CW: Actually, I think 9/11 was the real shift.
MY: True. Change was already in process, but the rebuilding effort inspired New Yorkers to become much more interested in upping the level of design in the public realm.
ID: When founding your firm, did you immediately set out to follow this path?
CW: We had a huge advantage in not knowing what we wanted to do. Mark and I have similar backgrounds. We both attended graduate school at Yale and started our careers in studios where design and big ideas went hand in hand. I worked for Charles Moore and Mark for Emilio Ambasz. They were not the mainstream! They were engaged in the kind of issues that drive design now.
MY: They were very against master plans.
ID: Why is that?
MY: We've seen so many master plans that are not set up to change under new circumstances or to gracefully self-destruct. Over 30 years, can a plan carry all the way through? How do you plan for global warming?
ID: Is there an overlap between urban and interior design?
CW: Both derive from the same impulse. To me, the core issue of interior design is not picking out fabrics or deciding how high tables should be. It's about making a place that's experiential and delightful.
At our practice, we have always asked: What are the institutions that really count? And institutions include not only a school but also a kitchen—as a common space in a house, a place for interactions. You need public-space thinking in a private space and vice versa.
ID: Is residential design a small percentage of your practice?
CW: We do residential work only if the design scenario is interesting, one we feel we can contribute to. One of our first projects was a house in East Hampton. The challenge was in how to make a private space public, the idea of your dining room and front porch being in dialogue.
The house was near Willem de Kooning's aircraft-hangar art studio, and that was the inspiration for our structural system's interlocking wedge shapes. At the time, everyone was doing giant shingle-style boxes, and we wanted to prove that the modernists' experimental work was still relevant.
ID: What changes have you noticed?
MY: Just about every project we get now is a hybrid.
ID: For instance Pier 26?
CW: One little building serves as the pier's gateway, a check-in for miniature golf, a food venue, and the dockmaster's office as well as housing maintenance facilities. It's hard to resolve such a complex program if you don't let loose a bit. We believe that structures have to be extraordinary. Not in the sense of being flashy but. . . .
ID: "Geometric"? That's a term we've heard you use.
CW: We have a love for resolving geometries, as with the folded planes of our salt shed for the sanitation department.
MY: You also have to resolve the unseen geometry of the infrastructure below. In most other cities, there's a dedicated channel for underground services, but it's buried right under the asphalt in New York. We sometimes feel like we're trying to escape our way out of a site, through design.
ID: How important is collaboration?
CW: Although we're game to design anything, we do our best work in collaboration with other architects or even people in different disciplines. We have a track record of putting great teams together. We're really focused on pushing the quality, and we're not scared of diversity—whether of disciplines or ideas. The more voices at the table, the better the project.