ThinkLab's Amanda Schneider Delivers Keynote at Interact Conference in New York
On October 3, contract textile manufacturers and designers gathered at New York University's Kimmel Center for the Association for Contract Textiles' (ACT) annual Interact Conference. On the misty Manhattan morning, ThinkLab President, Amanda Schneider, delivered the day two keynote "Disrupt or Be Disrupted" to a packed room.
Disruption is a word that's top of mind for most business owners, especially in the design realm given the rise of coworking spaces like WeWork. At a time when smartphones enable everyone to access a wealth of information at their fingertips, the next disruption already is in the works. The contentious word echoed throughout the two-day ACT conference as Schneider and Mitch Joel, founder of a content company focused on commerce and innovation called Six Pixels Group, addressed industry shifts through their respective specialties—research and technology. Joel delivered the keynote during the conference's first day.
At the start of Schneider's presentation, she warned listeners they may feel a bit uncomfortable by what they were about to hear. "The 'D' word [disruption] is kind of scary," she said. "As things change, it requires us to step out of our comfort zone and do things differently." Schneider pointed out that the architecture and design industry has seen more change in the last five years than the past 30, including the contraction of brands, shifts in specification, new generations in the workforce, and tighter constraints on time expectations for projects.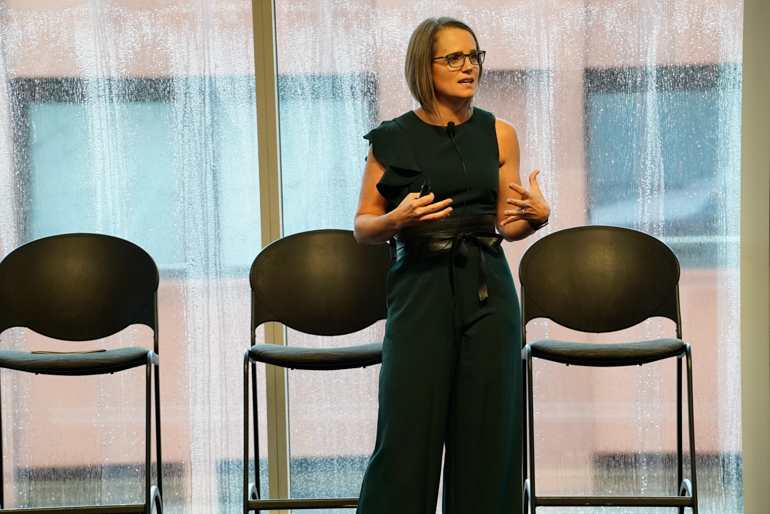 "Today, the only constant is change," Schneider noted, pointing out that the average tenure of a company on the S&P 500 is expected to drop by more than half, from a 33-year lifespan in 1965 to a 14-year one by 2026. This means the way companies think about built environments—and the furnishings and materials within them—is undergoing a major shift.
In this reality, how can manufacturers help specifiers understand the value of one product over another? For starters, the more product information they can provide, the better. Even if that means conducting in-house performance tests and demonstrating sustainability benefits. Rather than fear disrupters, Schneider encouraged attendees to learn from them and contemplate how to apply new ways of thinking to their own businesses. Think process innovation, not product innovation.
The conversation continued with a panel featuring Irina Sai, senior associate at HOK, Lance Amato, principal at Vocon, and Lauren Shaw, global interior design manager at WeWork. Panelists touched on how to address generational challenges and evolving client demands in an increasingly disrupted future.
Read more: NeoCan't Event Provides Networking and a Glimpse into the Future of Design