Tommy Bahama's Flagship Brings the Beach to NY



The bar features a light color palette and aged oak for warmth.



Slated to open in November, the new

Tommy Bahama

flagship store, bar, and restaurant will be a unique beach-like destination for shoppers looking to escape the concrete jungle. Housed in the Fred F. French building in New York, the "urban oasis" was designed by

Michael Neumann Architecture

. Neumann and his team set out to create a sophisticated resort atmosphere for the popular lifestyle brand whose mantra is, "Life is one long weekend."



The bar features a light color palette and aged oak for warmth.



"The Tommy Bahama brand has a very strong following," says principal Michael Neumann. "We wanted to make sure the retail space, bar, and restaurant were authentic to the brand so the materials we used are very evocative of the beach, such as the textured limestone flooring and weathered wood. There's a light and airy feel to the space, yet we made sure to elevate the design so it's still very sophisticated and modern."
The space will offer shoppers the brand's latest products as well as a double-height bar and full-service restaurant – making it a truly immersive shopping experience. Neumann and his team designed each section to flow in harmony, so that the retail space blends in with the dining room and bar. So much so that the open floor plan ensures and inclusive visit, allowing shoppers to hear what's going on no matter where they are in the space. Stay tuned for the opening and completed interiors.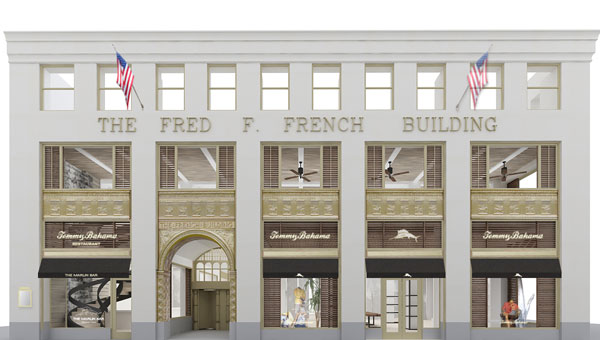 Michael Neumann Architecture repurposed parts of the old boardwalk from Coney Island to create the louvers flanking the flagship windows.