Year in Review: Top 10 Design Projects of 2013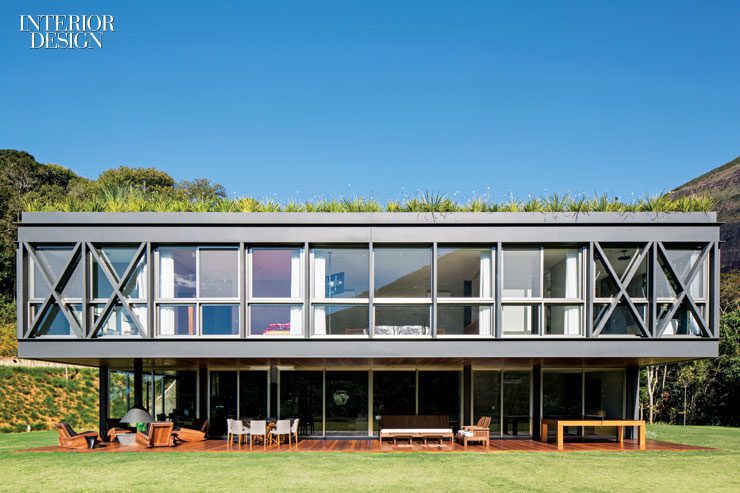 All things considered, 2013 was undeniably a year to celebrate. If Interior Design 's Giants numbers and record attendance at our Best of Year and Hall of Fame events is any indication, the design industry is officially out of the red zone. Not to mention, we had the honor of featuring some incredibly inspiring projects this year, from NPR's fresh new offices in Washington and Kixeye's kickass headquarters in San Francisco to a gorgeous vacation house in Itaipava, Brazil, and the aptly named Hotel Paradox in Santa Cruz. And, of course, 2013's highlights wouldn't be complete without mentioning our very own redesign and major overhaul at interiordesign.net.
Keep reading for our site's top 10 most viewed projects of the year. . .
10. >>Project: Itaipava Weekend House

Firm : Miguel Pinto Guimarães Associated Architects

Location: Itaipava, Brazil

Square Feet: 8,200

In the cool, breezy highlands an hour and a half's drive inland from Rio de Janeiro, in the town of Itaipava, this house by Miguel Pinto Guimarães is meant to be invisible—at least as one approaches the bucolic hillside site.

9. >>Project: Oxnard House
Firms: Robert Kerr Architecture; Hungary Louis
Location: Oxnard, California
Square Feet: 2,500

This is a story of coming full circle. A few years out of school, Robert Kerr worked at Clive Wilkinson Architects. Hailey Soren did as well. But since she joined the firm a year after Kerr left, the two never met. When her parents were looking to build a family beach getaway, Soren came to Clive Wilkinson for an architect recommendation. And that's how his "graduates" came to collaborate on this surprising vacation house.

8. >>Project: The Container Store: Aether Clothing
Firm : Envelope A+D
Location: San Francisco
Square Feet: 700

Sometimes a bad thing turns out really good. Such was the case in San Francisco, at a 1/2-acre lot planned to be the site of two residential buildings. Then 2008 hit. Everything was put on hold, and the Mayor's Office of Economic and Workforce Development put out an RFP for temporary projects. Envelope A+D responded with Proxy , a vibrant mixed-use village of shipping containers.

7. >>Project: Kixeye
Firm: Rapt Studio
Location: San Franciso
Square Feet: 50,000

Kixeye. Kick-ass. The former is the name of a San Francisco online gaming company. The latter was its CEO's vision for a new headquarters for his staff of 300. Kixeye had leased three high-rise floors totaling 50,000 square feet in the Financial District and David Galullo of Rapt Studio was hired to make the virtual idea a reality.

6. >>Project: Hotel Paradox
Firm: ODADA
Location: Santa Cruz, California
Square Feet: 116,300

A 1960's hotel turned student housing that fell into yellow-painted dereliction — such was the downward trajectory of a two-building complex in Santa Cruz, California. Totaling 116,300 square feet,it was ripe for conversion. The price was right for hotelier BPR Properties, and ODADA principal David Oldroyd was convinced of its potential. "I could see it as refined white concrete boxes surrounded by redwood trees," recalls the designer.

5. >>Project: British Broadcasting Corporation
Firms: HOK; MJP Architects; Sheppard Robson
Location: London
Square Feet: 1,000,000

The journey had been a long one, cul­minating with an interior by HOK, but MJP Architects had delivered phase one: refurbishing the original Broadcasting House from 1932 and building a separate annex across the front courtyard. Sheppard Robson stepped in for phase two: a middle structure to unify ev­erything with a glass curtain wall. This 10-­year project cost the equivalent of an eye-­watering $1.6 billion.

4. >>Project: MiniMod
Firm: MAPA
Location: Maquiné, Brazil
Square Feet: 290

The two firms that have subsequently merged to become MAPA knew they were somewhat reinventing the wheel when they decided to collaborate on a prefab system called MiniMod, a ?dwelling that's both modern and modular and, at 290 square feet, clearly miniature.

3. >>Project: Water Discus Hotel
Firm: Deep Ocean Technology
Location: Dubai, UAE

When your base team consists of engineers, scientists, plus an architect, you know your product will be interesting. But that's an understatement when it comes to Deep Ocean Technology (DOT) and their customizable underwater hotel.

2. >>Project: National Public Radio
Firm: Hickok Cole Architects
Location: Washington, DC
Square Feet: 330,000

As NPR's director of real estate and administrative services, Maury Schlesinger was the one who coordinated with Hickok Cole Architects as it transformed a 1927 art deco concrete warehouse, once occupied by the Chesapeake & Potomac Telephone Company, into a flagship for state-of-the-art radio and a destination that's definitely tourist-map worthy.

1. >>Project: McCann Erickson Office
Firms: Gensler; Tom Dixon
Location: New York
Square Feet: 130,000

It was high time for McCann Erickson to redesign its Midtown headquarters, home to 600 employees in both local and worldwide divisions. There was a distinct lack of places for casual interaction, and the best views were reserved for senior staff in corner offices.