Young Designers Win German Design Council D3 Contest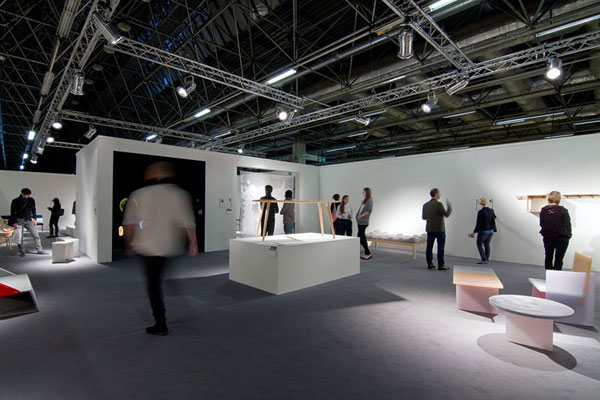 German Design Council's D3 Design Contest at IMM Cologne. Photography by Kenn Busch.




IMM Cologne

has hosted the

German Design Council's D3 Design Contest

, a young designers' exhibition and prize, since 2004. The venue gives undiscovered designers and students a chance to show off their concepts to the hundreds of manufacturers who exhibit there every year. This year, 20 new works of international design students and young designers were featured in a special exhibition—keep reading for the first prize winner, plus a couple of our favorites.



Christoph Goechnahts "Everything in its Right Place" entry for German Design Council's D3 Design Contest. Photography by Kenn Busch.



First prize went to Bern, Switzerland-based

Christoph Goechnahts

likes shaker peg rails for their functionality, and for their ability to create a horizon around the walls of a room. But the idea needed an update, and a Swiss twist. "It's strictly a grid into which you plug these wedges, made of a soft plastic," explains Goechnahts. "You can hang clothes directly on them, as well as display boxes and even shelves, which lock from behind with a another plastic piece. The rails, boxes and shelves are made of natural ash. "
A groove is cut along the top of the rails for leaning posters against the wall, or for clipping notes. "It's a very flexible system capable of holding just about anything." The system is called "Ordnungshalber," which is German for "for the sake of good order," or more loosely, "everything in its right place."



Exhibitor Taylor McKenzie-Veal's Granoff modular sofa. Photography by Kenn Busch.



One of the rare Americans selected to exhibit for D3,

Taylor McKenzie-Veal

brought a piece originally designed for the Granoff Center for the Creative Arts on the campus of Brown University. The pieces can be arranged into a variety of configurations, or stand alone as a lounge chair, chaise lounge and corner chair.
"I live in Providence, Rhode Island, where there are so many boat builders, so I used their expertise to build the sofa. The frame is steel and fiberglass, which required creating huge molds." Brown commissioned three sets; McKenzie-Veal hopes he can find a partner to take it into production for commercial and public uses.



Kulle daybed by German exhibitor Stefanie Schissler. Photography by Kenn Busch.



Another exhibitor,

Stefanie Schissler

from Wüstenrot, Germany, didn't want to create a passive piece for couch potatoes. "I work a lot with the sense of touch," she says. "I like to touch everything, and that's what I want people to do here, because that's how you form an emotional connection with something."
The surface is cooked wool, not felt. It's much stretchier than felt, and so much more comfortable and natural feeling, Schissler explains. The padding is discarded foam waste, small cubes that no one can seem to find a way to use. "Kulle," by the way, means "hill" in Swedish.