10 Botanical Accents, Wallcoverings, and Furnishings for Spring
To celebrate the start of spring, we wanted to bring you a roundup of floral features to mark the occasion. But then we heard immortal words of The Devil Wears Prada's Miranda Priestly, "florals for spring? Groundbreaking," and saw the eye roll that came with it. So to mark the bud of the new season before it fully blooms, here are 10 interiors that bring the outside in through botanical and, of course, floral wallcoverings, furnishings, and accents.
1. Dodo Jewelry Shop by Paola Navone
Interior Design Hall of Fame member Paola Navone made big and bold work out of Dodo's 1,600-square-foot Paris boutique. She clad the two-level envelope in Affresco, her own spirited glass mosaic tile for Bisazza, giving the store an exquisite and unique pop of florals.
2. Michael Hsu Office of Architecture, Houston Office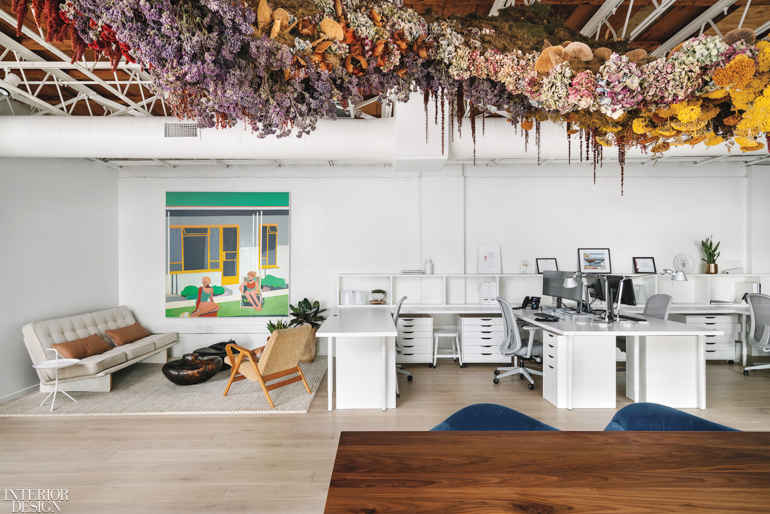 The 17-foot-long, dried-floral ceiling sculpture by Davy Gray owner Valerie Wolf ties all the design elements of Michael Hsu's Houston office together. Formed from such dried flowers as amaranthus, tortum, and hydrangea, the installation mimics the "gentle slopes of a manicured and saturated earth-toned landscape," Wolf says.
3. Polly by Tecnografica Italian Wallcoverings
Lifelike or super-sized? Customizable graphics make either possible for the foliage celebrated in Polly from Tecnografica Italian Wallcoverings. This print comes in many iterations, including one with mountains and a river with a light blue sky in the background to add more scenery to the plants. Swap the teal for a light pink or golden ochre background color to make it fit into any room.
4. The Prospect Hotel by Martyn Lawrence Bullard
Each room in Martyn Lawrence Bullard's newly redone Prospect Hotel in LA has a distinct flair, inspired by the property's Hollywood history and former neighborhood residents. This vibrant wallcovering featuring exotic birds, bamboo, and tropical botanical imagery—plus dragons—infuses the space with bold colors and patterns.
5. Conseil Régional d'Ile-de France by Saguez & Partners
Bureaucracy is rarely this exuberant however Saguez & Partners transformed the civil administration for Paris and its surrounding ring of seven départements into a visual tour de force. The in-hour restaurant, featured here, boasts oak slats on the ceiling and mock birch tree branches fit in perfectly in the room bathed in calming earth tones.
6. Windsor Flower Chair by Annie Evelyn
To celebrate the centenary of women's suffrage, the Center for Art in Wood in Philadelphia featured 43 female artists' pieces that meditate on "Making a Seat at the Table." For her piece, Annie Evelyn steam-bent the spindles holding real blossoms. Quite the throne!
7. Glasshouse by Sanderson
Botanical drawings provided inspiration for the Glasshouse collection by Sanderson, a British brand part of the Style Library collective of decor, print, and textile retailers. Glasshouse includes 11 wallpapers, nine prints, two embroideries, and three jacquards—all with the natural world serving as muse.
8. Orchid Sculpture by Marc Quinn
This white-bronze orchid sculpture accompanies skin-care consultations at the spa in the iconic Guerlain boutique, redone by Peter Marino Architect firm. While the rest of the 12,500 square-foot boutique is decked out in colorful patterns and bright materials, the sculpture – inspired by Guerlain's Orchidée Impériale skin-care line—is as classic and timeless as this Champs-Elysées staple.
9. Hyatt Regency Amsterdam by Concrete
Local design firm Concrete rejuvenated a 19th-century former children's hospital to make one of the most buzzed about hotels in the Netherlands. Hanging gardens, tile mosaics, and verdant furnishings bring earth's natural elements into the lobby of the Hyatt Regency Amsterdam. The biophilic lobby evokes traditional Dutch living rooms with all of its green elements.
10. Basics by Ornamenta
Can decorative and minimalist sensibilities peacefully coexist? Yes, says Ornamenta, determined to debunk the cliché that neutrals are humdrum. These glazed porcelain tiles prove the point. The flower-power blossoms are a recognizable pattern that's chic yet understated.
Read next: 22 Influential Female Designers and Their Recent Projects