8 Standout Lighting Products from Noteworthy Designers
The following lighting products by these nine talented designers are some of our favorites in the fall market.
Designer: Ross Gardam of Ross Gardam
Product: Hemera
Standout: The desktop monolith's powerful, simple form in Elba marble references Brutalist architecture, while its hidden-from-view light source adds an element of mystery.
Designer: Michael Anastassiades for Flos
Product: Overlap
Standout: Two rings interlocking at right angles appear as if they're trying to escape from the pendant's sprayed-on protective case—an inventive use of the company's distinctive cocoon-wrapping technique.
Designer: Bec Brittain for MMairo
Product: Heron
Standout: Unlike the elongated bird for which it is named, this light's angular sculptured form is offered in three types of marble (including Fior Di Pesco Carnico) and brass. Through Bec Brittain.
Designer: Jordi Canudas for Marset
Product: Dipping
Standout: Gradated layers of color—created by dipping the glass orbs in paint—moderate the intensity of light emanating from the pendant, its design sparked by hands-on experimentation.
Designer: David Pompa of Studio Davidpompa
Product: Origo
Standout: A pendant forged from two materials—volcanic rock and opal glass—represents a study in contrasts, the softly diffused light revealing the stone's texture.
Designer: Jean Nouvel for MoMA Design Store
Product: On Lines
Standout: A series of colored methacrylate diffusers slot into an LED-lit aluminum base to form an interactive light sculpture: Build your own city skyline or something more abstract.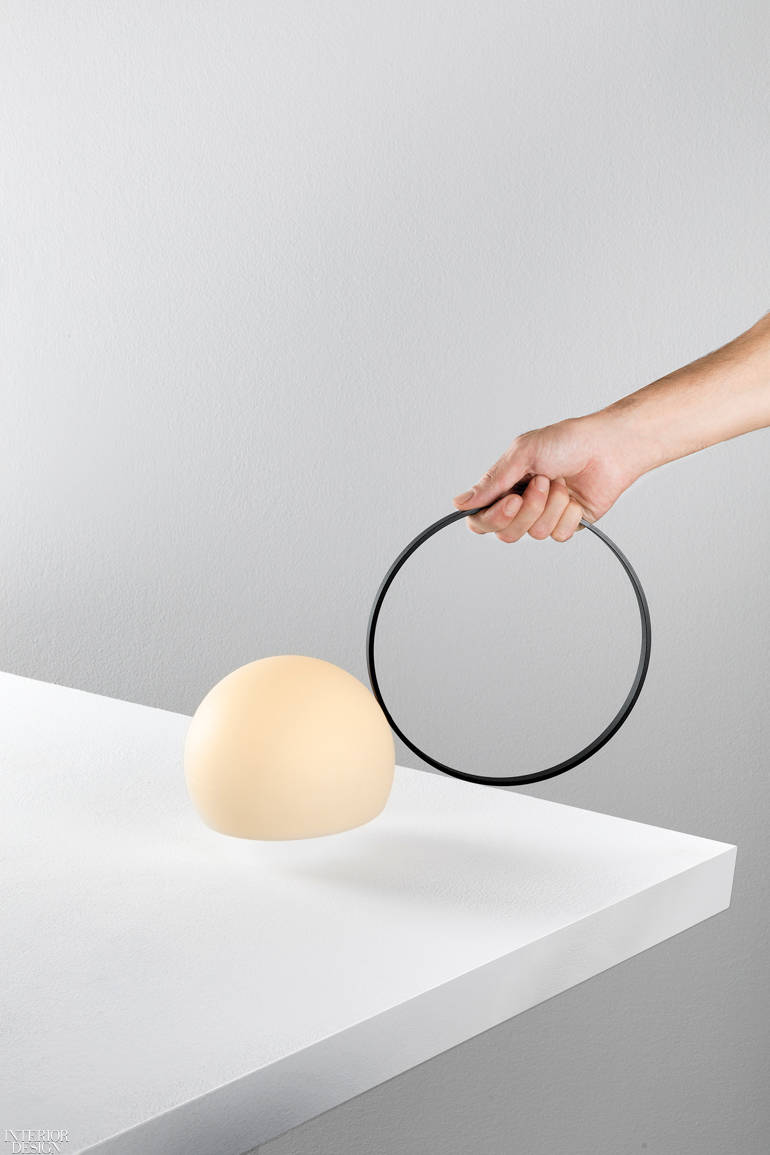 Designers: Daniel Vila and Ester Pujol for Estiluz
Product: Circ
Standout: Nahtrang Studio's indoor/outdoor table lamp, composed of a metal ring fused to a translucent polyethylene orb, is powered by an induction-rechargeable battery for six hours of portable illumination.
Designer: Brian Donovan of Donovan Lighting Ltd.
Product: Silk Eclipse Twilight
Standout: A spun-aluminum body with an integrated LED hovers in front of the sconce's domed, colored-fabric half-sphere, creating the effect of a celestial event.