These Playful Tabletop Accessories Prove It's a Small World After All
Spring is the season to have some fun! It's a small world after all with these playful tabletop accessories.
Bari Ziperstein's
SM Bottle, Tall Robot,
LG Diamond, and SM
Robot glazed stoneware vases in Marshmallow
by BZippy & Co. Emily Ziz's Cubic City
custom digital wall
covering in high-performance vinyl in black
gloss by Level Digital Wallcoverings.
Coral and Green Polka Dot bud vase, Black Triangle Polka Dot container, and White Split Polka Dot vase, all in stoneware
by Matthew Ward Studio through Uprise Art. Dots nonwoven wall
covering in 31022 by Arte.
Kate Casey's Totem
shelving unit/accent table in bleached white oak
by Peg Woodworking. Triad Type II vinyl wall covering in Red Rock
by Arc|Com.
Casey Reed Johnson's
Native Tongue hand-carved bowls in cherry and mahogany with charred
interiors by Foxwood Co. Avery Thatcher's Women clay-coated paper wall covering in Gunmetal on Cream by Juju Papers.
Leg ceramic bowl
with limited-edition leather slides by Chen Chen & Kai Williams. Scribble Type II vinyl wall covering in Cloudy Ink by Genon.
The Haas Brothers's
Mojave Desert porcelain bowls by L'Objet. David Rockwell's Raindrop paper-backed sisal wall covering in Twilight by Jim Thompson.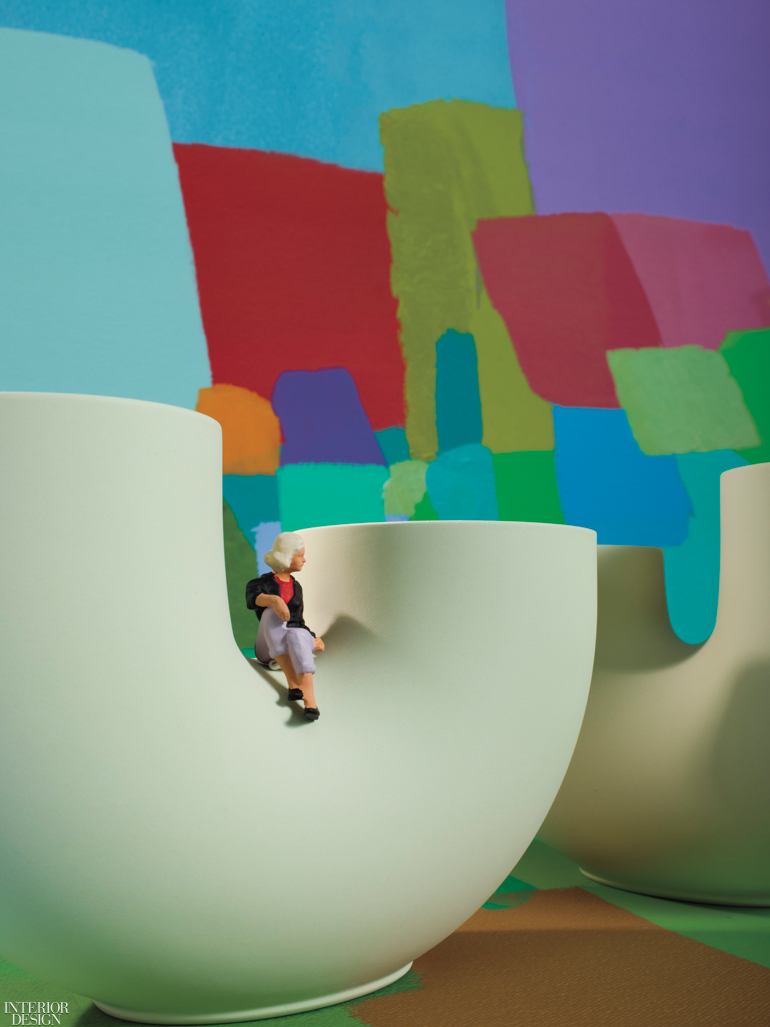 Sebastian Bergne's Tuba porcelain vases in
green by Ha' through MoMA Design Store. Frederico Herrero's
customizable Landscape cellulose-latex wall
covering by Maharam.
Cypress Wrap in bottle green, Oak Primavera in
aurora, Maple Wrap in celadon, and Small Willow Lace in tourmaline/aurora hand-blown glass objects with brushed-brass bases by Tracy Glover Studio. Shanan Campanaro's Regalo Di Dio and Cortile clay-coated paper wall coverings in Verde by Eskayel.
Lotta Nieminen's
lacquered-wood tray in beige with removable HPL coasters and trivets by AKTTEM through Stillfried Wien. Glaziér wall covering
in Orange Raku on Marshmallow Manila hemp by Phillip Jeffries.
Virginia Sin's Mima in terracotta and Kanamota in speckled ceramic, both table lamps by Sin. Civilia printed nonwoven wall covering in 50563 by Arte.
Karen Gilbert and Paul
Pavlaks's Crescent one-of-a-kind hand-blown glass vessels by SkLO. Brett Beldock's Watercolor Stripe wallpaper in blush olive chocolate by Brett Design.
Marcantonio's Memorabilia Mvsevm Ear accessory in resin by Seletti. Lori Weitzner's Chroma cotton-viscose wall
covering with nonwoven backing in Spring by Weitzner.
Louise Olsen's
Extra Large Mother
of Pearl dish and Bone server, both in lapis swirl resin by Dinosaur Designs.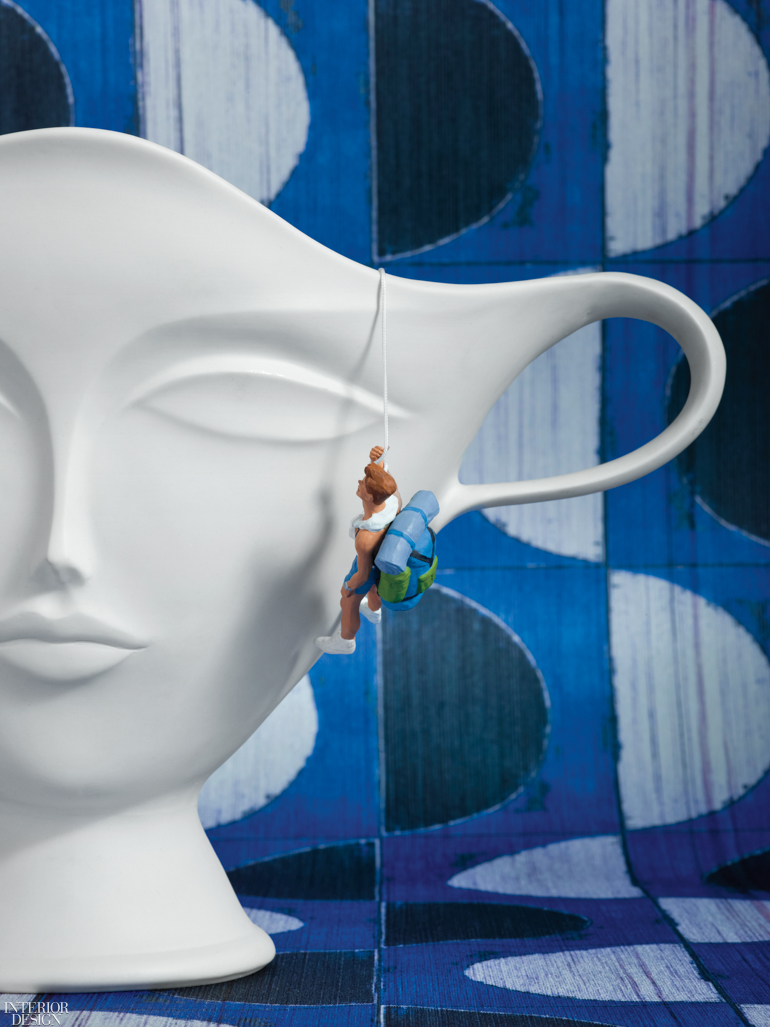 Giuliette urn in ceramic by Jonathan Adler. Mykonos polyester wall
covering with nonwoven backing in RM 898 40 by Élitis.
Andi Kovel and Justin Parker's Aerie hand-blown glass bowls in
Ferrari red, oxblood,
and soft pink by Esque Studio. Mama Pearl acrylic-coated polyester wall-paper in Diamond Flash by Flavor Paper.
Read more: Mod Tabletop Accessories Face Off