12 Breathtaking Rooms With Cathedral Ceilings
For creating a sense of space and providing an abundance of light, nothing beats the breathtaking scale of a room with a cathedral ceiling—especially when designed to showcase the beauty of wood. Here are 12 of our favorites from recent projects.
Cathedral Ceilings Add a Dash of Intrigue to These Striking Spaces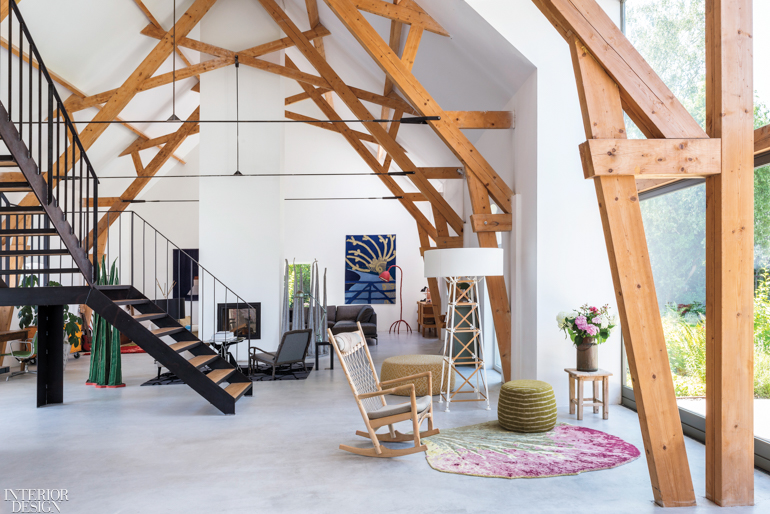 Kiki van Eijk and Joost van Bleiswijk—partners in business and life, working individually or jointly as Kiki & Joost, their Netherlands-based furniture, textiles and lighting business—reclaimed and redesigned a home  outside Eindhoven: a dilapidated but landmarked 19th-century brick-and-timber barn, much of which had to be reconstructed. "Basically, we built a new house inside an old shell," van Bleiswijk explains. "Most of the interior—walls, doors, even the steel staircase—was done by us in our workshop." Open and flowing, the 4,520-square-foot, two-story residence is furnished with a who's-who of contemporary Dutch design and is centered around a double-height living area. 
Tucked away in a hidden spot in the Bastille district of Paris is a remarkable house built by Japanese fashion designer Kenzo Takada more than thirty years ago. Set in the courtyard of an 18th-century apartment building, the four-level, 14,000-square foot, cedar-clad residence features its own inner courtyard and planted terraces. The new owners called on the Japanese architect and Interior Design Hall of Fame member Kengo Kuma to infuse new life into the unique property. Now, the beguiling network of courtyards and terraces is a delight and the update has integrated the garden even more intimately with the newly pared-down interiors. Kuma chose a few key pieces of furniture such as a handsome set of Hans Wegner Wishbone chairs in oak for the dining room and a Walter Knoll sofa and rug for the living area. When the views are this good, you don't need much inside.
Interior Design Hall of Fame member and NBBJ consulting partner Rysia Suchecka recounts how she and her husband reinvented a centuries-old farm in Larroque-Saint-Sernan, France, as a modern private residence and cultural compound for art and music. After looking at 20 properties, they ended up purchasing the one that was in the worst condition. Its 17th century limestone buildings had sat unoccupied for 50 years—a smattering of limestone structures that included a main house, a farmhouse, three barns, a small wine-pressing facility, and a pigeon tower—and were totally dilapidated, with leaking roofs, missing windows, and no electricity or plumbing. Today, one of  the barns is a salon used for entertaining and for hosting concerts. A Krzysztof Krzywoblodzki artwork sits on the fireplace mantle.
Despite the endless flow of thirsty tourists to its fancy wineries, California's Napa Valley remains first and forever an agricultural region. That heritage is aptly honored by a new residential compound planted amid the vineyards and designed by Pfau Long Architecture.  As a second home for a client in the hyperkinetic tech industry, "the place needed to be a relief from over-stimulation," Pfau reports. The design gains clarity from the simplicity of its materials palette—wood, dark gray metal, concrete—and archetypal forms. The gable-ended main house is essentially a long, two-story barn intersected by smaller, similarly shaped volumes. Interiors defer to the architecture (and the views) with clean lines and muted hues. The client didn't want something precious or polished—hence the extensive use of board-formed concrete—in the plinth, lower staircase, and indoor and outdoor fireplaces—and the beams and siding milled to show saw marks.
Jennifer Post sums up this snappy Palm Beach, Florida, abode in three words: "Simplicity, simplicity, simplicity!" (OK, technically one word.) "My challenge was to streamline," she explains. "This house is not grandiose; it's a jewel box." It's true that the cottage exhibits an almost disarming clarity. For starters, every surface is white—walls, floors, ceiling, window frames—as are the majority of the furnishings, and there's primarily one accent color: blue. But probe a little deeper and you notice this fresh-faced cottage is more complex than it initially lets on. What appeared to be slick expanses of pure, unadulterated white are actually quite nuanced, with textures evocative of sea and sand and boat decks. The lacquered ceiling is grooved, walls are Venetian plaster, and the floor is heavily painted rift-sawn oak. In the airy living room, it's a striking backdrop for David Hockney's Table Flowable.
In an agrarian Nova Scotia landscape, a trio of gabled structures echoing local vernacular buildings are made modern by MacKay-Lyons Sweetapple Architects through their Corten cladding, sleek fenestration, and minimalist detailing. Two of the volumes—the living pod and the sleeping quarters—are anchored by a plinth of granite, the same stone that comprises the lounge's mammoth fireplace with five-ton live-edge mantle.
It took nearly Walker Warner Architects and Philpotts Interiors  three years to perfect a Kona Coast vacation home on Hawaii's Big Island, but the clients' wait was rewarded with spectacular results. Architecture and interior are ultramodern and yet rely heavily on traditional materials and touchstones. Old and new ebb and flow as easily as the tides right outside the home's copious sliding-glass doors. "We call it the 'Village,'" Greg Warner says of the unusual arrangement, a grouping of four separate structures linked by a lush courtyard and a series of walkways and patios. Indeed, traditional Hawaiian villages inspired the daring architectural style, an angular composition of canted steel columns, steep-pitched roofs, and rhomboidal window and door openings. "The structures represent a contemporary interpretation of early hale shelters," Warner says. "They're like modernist lean-tos."
For Chileans—especially those who live in the frenetic capital, Santiago—a second home is an essential refuge, an escape to the serene beauty of the natural landscape. Architect Mathias Klotz, principal of his eponymous firm, has designed many such houses, characteristically with a clean-lined modernism that nods to one of his heroes, Ludwig Mies van der Rohe. For his own family's retreat on a largely undeveloped coastal island, he used archetypal forms that evoke both past and present. Constrained by the remote location and tricky logistics, the result is a timeless design that blends into the pristine setting. In the home's interiors, the rough-hewn framework is completely visible—"it's the most beautiful part of a wood house, so I left it exposed," Klotz explains—with all surfaces, including floor, wall, and ceiling boards, simply whitewashed.
Emil Humbert and Christophe Poyet, who established Humbert & Poyet in 2008, have designed ground-up houses but prefer focusing on interiors, often entering projects when the shell is done but the inside is still raw. There's nothing raw about their completed work, however, which 36-year-old Poyet describes as "like a movie set, the perfect environment for the perfect place for one particular moment that makes people feel beautiful and good about themselves." That contrast can be seen in a recent home, a three-story ski chalet in the Swiss Alps. The architects situated the public spaces on the top floor, to take best advantage of the mountain views, and paneled nearly the entire 7,000-square-foot interior in rustic reclaimed barnwood.
You could call it a secret pool house. Despite encompassing 2,750 square feet, the design by BarlisWedlick Architects is discreetly tucked into a hillside on a 115-acre estate in Chatham, New York. As seen from the handsome Adirondack-style main house, built years ago by Dennis Wedlick, it looks low enough to be a corncrib or a chicken coop, complete with a standing-seam gabled roof and board-and-batten siding painted a weathered red. Inside is somethng else entirely. "It's the fantasy of being outdoors," says partner Alan Barlis. A tree-trunk colonnade, running the length of the 54-foot pool, literally supports the nature concept, augmented by the white birch logs lining the end walls.
Danish architect Jan Henrik Jansen has standard procedure: always conceiving more than one solution for a project. He first showed Finn and Janni Holms a design that corresponded exactly to their desire for a farmhouse. Then he surprised them with plans for a radically different idea: a round house. The reason he made the house curved, he explains, is because it's flanked on two sides by other houses. So he sited it to face the green meadow behind, making the Holms feel almost as if they are living alone in the open countryside. He used brick, rather than the initially requested wood, to blend in with the rest of the neighborhood.
Peter Bohlin may be best known as the designer of the iconic Apple stores in New York. He was also responsible for the Pixar Animation Studios in Emeryville, California, not to mention the Newport Beach Civic Center. But he and the firm he founded back in 1965—today Bohlin Cywinski Jackson, encompassing five offices, 11 principals, and 190 employees—has never stopped designing houses. With Tusen Takk, we were building in a sensitive environment: on lakeside dunes in a forest. We were restricted to structures of a certain size on two adjacent dunes. We put the main house on one dune and the guesthouse on the other, connected by a covered boardwalk resting on little toes. Here, the staircase next to the double-height library pairs clear-finish maple treads with dyed-red risers.