12 Cool College Campus Design Projects
College students around the country are excited about more than March Madness. That's because design and architecture firms are working hard to create innovative additions to college and university campuses. Take a look at these 12 recent projects worth cheering for.
A&D Projects at the Most Beautiful College Campuses
California Institute of Technology
1. Ronald and Maxine Linde Hall of Mathematics and Physics at Caltech by HOK
As senior designer Mike Goetz discovered, the entire faculty at California Institute of Technology still writes with chalk, on blackboards, as a form of mind-body communication. So chalk was factor number one in his design equation for the math and physics departments' home. In this photo, folding doors are whiteboard on the lounge side, while acoustical panels are on the classroom side. Read more
See also: 13 Sports-Inspired Spaces
Santa Monica College
2. Center for Media and Design at Santa Monica College by Clive Wilkinson Architects
Progression is the concept behind this 3.5-acre satellite campus at Santa Monica College. Weaving inside and out, a ribbon of yellow ties three buildings together. Read more
Columbia University
3. Columbia University Lecture Hall by LTL Architects
Above the fumed oak herringbone floor, the multipurpose hall's ceiling forms mimic sound waves, the longest housing a cinema-quality projector. Read more
Rice University
4. Moody Center for the Arts at Rice University by Michael Maltzan Architecture
Houston's Rice University is awash in tawny brick. But the brick that Michael Maltzan Architecture chose for the Moody Center, at the edge of campus, is darkened with manganese dioxide and iron. As a result, the building's upper mass looms with gravitas, while the glass-enclosed ground level appears weightless in contrast. Modernist-leaning elements include structural columns that erupt into starbursts of spokes. Read more
Savannah College of Art and Design
5. Hive Residence Hall at Savannah College of Art and Design
The site of Giants of Design 2019 does not lack in design. In this photo, students kick back at the Hive residence hall. Read our Q&A with SCAD President Paula Wallace.
See also: 8 Simply Amazing University Buildings
Yale University
6. Yale University School of Management by Foster + Partners
The central atrium's color gradient wall is grounded by earthy tones of porcelain tile by Mosa. Read more
University of Southern California
7. Wallis Annenberg Hall at USC by Harley Ellis Devereaux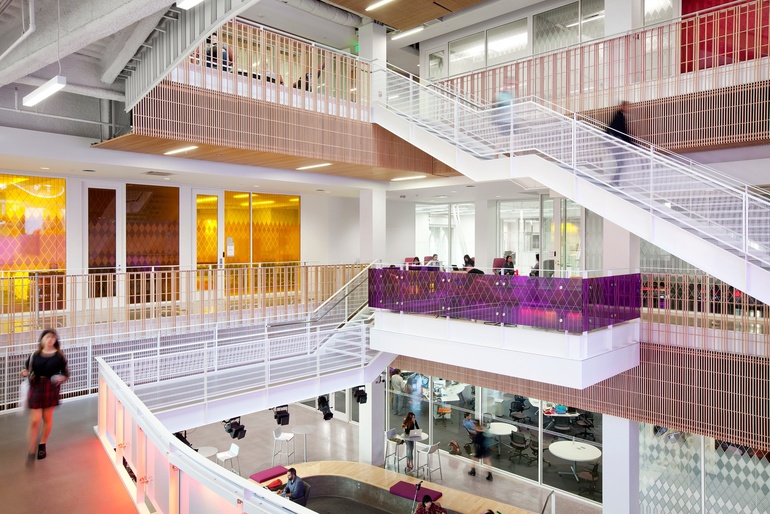 University of Southern California's previous journalism center was designed for 100 students. As the program grew to 2,200 students, a new site was needed. Connectivity was a key factor of the project, thus the translucent walls in the central atrium. See all projects by the Top 100 Giants 2017
Columbia University
8. Alumni Auditorium and Schaefer Awards Gallery at Columbia University by MdeAS Architects
This renovation at the Columbia University Irving Medical Center makes a statement from the street, but its interiors are soft and refined. Ash wood slats on the wall are crafted similarly to a boat's hull. The project was a Best of Year 2018 honoree for Higher Learning project.
University of California, Santa Cruz
9. Coastal Biology Building and Marine Sciences Campus at UC Santa Cruz by EHDD
For the marine-focused research facility, the University of California, Santa Cruz wanted a space that encouraged learning but also reflected the character of its natural surroundings. In this photo, break-out spaces near the stairway promote openness and connectivity in circulation spaces, and waves of wood call back to the ocean. The project was a Best of Year 2018 honoree for Higher Learning project.
University of Iowa
10. University of Iowa Visual Arts Building by Steven Holl Architects
After the 1930s-era student studio flooded, Steven Holl was asked to design a visual-arts facility that would suit young artists, who tend to work in a collaborative manner across disciplines. Sited one foot above the floodplain, at the lip of a limestone bluff, the five-story, 126,000-square-foot building is a simple square in plan, however each floor plate shifts slightly to break down the massing. Strategic cutaways allow infiltration of natural light and ventilation through operable windows and balconies. Read more
University of Kansas
11. University of Kansas School of Business by Gensler
The atrium's stadium seating is a nexus between the building's student and faculty wings. Weathering steel was CNC-cut for the atrium staircase's balustrades. Read more
Claremont McKenna College
12. Roberts Pavilion at Claremont McKenna College by John Friedman Alice Kimm Architects
When is a gym not just a gym? When it's a campus hub for meet-ups, study groups, and numerous college organizations in addition to the expected basketball games and workouts. The ground-up pavilion at Claremont McKenna College is as dynamic as the activities it houses. Read more
See also: Rottet Studio Brings Texas Tradition to the Cavalry Court Hotel in College Station