20 Quiet Home Offices
To be productive while working from home, it's good to find a quiet, cozy area where you can focus—maybe even surrounded by beautiful art. Here are 20 home offices that we'd definitely enjoy working from home in.
1. Roy Kim Embraces a Yin/Yang Philosophy in Designing Both of His New York Homes
When Roy Kim moved from San Francisco to New York in 2016, he could not comprehend the phenomenon of weekending away. "I remember thinking, Why would you ever want to leave the best city on the planet?!" the architect recalls. "But after living in Manhattan for a while, you realize you need to escape it." So, a few years after purchasing and renovating a Financial District three-bedroom, Kim and his partner, Clayton Crawley, bought a farmhouse upstate in Ancramdale.
2. Goddard Littlefair Layers Personality and Serenity into a London Apartment
The curvilinear ribbon façade of the UNStudio-designed Canaletto tower in Islington became a landmark in East London when it opened in 2017. For the interior of one of its 2,000-square-foot apartments, Goddard Littlefair wanted to soften the exterior's rigorous expanses of glass and metal. Throughout the three-bedroom, three-and-a-half bath space, custom furnishings in tones of blush, light blue, and cream join what Littlefair calls "layers of personality." In the study, an Alter London chair is paired with a desk by Handvärk.
3. Studio JeanCharlesTomas Transforms a 19th-Century Flat in Paris's Sixth Arrondissement
A sixty-something couple decided to move from Lyon back to Paris, their hometown, but their hunt dragged out for more than a year without success. So they reached out to Studio JeanCharlesTomas for help. The interior designer was tasked with finding a two-bedroom flat in the Sixth Arrondissement—the only parameters given for the otherwise carte-blanche project. One month later, the clients purchased this classic 19th-century apartment at the designer's urging. In the office, a Vico Magistretti lamp and Gaël Davrinche's Georges Washington bring a modern touch.
4. Houssein Jarouche's Art-Filled São Paulo Apartment Is a Medley of Modernism
Pop art is alive and well. Just step into the São Paulo apartment of furniture dealer Houssein Jarouche for proof. It's a reminder that while the movement was born in the 1950's U.K. and U.S., it not only flourished contemporaneously in Brazil but also continues to do so a half-century later. Near a gallery of prints by the likes of Allan D'Arcangelo, Ed Ruscha, Judith Lauand, and Hércules Barsotti is a Nigel Coates chair and a '70's bench manufactured by Móveis Cimo.
5. Jacques Hervouet Interiors Radically Remakes a Classic Paris Apartment
When the owner of this three-bedroom apartment on Paris's Left Bank hired Jacques Hervouet to redecorate it, she avowed a profound desire for change. He certainly took the client at her word: The space had previously been designed in typical Napoleon III style, with chevron parquet, elaborate moldings, and little in the way of decorating flair. In the master bedroom's study area, the leather-clad desk is Maison Jansen, circa 1960; Marc du Plantier designed the chair in 1936 for the couture salons of Jacques Heim; the oil on canvas is by Joseph Rivoalen.
6. Natural Light and Neutral Finishes Define a Studio DiDeA-Designed Apartment in Palermo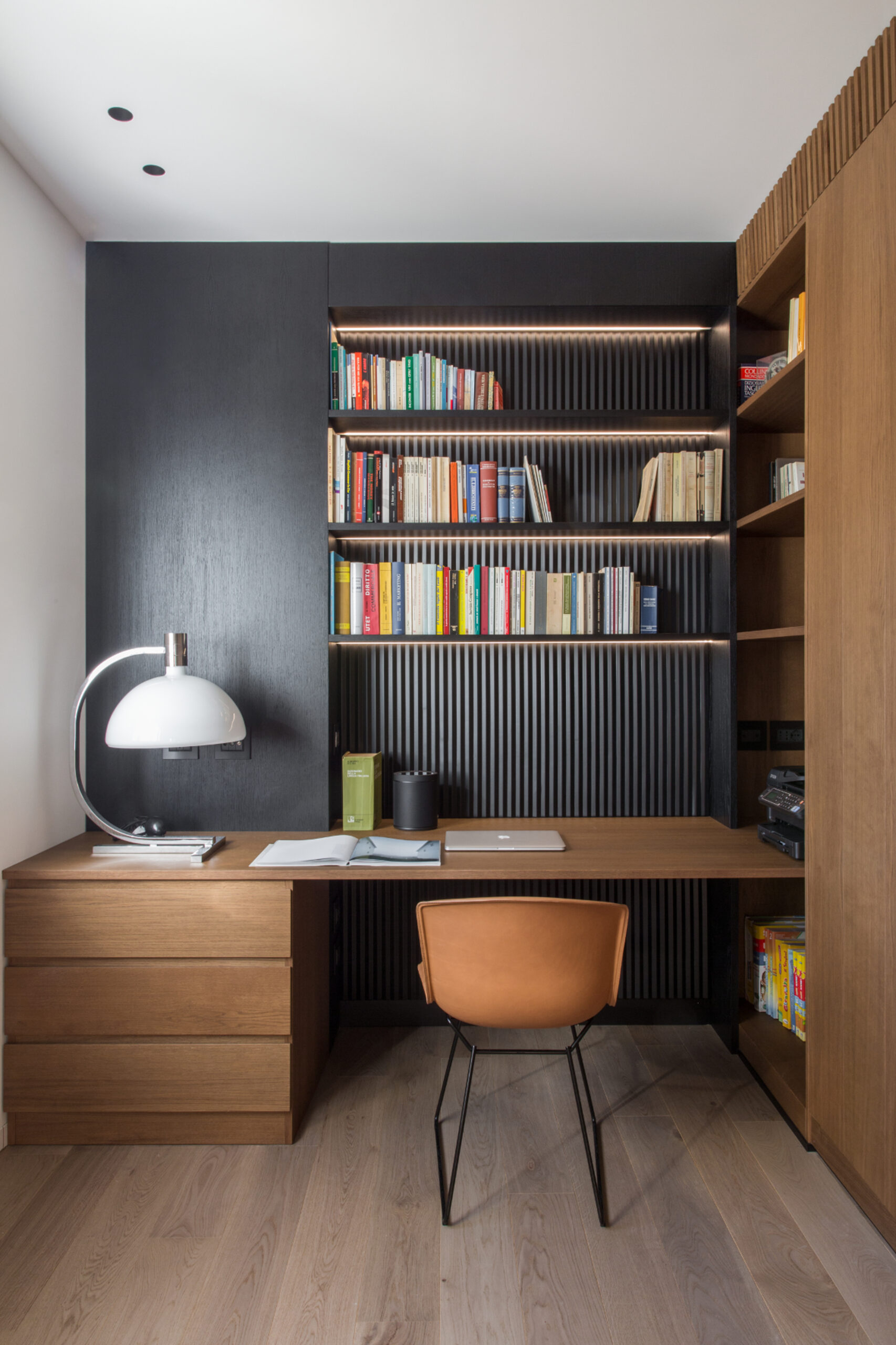 A couple in Palermo had been looking around for a new house; instead, while looking through a magazine, they found local Studio DiDeA and together embarked on a refreshing of their 1,500 square-foot apartment. A wall of black oak slats defines the study room, with a custom desk of tobacco oak, a Cassina lamp, and chair by Knoll.
7. Mark Zeff Gives New Life to a 19th-Century Town House
While Manhattan apartment towers climb ever taller, into the sky, some New Yorkers still dream of a single-family town house on a tree-lined street. Offering respite from the hurly-burly, such houses are unfortunately not easy to come by. The owners of this brownstone, a financial executive and his wife, found it on one of the West Village's best-preserved streets. The property itself, however, was a diamond-in-the-rough to say the least.
8. West Chin Architect Brings Barnlike Touches to a Chic Manhattan Loft
Centuries ago, lower parts of Manhattan were farmland. That's certainly not the case today as downtown teems with metropolitan sophistication. The contrast factored into a four-bedroom loft in the Flatiron district by West Chin Architect. The owner couple, a repeat client, sought a barnlike feel, but with contemporary touches appropriate to the urban environs. West Chin, along with his firm's architectural design director Laylah Mohammed, responded through their choice of layout and materials.
9. For a Danish Beach House, Jan Henrik Jansen Comes 'Round to a New Strain of Modernism
Tucked in a thicket of birch trees on the Danish isle of Møn sits a summer cottage best described as a modernist hobbit hole. A cluster of cylindrical modules clad in slim spruce trunks belies the precise detailing and sparseness within. The dwelling is the brainchild of German-born, Copenhagen-based architect Jan Henrik Jansen, who's no stranger to Møn's rugged beauty. Each of the three bedrooms features a custom oiled-oak bed with integral desk.
10. Yael Jacobs Caters to All Ages in a Family Home in Israel
Where a love of design meets young children, innovative solutions are required. Yael Jacobs Interior Design provided just such assistance for a former stylist and her family. Their house in Israel, north of Tel Aviv, had served them for several years, but current needs called for change. Jacobs added an additional bedroom upstairs and turned the hallway into a study for everyone.
11. dSpace Studio and Ruth Johnson Transform a Chicago Penthouse Into a Secluded Aerie
Tucked into the building's mansard roof, this penthouse sports loftlike vaulted ceilings and arched windows and doors that frame jaw-dropping vistas of the lake and skyline. Not to mention the aerie boasts five outdoor balconies. The owner commissioned dSpace Studio, a growing architecture firm known for its refined modernist designs, to make it a home. Paint in My Head Number 10, an oil on canvas by Eloy Morales, punctuates the study.
12. MarkZeff Masterminds a New York Pied-à-Terre for Miami-Based Collectors
Mark Zeff has met his match. The Interior Design Hall of Fame member is, in a word, decisive: a creative who makes up his mind lickety-split and likes to keep things moving forward. As it turned out, so was the Miami-based client who hired Zeff to design her New York pied-à-terre. The glass-enclosed study converts to a guest room courtesy of drapes and a linen-covered custom sofa bed; custom shelves are lacquered wood.
13. Studio CMP Reinvents a Once-Tired Parisian Apartment as a Contemporary, Artful Oasis
Studio CMP principal Charlotte Macaux Perelman normally likes to respect the history of the spaces she transforms. There is, however, an exception to every rule, and what interested her about a 2,200-square-foot Paris apartment, directly overlooking Parc Monceau, was precisely the fact that there was nothing to salvage. A view past oak-and-cane shelving into the study reveals a Jean Prouvé desk and a Rafael Moneo Oria chair; the painting is by Stepan Krasnov.
14. Curious Yellow Design Ascends to a Wall Street Penthouse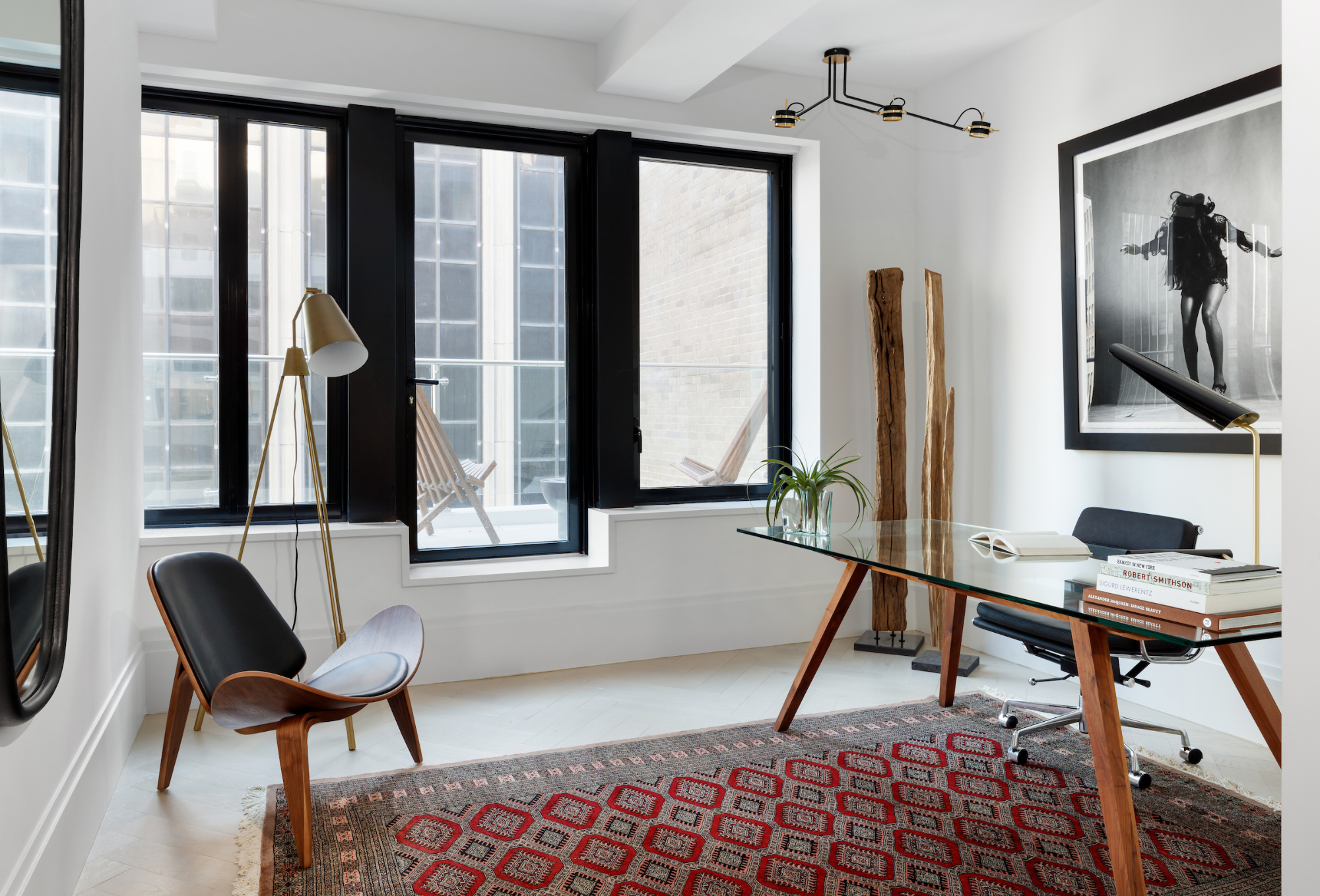 Curious Yellow Design's Anna Cappelen and Chloe Pollack-Robbins have brought a sense of warm restraint to restaurants and residences from Oslo to Sagaponack. So when the owners of the penthouse of Piet Boon's updated Art Deco gem 101 Wall Street called, the pair knew just what to do. They kept the palette a cool white throughout the apartment to complement Boon's oak-stained flooring. The home office's desk is from Organic Modernism, with an Eames task chair and Saru table lamp.
15. Beijing Fenghemuchen Space Design Pairs a Subtle Palette With Statement Artwork
When it comes to displaying contemporary art in the home, current practice favors paper-white walls, just like a museum or gallery. For a model town house in south central China, however, Fenghemuchen took a more daring approach, one informed by the psychology of color. The interior spaces are dominated by a subtle gray-on-gray palette that, for principals Yi Chen and Muchen Zhang, signifies calm, good sense, and maturity. The rug in the master study echoes the geometries of the painting above.
16. Mojo Stumer Associates Gut Renovates Duplex Penthouse in New York's West Village
In searching for a large apartment in New York's West Village to call home, the client found it at an address flanked by two modernist buildings. Make that, found apartments, plural: There were four in total. Mark Stumer and senior associate Peter Johns's task was to combine them into one luxe duplex penthouse. Macassar ebony casegoods and mahogany beams join richly veined marble in the office.
17. ID Studio Prioritizes Craft and History in Luxury Polish Apartments
Katja Sadziak launched her own firm, ID Studio, eager to channel her unique background and perspective into luxurious residential spaces. But the end result encapsulates a much broader narrative than her own history. At an apartment in Poznan, Poland, the industrial aesthetic and fresh palette of whites, turquoise, and navy are complimented by furnishings by Saba Italia, Punt, Zero, Flos, and Kasthall.
18. For a Hudson Yards Apartment, Elena Frampton Goes Bold with Pattern and Contrast
Though her eponymous firm Frampton Co has developed a signature blend of quirk and luxury in residences throughout New York City, it's this model apartment for Diller Scofidio + Renfro and Rockwell's Group's 15 Hudson Yards high-rise on Chelsea's north edge that might be its boldest work yet. And because it's Chelsea, art is a main focus, with pieces by Jonathan Smith and Irby Pace, mixed with eye-popping wall coverings, such as the study's expanse of peacocks by Fardis, a work of art in itself.
19. Pure Design Environments Conceives an Airy Minnesota Abode for a Growing Family
A family needing room to grow wanted out of their cramped traditional home and in to a spacious contemporary abode with an on-trend open plan. Pure Design Environments was enlisted to design the family's new residence from the ground up, a scope encompassing both architecture and interiors. To produce the sense of space that the client envisioned, Pure Design's Jaque Bethke conceived a free-flowing kitchen and living area, with refined furnishes and zero visual clutter. Leopard-print carpet, jaunty yellow furnishings, and a supersized abstract canvas add air.
20. Robert Kleinschmidt Makes a Palm Springs Bungalow His Own
For his new vacation home in Palm Springs, Robert D. Kleinschmidt took cues from International Style's formal linearity and his own confident take on color. He replaced stark white walls with hues drawn from the surrounding San Jacintos at sunset, from violet doors to the taupe-beige used throughout. In the master bedroom, faux leather wraps the custom desk; a large-scale work by Jack Beal hangs to one side of the bed.
See also: 20 Skylights Bring the Sunshine Indoors