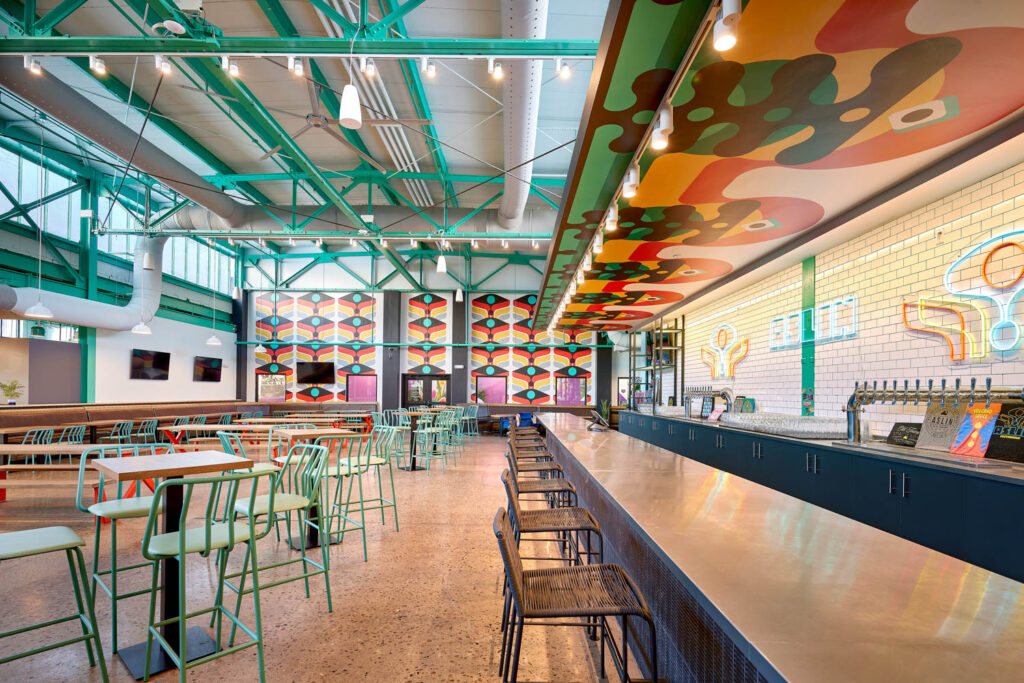 //3877 Brews Up a Headquarters for the Aslin Beer Company
In the mid-1800s, a 13-block area of Pittsburgh began a gradual transformation into an industrial center for the city. The Strip Historic District, with its buildings of a century's worth of contemporaneous architectural styles and uses, was deigned a National Historic District by the National Register of Historic Places in 2014. Last November, the local brewmaster Alsin Beer Company made a home for itself in the district's Terminal building with help from Washington D.C.-based firm //3877. The result is the Aslin Pittsburgh Taproom & Brewhouse, a two-story playground that protects the building's legacy while projecting it into the future.
First, the team carved out 10,000 square feet from the vast space to use as a production facility for the 10 barrel brewhouse. The remaining 7,000 square feet became a bar with seating for 18, along with a café and dining areas and an outdoor patio. "One of the largest challenges was providing a sense of scale to such a tall and bright space," says //3877 senior associate Ryan Petyak. Drop pendants cheerfully navigate the high ceiling, which the team painted a crisp white, while illuminating the picnic tables, counters, and plush blue sofas arranged in casual groupings across the polished concrete floors below. Neon signage and beer-inspired wall graphics amp up the volume of the white-tiled bar. 
Fittingly for a Steel City building, the material forms an exposed structure that the team highlighted with bold green and orange paint. They also made screens, counters, and bathrooms of steel. "Our team loved stitching the new design in with the existing industrial steelwork that was remaining from the historic structure's architecture," Petyak says. "The use of color helped accentuate the trusses and the mezzanine which shortened the visual verticality while not restricting the experience." Unrestricted revelry with an eye on its history? We say cheers to that.
Inside the Aslin Pittsburgh Taproom & Brewhouse