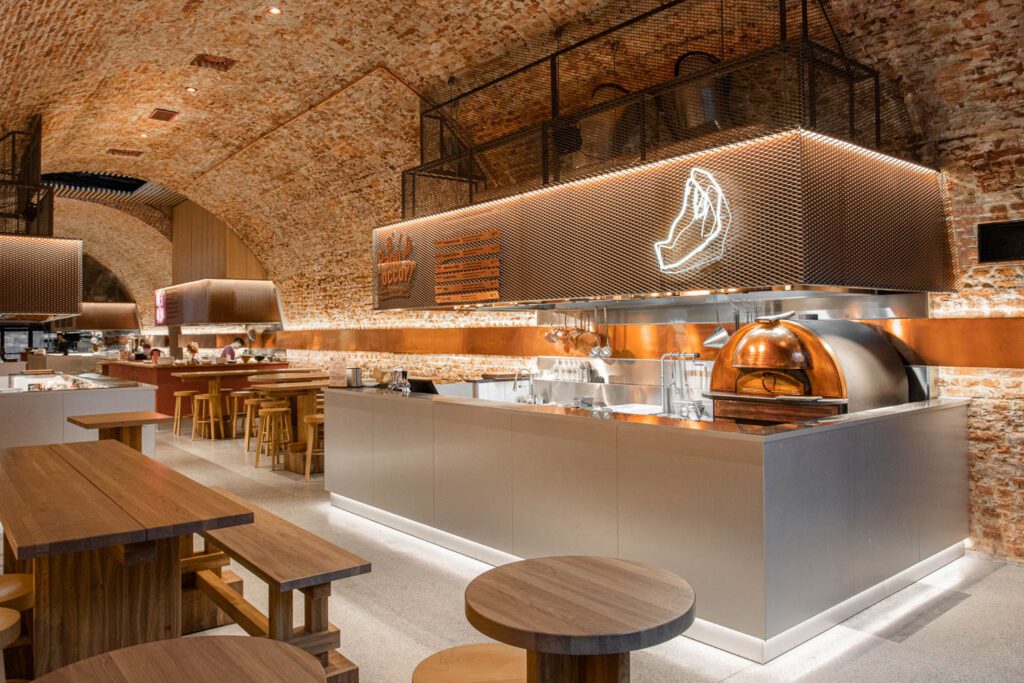 NOKE Architects Crafts an Intoxicating Food Hall in a Historic Warsaw Brewery
Once the pride of Poland's legendary beer culture, the Haberbusch and Schiele brewery and their ample Leżakownia cellars kept thirsty Europeans sated from 1846 until World War II. Last fall, the location finally returned in the form of Food Hall Browary, a warren of top-class street food and sprawling indoor and outdoor spaces in which to enjoy them.
NOKE Architects organized the 10,000-square-foot interiors with their eye on history: three original brick arches extend over 11 stainless steel stalls near oak tables on bases that reference beer barrels. A lounge, complete with DJ booth and new storefront system windows overlooks a courtyard and outdoor areas that can accommodate more than 300 guests across some 2,200 square feet. The design team "prioritized coherence, consistency and the original simplicity of design in order to prevent overstimulation or stylistic cacophony," says architect and partner Piotr Maciaszek.
Of course, drinks are the heart of the space: a copper wine bar beckons imbibers, and a monumental cocktail bar boasts a chandelier of hundreds of glass plates. It's the perfect spot to stop and contemplate the future while enjoying a beer in the place where Poland once perfected the brew.