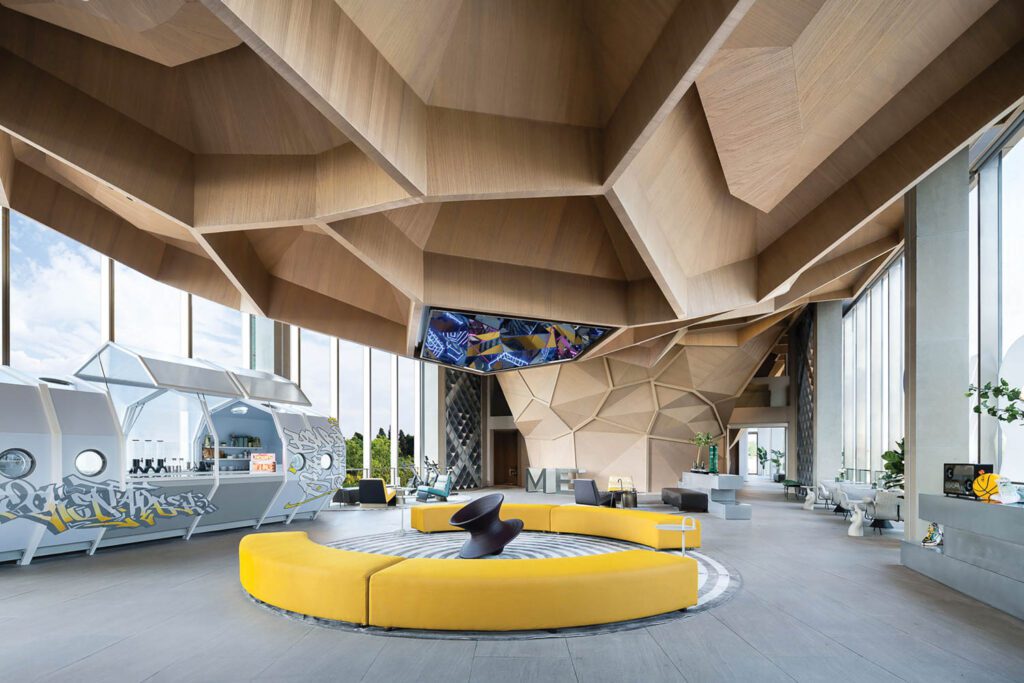 6 Firms Take Home a Best of Year Award for Residential Sales Center
2021 Best of Year winners for Residential Sales Center
Project: Times China Icar Town Sales Center, Foshan.
Standout: Inspired by science and technology, the firm imbued this 18,300-square-foot, two-level marketing center with an almost hallucinatory avant-garde aesthetic. In a dialogue between yesterday and tomorrow, the team juxtaposes an ancient-looking wall relief with a glossy-red Guggenheim Museum–style ramp that spirals around an all-seeing oculus—the future incarnate.
PROJECT TEAM
Project: Time River Experience Center, Beijing.
Standout: Time as a felt rhythm in a continuous natural cycle informs this 10,800-square-foot center, which climaxes in a lofty reading pavilion, its walls lined with books. A switchback staircase zigzags up toward a ceiling that's half mirror, half skylight, subtly blurring the lines between nature, art, and life.
PROJECT TEAM
Project: White Mountain Club House, Nanjing, China.
Standout: Much of this 23,000-square-foot sales center and club is below-ground, with the major amenities, such as a gym, reading room, and swimming pool, encircling a sunken plaza. Taking cues from the surrounding mountainous landscape, the firm introduces flowing forms that not only evoke rolling hills but also create a sense of openness and freedom.
PROJECT TEAM
Project: Gemdale Urban Nest, Wuhan, China.
Standout: The spirit of the beehive, that ultimate symbol of vibrant community life, informs the 15,000-square-foot light-filled center. It's expressed in recurring honeycomb forms, which range from the massive wood-veneered hexagons that compose the integrated ceiling and end wall to the long, faceted capsule that serves as a water bar.
PROJECT TEAM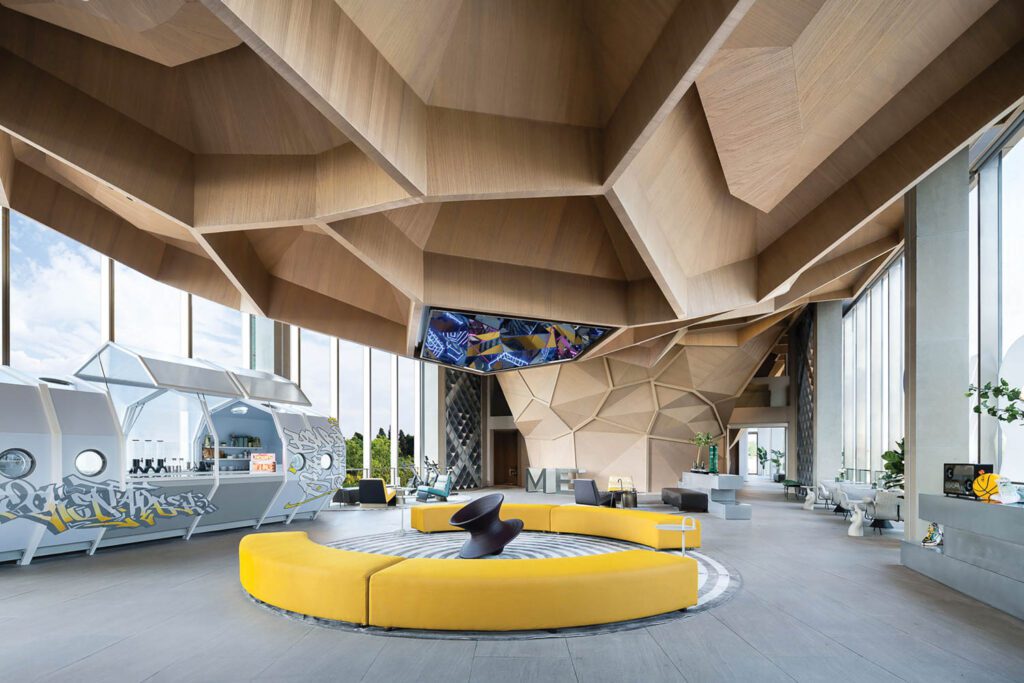 Project: A Geometric Answer to the Poetic Wildness, Kunming, China.
Standout: The power of negative space as found between forest trees, canyon walls, or other natural formations is harnessed in the 48,400-square-foot project, which responds to the ineffable forces at play in the wild world. Cavelike cutouts, trunklike columns, and soaring windows create interiors where the contrast between the tiny individual and the boundless sky triggers respect for nature and reverence for life.
PROJECT TEAM
Project: Jinan Bocuiminghu Textile Culture and Arts Exhibition Hall, China.
Standout: Housed in a former cotton factory, this 14,000-square-foot facility also serves as a community center offering hands-on textile-making experience. Exposed red-brick walls and steel columns preserve the industrial vibe, while wood surfaces and soft fabrics keep spaces warm and welcoming. In a visual coup, 5,000 cotton spindles, mounted in rows on steel-frame partitions, turn loom equipment into a contemporary art installation.
PROJECT TEAM