A Luxurious Moment for Velvet
Velvet is having a moment. Although people have been making velvet as early as 2000 B.C., this luxurious material got its first big claim-to-fame during the Renaissance, a time when the rich materiality of this textile was used to broadcast the wealth and prestige of royalty and affluent families. The fabric was used for the first time on interior furnishings during this time period and the association with luxury has persisted through to the 21st century.
Today's architecture and design industry isn't immune to velvet's silky-smooth charms. According to trend forecasting agency WGSN Insider, velvet is a material that designers can expect to see a lot more of, particularly in rich jewel tones and warm hues. Forecasters predict velvet will mostly be seen in residential design, but any sector that demands comfortable, plush seating and decadent interiors could see an increase of velvet specification.
In anticipation of this growing demand, JAB Anstoetz Group has released two new luxury, high-performance velvet lines for upholstery and drapery specification: Velluto Gelato and Gio. Both fabrics are water repellent, stain resistant, and come in 36 vibrant, contemporary colors. The Velluto Gelato line boasts an extraordinarily high Martindale rating of 40,000 rubs, making it a viable contender for contract options. This is due to the fabric's new polyester yarn, which leaves behind no pressure marks and gives the textile an alluring luminance.
"Velvet has been very hot this past couple of years," explains Dennis Vrolijk, a designer with Carlucci, a partner brand of JAB Anstoetz Group. "Velvet makes up about 20 to 25% of our overall sales and continues to grow. I think this is due to look and feel of our products, which resemble traditional cotton or silk but come with the easy maintenance of polyester."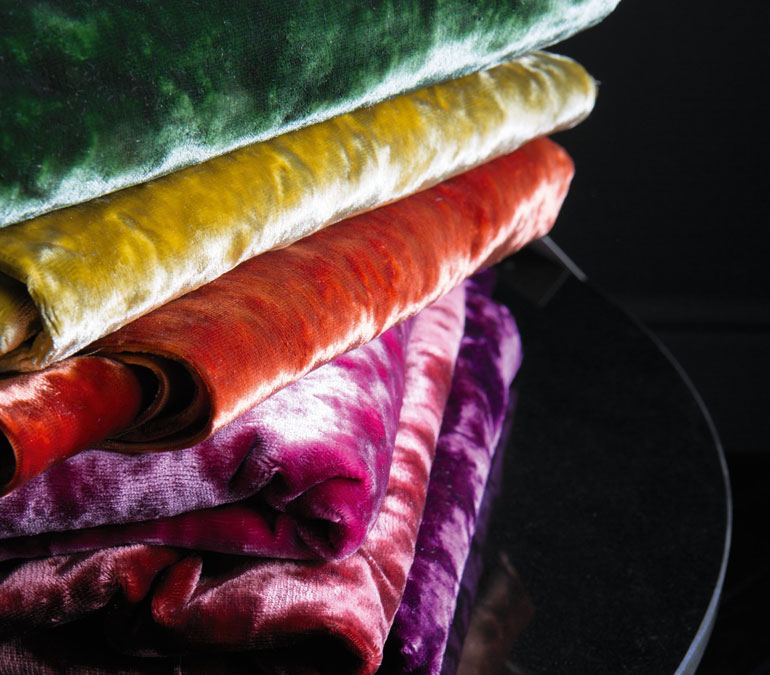 So long as the material is in vogue, designers can turn to JAB for all their velvet needs.