Alex Cochrane Outfits Toronto Department Store With a Superchic Restaurant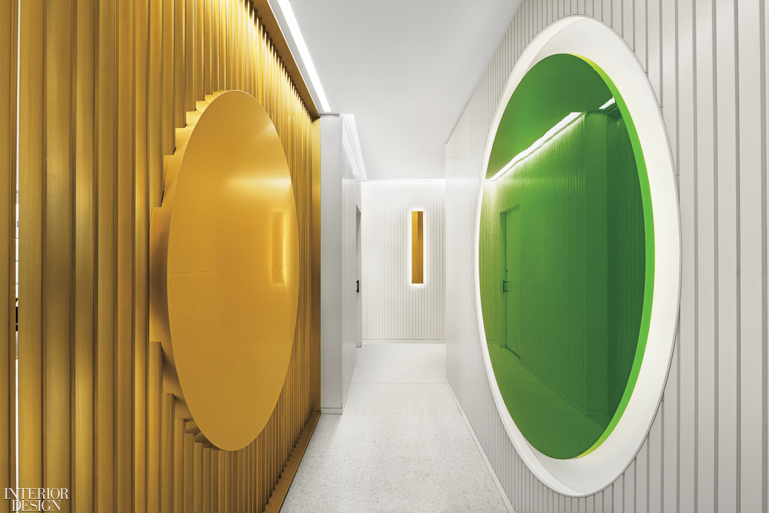 A high-end department store can have a unique place in the life of a city. Think Harrods in London or Bergdorf Goodman in New York. In Toronto, Holt Renfrew has that distinction. Like its aforementioned counterparts, the flagship store on Bloor Street includes Holts Café, a restaurant known as a ladies-who-lunch and special occasion spot since it opened in 2002. Alex Cochrane understands its sense of occasion in a very personal way. "The first time I visited it in 2007," he recalls, "was to meet the Westons and ask for Alannah's hand in marriage." That lunch was a success: Cochrane has been married for 13 years to Selfridges chairman Alannah Weston, whose family also controls Holt Renfrew. Part of Holt Renfrew's recent storewide renovation included a refresh of the eatery. With its myriad projects for Selfridges in London, Alex Cochrane Architects was the perfect fit for the job, resulting in a welcoming environment of warm minimalism, jewel tones, and simple geometries that maintains the existing clientele while also helping to attract a younger one.
On Holt Renfrew's mezzanine, the cafe's bar, lounge, and main and private dining rooms total 3,300 square feet. All employ a restrained materials palette of white oak, rosewood, brass, and milky terrazzo, and have some degree of visual connection. But it's not all so quiet. "We think color in­vigorates the soul," Cochrane says, acknowledging his admiration for Luis Barragán as well as for John Pawson. Each area has elements in primary colors, deployed with a touch that evokes the monumental paintings of Ellsworth Kelly. Banquette, stool, and chair upholstery alternates between emerald green, electric blue, golden yellow, and claret red. The shades reappear in Cochrane's feature element seen throughout the project: large circular panels, sconces really, since each is backlit, and finished in a high gloss. "To stand out against the clothing," the architect continues, "the design and architecture have to have their strengths." Where steel structural columns pierce the interior, in the restrooms and corridors, for example, they too get coats of the same hues. "Color can be bold and feels positive," Cochrane notes, "which is important in retail," especially now, as shoppers slowly ease back into stores with COVID-19 stay-at-home orders lifting.
The ceiling and walls are tightly detailed, however, to make the custom elements sing more clearly. The ACA team worked carefully to contain mechanicals within a dropped ceiling. To balance the resulting spatial compression, Cochrane specified a stretched-fabric system in the main dining room and the lounge. Each is a round or an oval recessed downlight that provides subtle light and a visual focal point. In the bar and atop banquettes, ACA specified spherical lamps by Vico Magistretti as well as Achille and Pier Giacomo Castiglione. Triangular sconces by Cochrane's studio offer finer punctuation against the walls, particularly in the corridor leading to the restrooms.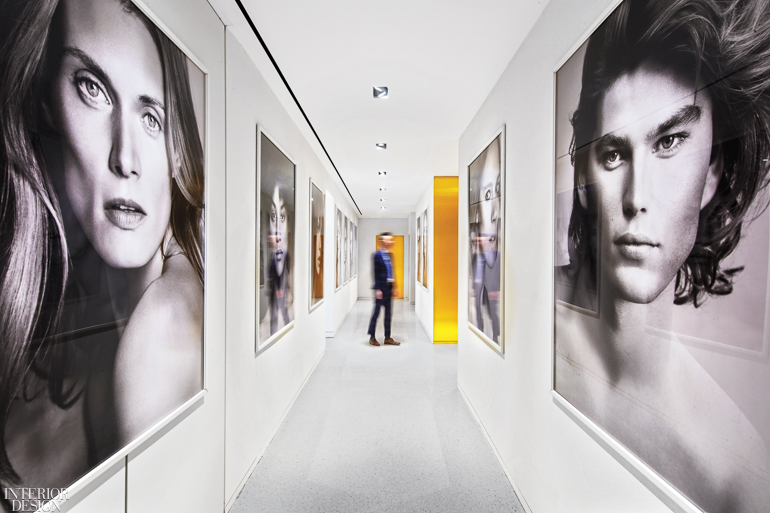 The interior renovation proceeded alongside a rethinking of the entire 195,000-square-foot building, which originated as several separate structures. Its front facade had been covered since the 1970's with a shroud of white marble. In its place, Gensler is adding narrow, horizontal limestone panels and has also opened up one end of the building with large windows framed by vertical bronze-toned mullions.
Cochrane carried the motif of ver­tical fins into Holts Café. Its public spaces are divided by expanses of brass-plated posts; similar slats separate the bar, where visitors enter the restaurant, from the adjacent women's footwear department. These porous borders, the architect says, balance a degree of visual privacy with a feeling of connection and energy. The rhythmic patterns generate "a sense of life and movement," says Cochrane. Those exterior windows, now 20 feet high, also connect Holts Café with a stretch of Bloor Street known as the Mink Mile, which is—or was, before the pandemic—busier than ever, lined with luxury retailers and an Eataly. "As a café guest," Cochrane explains, "you can sit there and enjoy looking down at the action on the street."
This outward-looking sensibility reflects the store's goals for the re­design. The company has a slightly more youthful sensibility than competitors like Saks and wanted "to make the café more dynamic," says Mario Grauso, who stepped down as Holt Renfrew president in late May and has been replaced by Sebastian Picardo, "a space that customers would want to come to as its own destination, day and night." As such, the color palette and gentle lighting are comfortable both for lunch and dinner. The revised menu features local and seasonal ingredients, plant-based selections, and relatively affordable options. And, when it reopens post-shutdown, the lounge, compact, carpeted, and speakeasylike, offers, among its signature drinks, the Renfrew, a sparkling rosé cocktail.
Project Team:
Kien Pham; Anna Bazzo; Carola Sottana; Lauren Dutton: Alex Cochrane Architects. Gensler: Katharine O'Toole; Tony Rambrich; Gillian Walczak; Steven Paynter. Rebl House: Custom Graphics. Cooley Monato Studio: Lighting Consultant. Entuitive: Struc­tural Engineer. Mitchell Partnership: MEP. Louis Interiors: Upholstery Workshop. Forte Fixtures & Millwork: Millwork, Metalwork. Four Seasons Drywall Systems & Acoustics: Plasterwork. Govan Brown: General Contractor.
Product Sources: Maharam: Wall Covering (Host Station, Private Dining), Chair Fabric (Dining Rooms, Lounge), Stool Fabric (Bar). Vitra: Armchairs (Main Dining, Lounge). LDI Interiors: Cream Banquette Fabric (Main Dining). Flos; Oluce: Table Lamps. Verpan: Stools (Bar), Blue Chairs (Main Dining). Ultratech Fabrics: Yellow Banquette Fabric. Acorn Engineering Co.: Urinals (Restroom). Toto: Sinks. Kohler Co.: Sink Fittings. LG Hausys: Solid Surfacing. BGI Retail: Custom Frames (Hall). Maxalto: Chairs (Private Dining). Lualdi: Glass Sliding Doors (Private Dining, Lounge). Stark: Carpet (Lounge). Rimadesio: Wood Sliding Doors. Through­out: Lighting Nelson & Garrett: Custom Sconces. ConTech Lighting; Feelux; Lumenwerx; PreciseLED; XAL: Lighting. Franklin Terrazzo Co.: Custom Terrazzo. Barrisol; LG Interiors: Stretched-Ceiling System. Benjamin Moore & Co.; Refined Corporate Finishes: Paint. Stadia Glass and Door: Exterior Glazing.