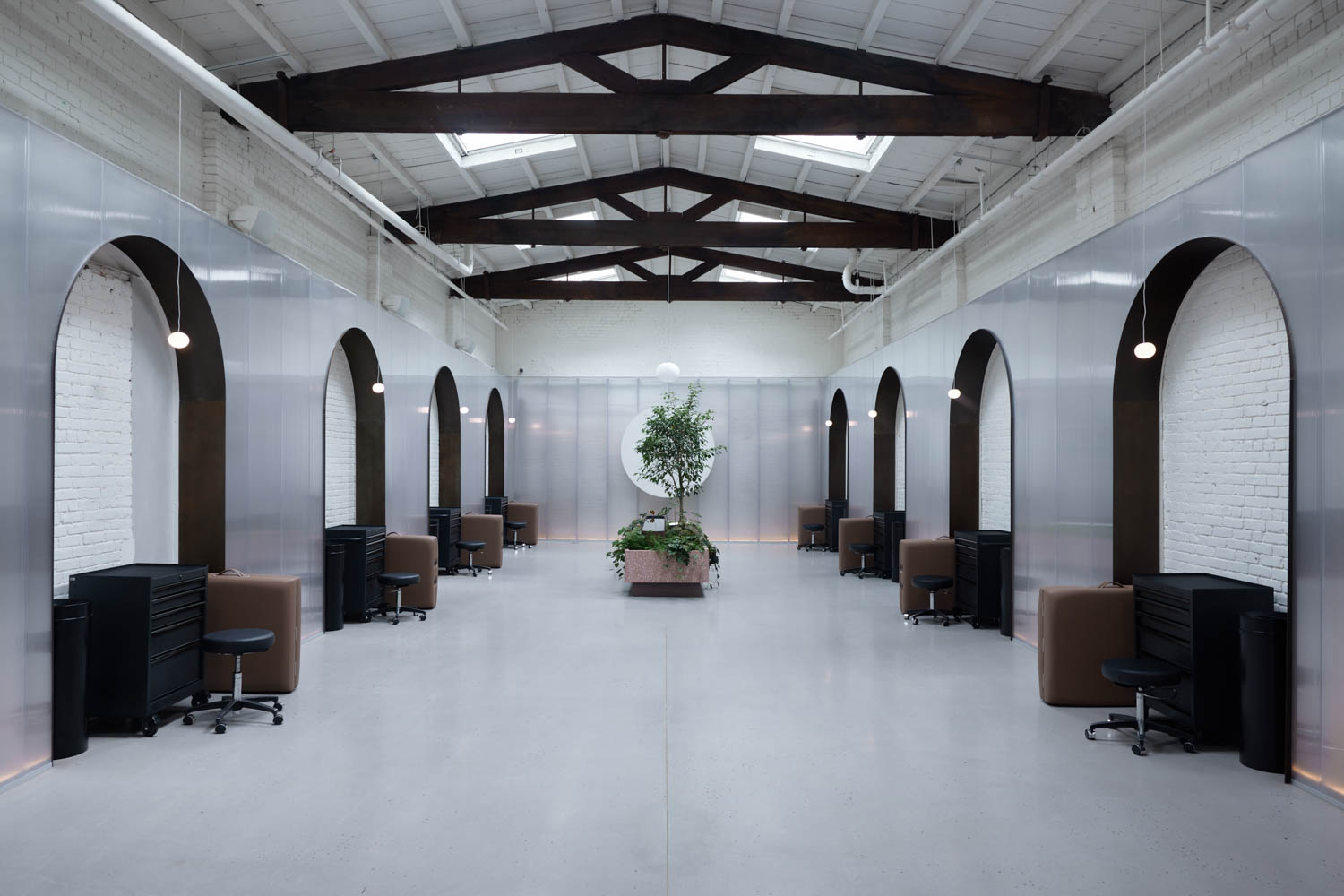 Atelier Eva Opens Its Second Locale in Williamsburg, Brooklyn
Atelier Eva Grand Street Studio puts a spin on the standard tattoo parlor—the time-honored downtown institutions that are almost always overflowing with memorabilia. Launched by artist-to-the-stars Eva Karabudak, the latest Williamsburg studio makes good use of a repurposed hardware storehouse, championing a zen, muted, and minimalist aesthetic. Who said that getting yourself bedecked in symbolic imagery can't also feel like a day at the spa? Known for tattooing the likes of SZA, Sam Smith, Joe Jonas, and Chloë Grace Moretz, among others, Karabudak now helms two serene brick-and mortar tattoo parlors.
Architect and designer Alp Bozkurt, who worked on the brand's first space, answered Karabudak's call to create a "secret garden" by accentuating existing 1895 structural elements and introducing a sleek yet calming palette of grays, black, and select earth tones. "The warehouses of this era were put together in a real ad hoc manner—overlaying a very logical and functional layout with modern precision can create a lot of clashes that designers usually want to avoid," the architect says. "With Atelier Eva's Grand Street location, I wanted to celebrate those moments rather than try to hide them. The layering approach really helped with that and allowed us to get a lot of utility from a few simple moves without having to make a huge intervention."
Industrial materials were harnessed to evoke the venue's urban surroundings while also offering a much needed oasis. Polycarbonate-paneled wall inserts encapsulate a series of recessed archways while taking on an ample amount of natural light that floods in from large storefront windows and timber truss-framed skylights above. Bespoke luminaires by local craftspeople add an additional layer of illumination. Other fixtures were sourced from Flos and Apparatus Studio. Each arched alcove demarks the stations of 20 or so individual artists specializing in a variety of tattoo styles including fine line, hand-poke, botanical, ornamental, and pop culture-focused.
A Tattoo Parlor Designed to Evoke a Sense of Calm
Before attaining this 115-foot-deep open-concept studio, however, clients need to pass through a "carefully choreographed sequence of experiences." Delimited by a chain mail curtain that cuts across three quarters of this continuous 1,750-square-foot volume is a conference room and front desk lobby. A vintage Ducaroy Togo sofa, produced by Ligne Roset, is the icing on the cake. Tying everything together, however, is the use of weighty mauve terrazzo counters, tables, and a 16-foot-long planter housing a weathered fountain and ficus trees.
Inside the Atelier Eva Grand Street Studio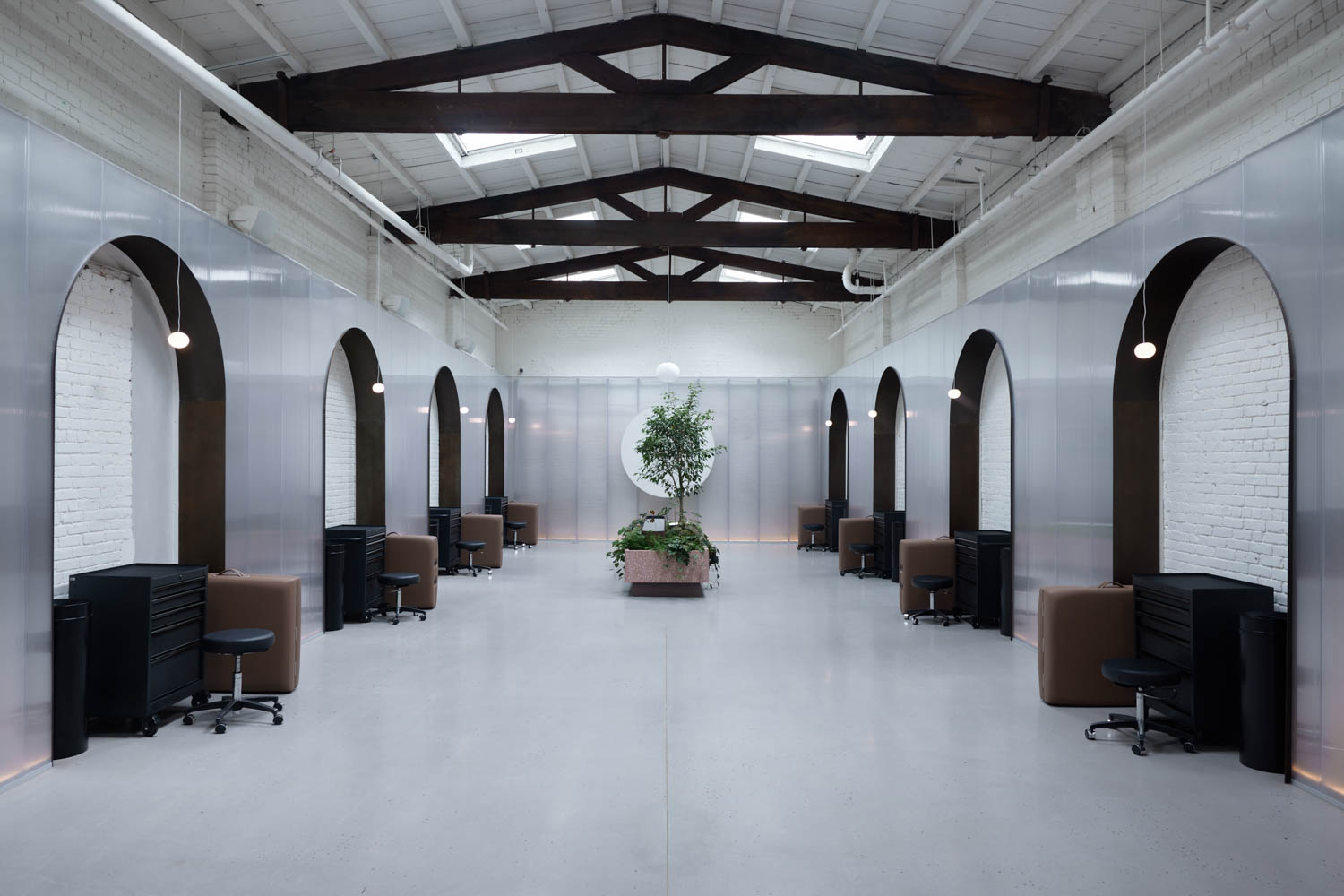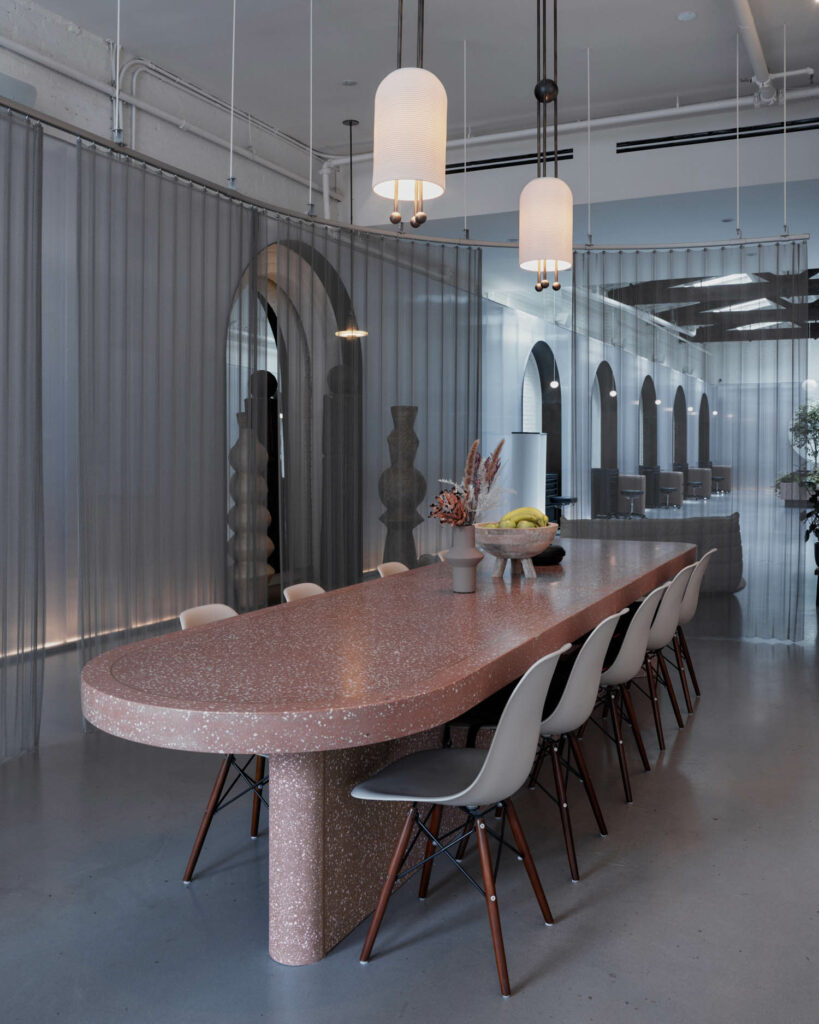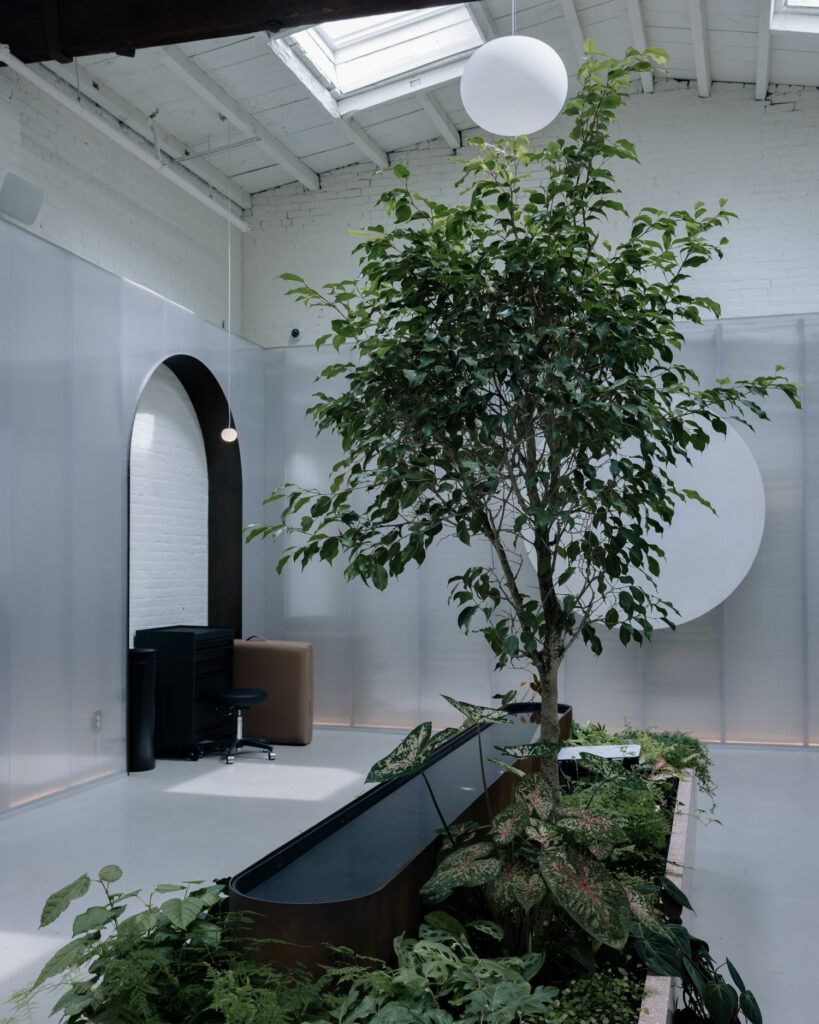 read more