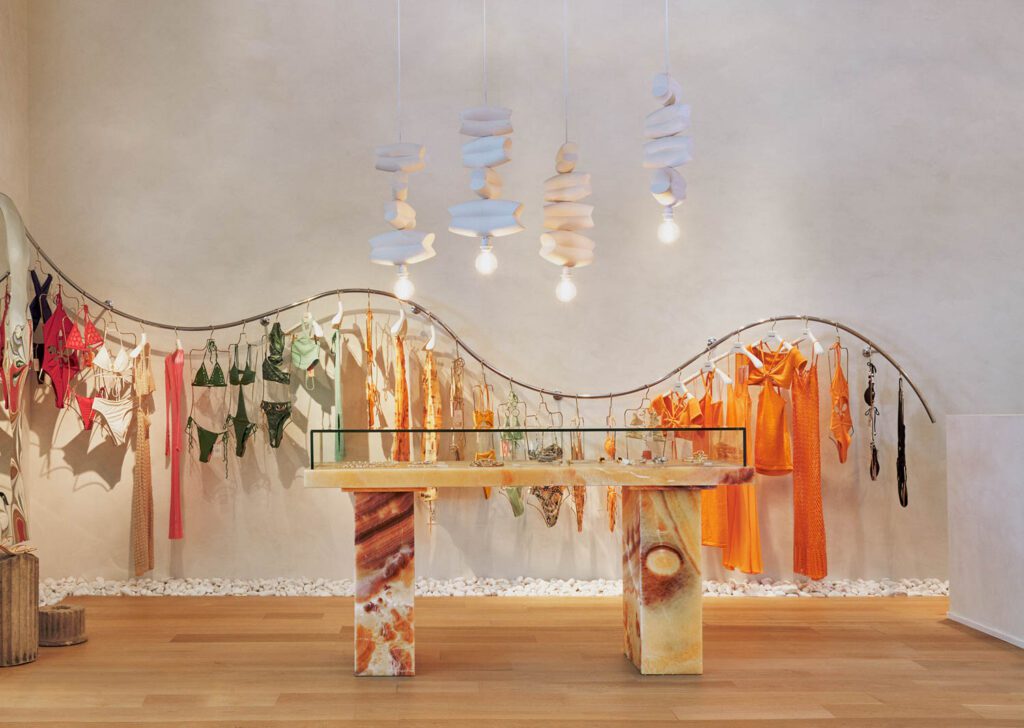 Brandi Howe Joins Jasmin Larian Hekmat's Cult Gaia for Miami Design District Pop-Up
Before founding Cult Gaia, Jasmin Larian Hekmat attended New York's Fashion Institute of Technology while interning for notables like Narciso Rodriguez and Jason Wu. Since launching in 2012, Hekmat has grown Cult Gaia from its coveted Ark Bag with a waitlist of thousands into a complete collection featuring ready to wear, accessories, footwear, and swim inspired by femininity, nature, and architecture.
She tasked Brandi Howe, who she knew through Howe's own fashion label, with her 2,000-square-feet Cult Gaia Miami pop-up. Its garden theme features displays built of different stones, concrete statues, and planters. Rather than blooming flowers and greenery, the blooms of the Cult Gaia garden are the displayed accessories and fashion pieces of the collection. The cash-wrap is built of drywall coated in Venetian plaster with an extension of layered step planters with concrete stepping stones to display the sunglasses.
"My perspective was to present the Cult Gaia collection through different forms of matter," Howe says. "The chrome elements represent liquid, while the stones inlaid into the ground and forming part of the pedestals represent solid. By contrast, the clothing, bags, shoes and other accessories of the brand are constantly changing and, like plant matter, I see them as the elements which give life in the space to their more static surroundings."