A Colorful Brooklyn Townhouse Inspired by "La Joie de Vivre"
In Brooklyn's brownstone-lined Fort Greene neighborhood, Jessica Wilpon Kamel and Christina Akiskalou—the duo behind New York-based studio Ronen Lev—updated a four-level 1890s-era home for a couple with elementary school-aged children.
The townhouse came with good bones and plenty of charm that Ronen Lev made sure to preserve while introducing "practical luxury," as well as a curated selection of vintage European design pieces. "The parlour floor, which corresponds to the second level in historic New York brownstones and townhouses, accessed through the building's front steps, is always the most luxurious," says Wilpon Kamel. "These grand rooms are often filled with period detailing such as high ceilings, stone fireplaces, large street-facing windows and ornate ceiling work. We deliberately restricted the amount of furniture in this space, allowing each piece to shine in its own right. We wanted every element to have space to breathe."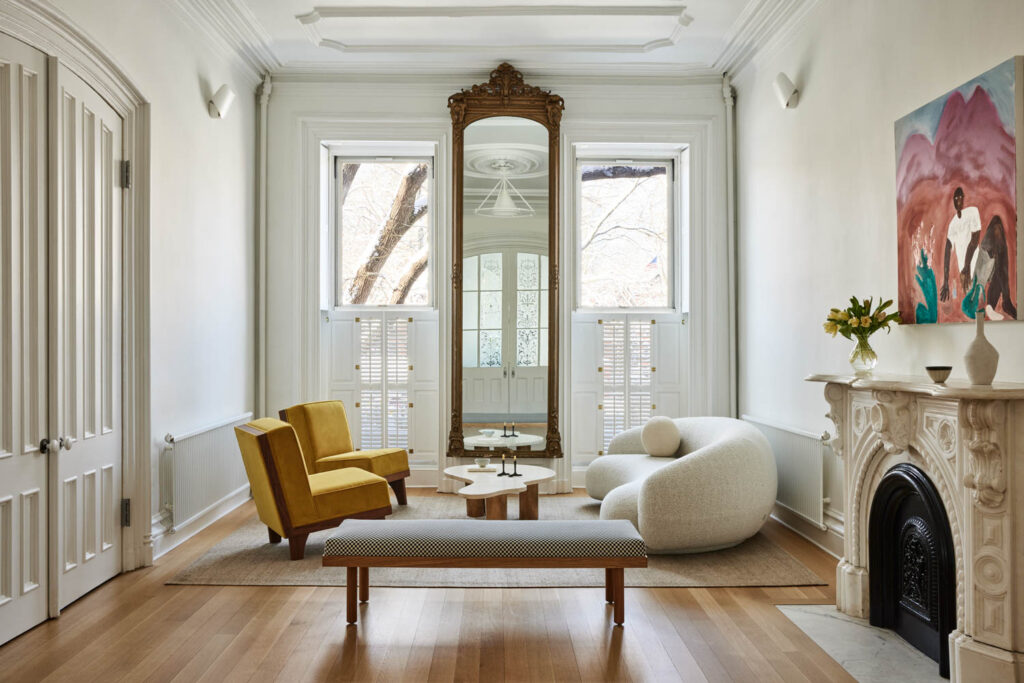 In the living room, a narrow mirror, stretching from floor-to-ceiling, contrasts with a low-set, sinuous sofa, creating tension with a play on scale. For the eclectic dining area, Ronen Lev sourced a vintage table and chairs, and custom designed the shelving unit. Unexpected graphic patterns add character throughout, referring to the work of architect and designer Alexander Girard (1907-1993). Various shapes and themes repeat in the house, like the black-and-white checkered pattern in the powder room, seen in the floors and wallpaper details.
A bold palette enlivens the children's rooms, where historical details meet modern furnishings. "We approached the children's rooms through a playful design lens, selecting soft, rounded furniture and vibrant green and yellow hues," says Wilpon Kamel. "The owners wanted a home that would be full of color and look and feel like nothing they have seen before." The designers delivered on all fronts.
Inside the Renovated Brooklyn Townhouse