Canada Goose by RooMoo: 2020 Best of Year Winner for Office Transformation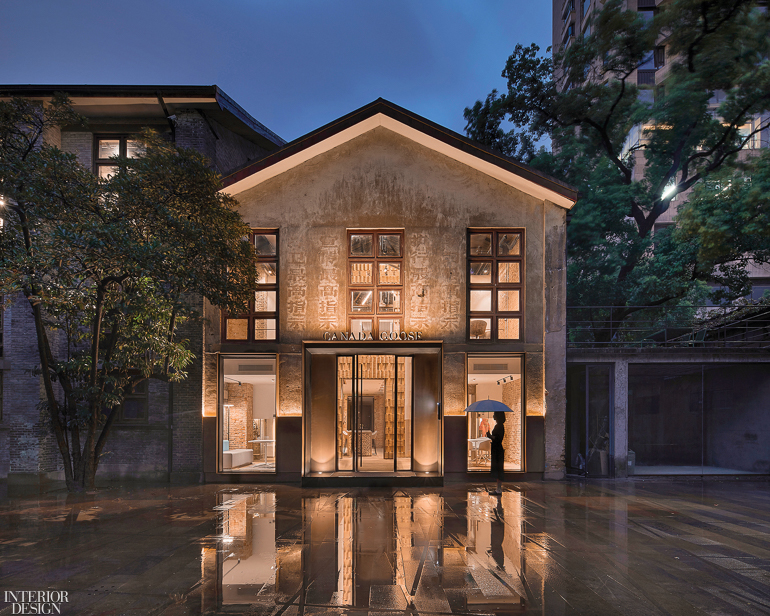 RooMoo founder Ray Zhang thoughtfully
updated two 1920s warehouses to create a 40-person office for outerwear brand Canada Goose. Located in the central Jing'an District, the buildings previously held practice rooms for the Shanghai People's Acrobatic Troupe and retained such historical details as elm floors and blue-brick walls. "We respected the architectural spirit while bringing in a sense of warmth and a modern touch," Zhang says.
On the facade, the design team preserved the textured concrete inscribed with Chinese characters but added a steel canopy and cladding. Inside, the connected buildings got crisp, contrasting interventions: new sculptural walls of perforated brick, brown steel railings, and glass-walled meeting rooms. Desks sit under a 23-foot pitched wood roof resembling an attic; cubed steel frames surround workstations and have integrated lighting. "We were looking to avoid hanging fixtures to have a clean ceilingscape," Zhang adds. For an atmospheric touch, the firm even brought in creaky elm stairs reminiscent of old houses.
Project Team: Ray Zhang; Hui Zhang; Marine Bois; Yunfeng Dai; Xiaoyan Wu; Jianv Guo; Qizhi Wang; Xianwei Ban; Min Zhang.
> See the full list of winners and honorees from Best of Year 2020