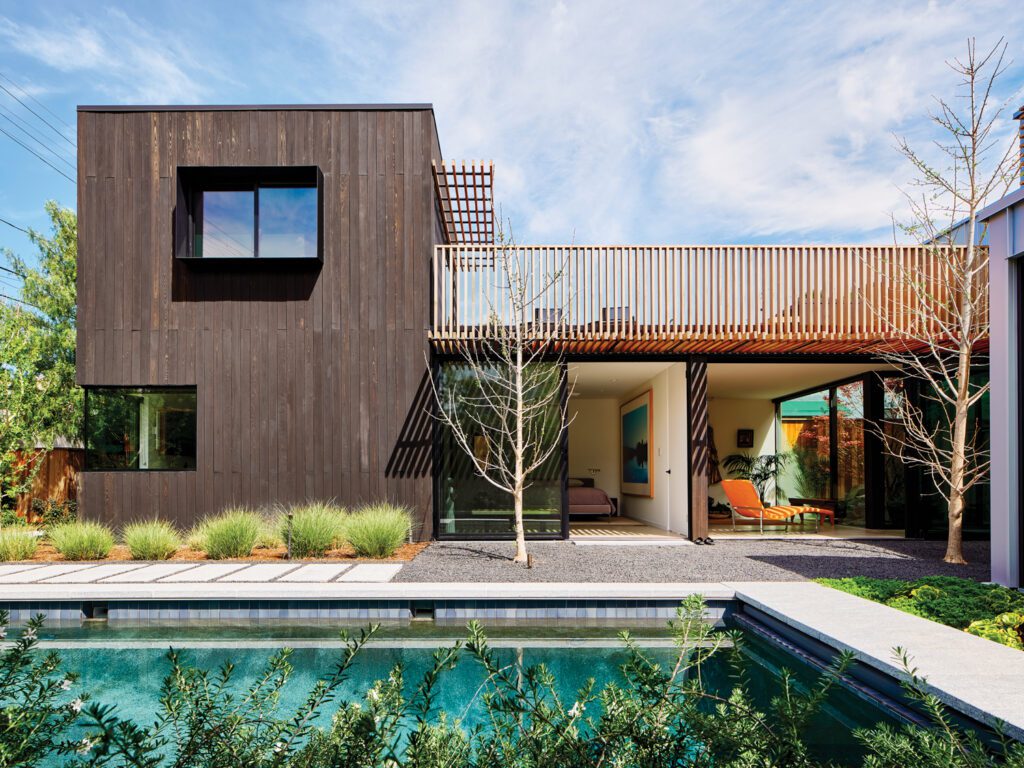 Clive Wilkinson Architects Builds a Breezy Abode in West Los Angeles
Los Angeles–based architect Clive Wilkinson is best known for his experimental, experiential workplaces. His namesake Culver City studio has put its mark on such entities as Maquarie Group in Sydney, Microsoft in Vancouver, BMW Research and Innovation Center in Munich, Publicis and the Barbarian Group in New York, and, closer to home, the Santa Monica College Center for Media & Design and its adjunct, KCRW Media Center for public radio. But guess what? "I'm really interested in doing more residential," the Interior Design Hall of Famer confesses.
That was a lucky thing indeed for one couple making the move from Chicago to L.A. They decided to approach Wilkinson about designing a new-build after touring his former West Hollywood dwelling during their real estate hunt; at the time, it was one of only two he'd ever completed. (He's since wrapped another ground-up residential project plus the renovation of a John Lautner property, and has two more houses and a development in the works.) The pair had been through the construction process before, having previously commissioned a contemporary town house in Chicago's Bucktown neighborhood. "So we cold-called him," the husband remembers. Turns out Wilkinson was game, and the trio proved simpatico: "We creatively and passionately connected with this guy," the client says. "In Clive, we met someone who shared our vision of how to live here."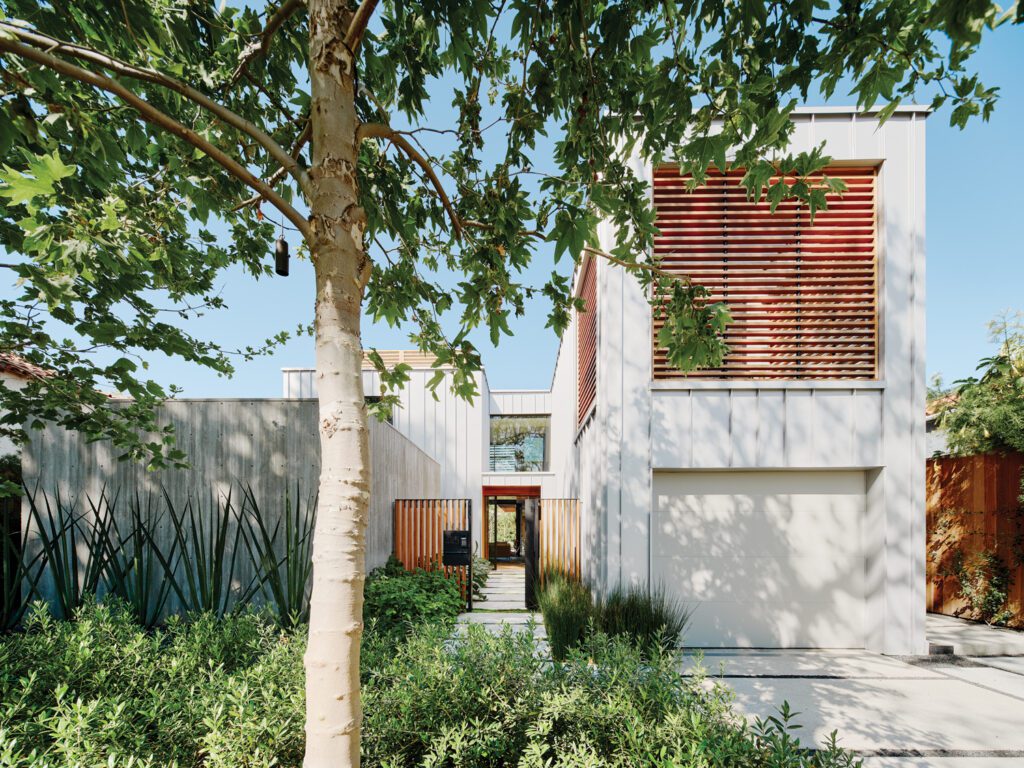 That included, naturally, the desire for an easy indoor-outdoor rapport. It's a SoCal cliché, but interpreted here with plenty of ingenuity (we'll get to that). There was also the need for a home office, a six-seat screening room, a principal and two guest bedrooms so the couple's three grown kids could rotate visits, and a meditation room. A pool, too, of course. Further, the roof had to be flat, not just as a nod to the modern idiom but also to accommodate solar panels.
The clients presented Wilkinson with a favorable site, a traditional rectangular plot in West L.A. flanked by single-family residences adhering to zoning's 20-foot height limit. "Personally, I like these little generic lots," the architect notes. "They provide the opportunity and the challenge to create a sense of openness and flow while working within tight spatial constraints." Wilkinson chose not to build to property-line boundaries, instead opting to surround the structure with abundant breathing room—a device that allowed for a better connection with the elements. The house reads as a series of interlocking volumes, with the voids in-between them forming sheltered exterior spaces, a configuration that alludes to the courtyard typology so prevalent in the California vernacular.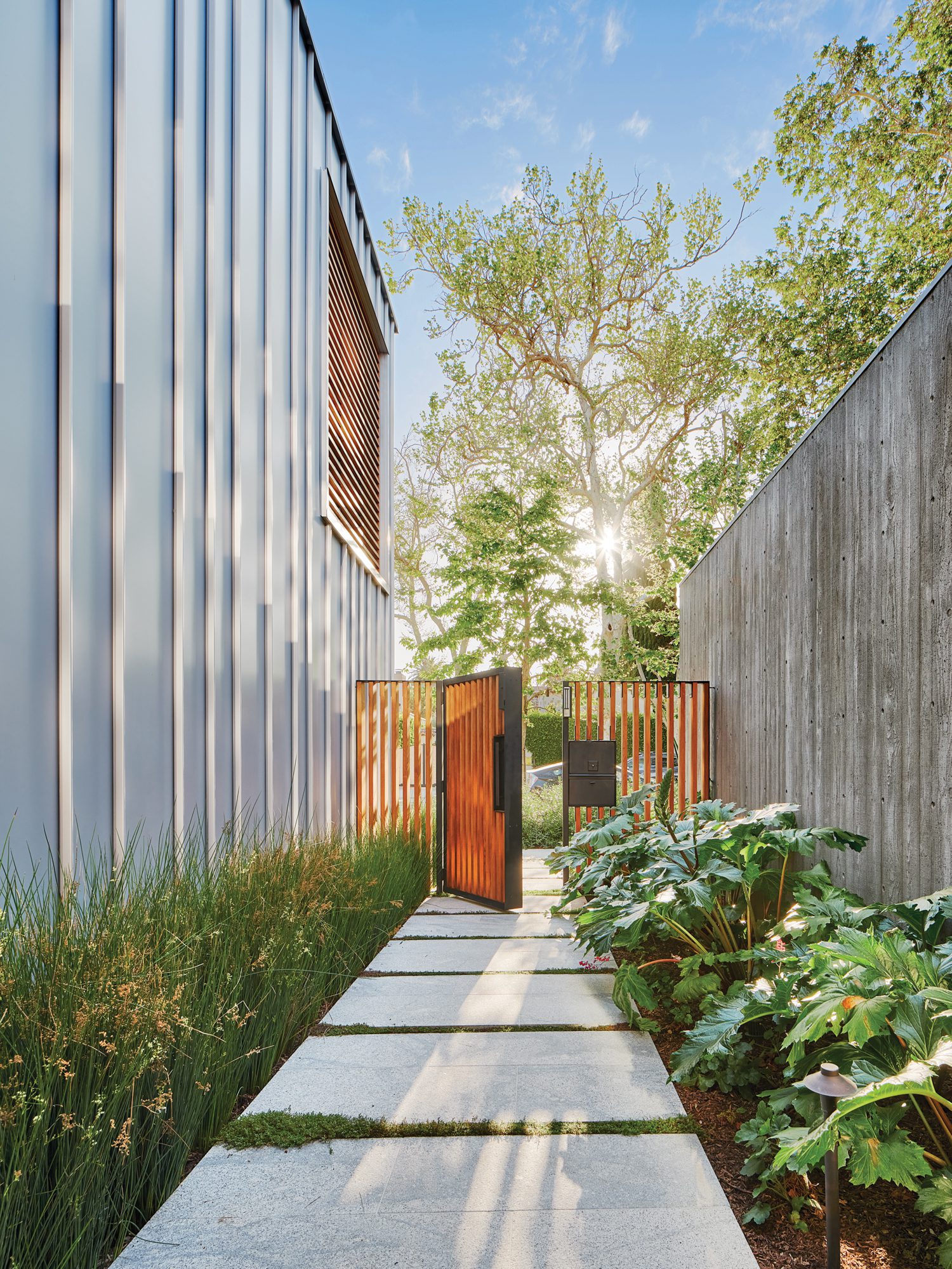 At 3,000 square feet, the house is rather compact. Wilkinson's boldest stroke is visible from the concrete-paved entry path. Jutting out in front of the slatted cedar-and-steel front gate are two rectangular volumes. One is a windowless board-formed concrete box that encases the screening room. Its counterpart, clad with standing-seam aluminum panels, accommodates the two-car garage, made narrow and tandem-style to de-emphasize its presence. (The house's only intentionally "rough edge," per Wilkinson, is the charred Japanese cedar siding at rear.)
Inside, the duality dissolves into one cohesive plan. Just past the Bento box–like cedar-walled entryway that Wilkinson likens to "a room of its own" is the bright and airy living area—a decidedly unexpected contrast to the opaque face the dwelling presents to the street. Sliders within a dark-anodized-bronze framework render distinctions between indoors and out a mere technicality. The double-height living space leads to two "wings" that wrap around the back courtyard: one containing an open dining-kitchen expanse, the other housing the primary bedroom suite with adjacent meditation room overlooking a side court. Oak stairs lead up to a mezzanine providing access to the guest suites. The larger of the two boasts a bonus. It opens to a quasi-outdoor space: a roofless sunroom, enclosed by cedar slats, that perches atop the garage.
When furnishing their Chicago home, the clients went single-stop shopping at the city's Luminaire showroom, purchasing pieces by esteemed designers such as Piero Lissoni, Antonio Citterio, Poul Kjærholm, Jeffrey Bernett, and Lievore Altherr Molina—all of which came with them to L.A. (Also making the trip safely from Chi-town: the meditation room's 7-foot-high wooden Buddha.) For fill-in pieces once they settled in and determined their exact needs, the couple got lucky once again: Luminaire had recently opened a grand, two-floor corner location in nearby West Hollywood. Rounding out the picture-perfect mise-en-scène are photographs by Elger Esser, Matthew Pillsbury, and Vik Muniz. "They have good taste—and good art," Wilkinson notes of his clients.
One thing the husband enjoys most about his new house is his "commute." In this car-culture city, it's the very antithesis of the norm. Rather than endure the daily frustration of once-again-stalled bumper-to-bumper traffic, all he need do is head upstairs and stroll across the al fresco catwalk connecting the bedroom mezzanine with his dedicated workspace. Sometimes he doesn't even make it that far. The interstitial garden terrace with bench seating beckons and becomes the day's work-from-anywhere setting.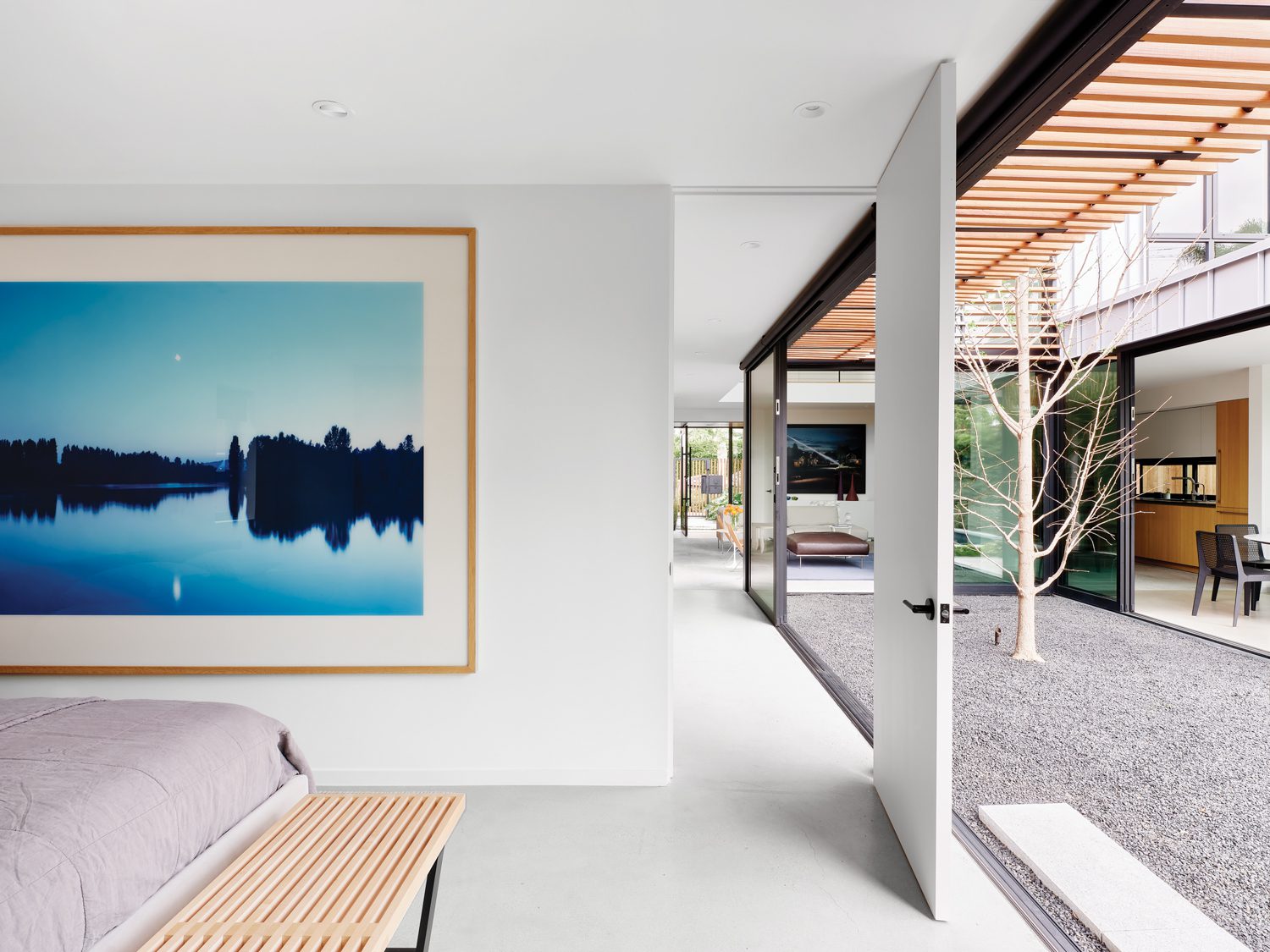 Project team
Product sources