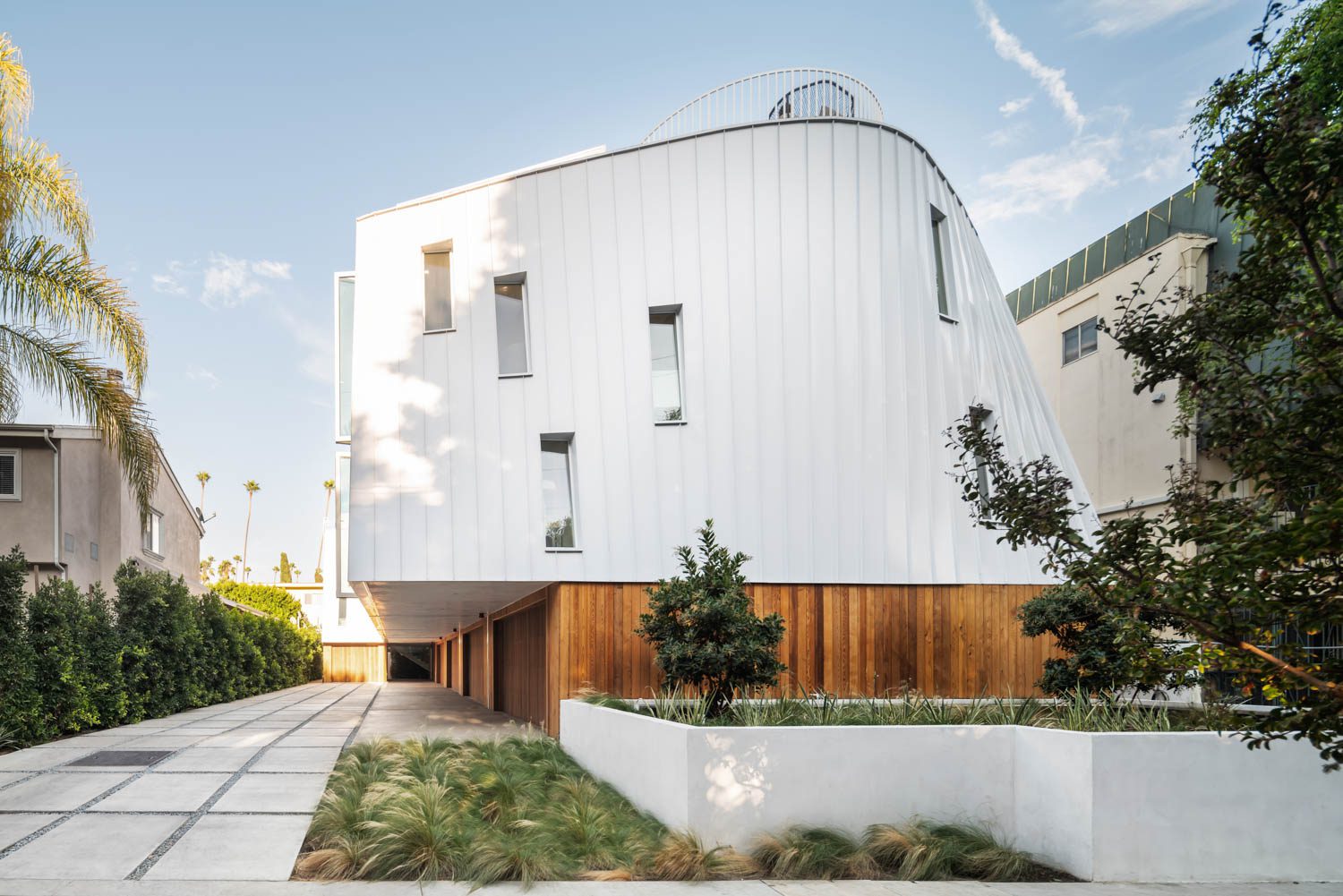 Compact and Complete Los Angeles Housing by Lorcan O'Herlihy Architects
2022 Best of Year Winner for Infill Housing
An Angelino by way of Dublin where he was born and London, Rome, and Madrid where he studied and lived thanks to his film actor father, Lorcan O'Herlihy stands out as an architect particularly devoted to housing and urban issues in his all-encompassing practice. "I always grew up in cities," he says as prologue to one of the firm's mantras. "We embrace architecture as a social act." Making the point are more than 100 awards for housing projects completed by LOHA, which has offices in both Los Angeles and Detroit, including a 2017 Interior Design Best of Year honor.
Newly completed in mid-2021, the project was designed to address Los Angeles's "rampant housing crisis," he says, especially for first-time buyers in an increasingly unaffordable market. It comprises five homes totaling 10,000 square feet on an urban infill lot that promotes a degree of density while maintaining the residential scale of the neighborhood. Quasi identical, individual dwellings range in area from 1,400 to 1,690 square feet. Just six inches separate them.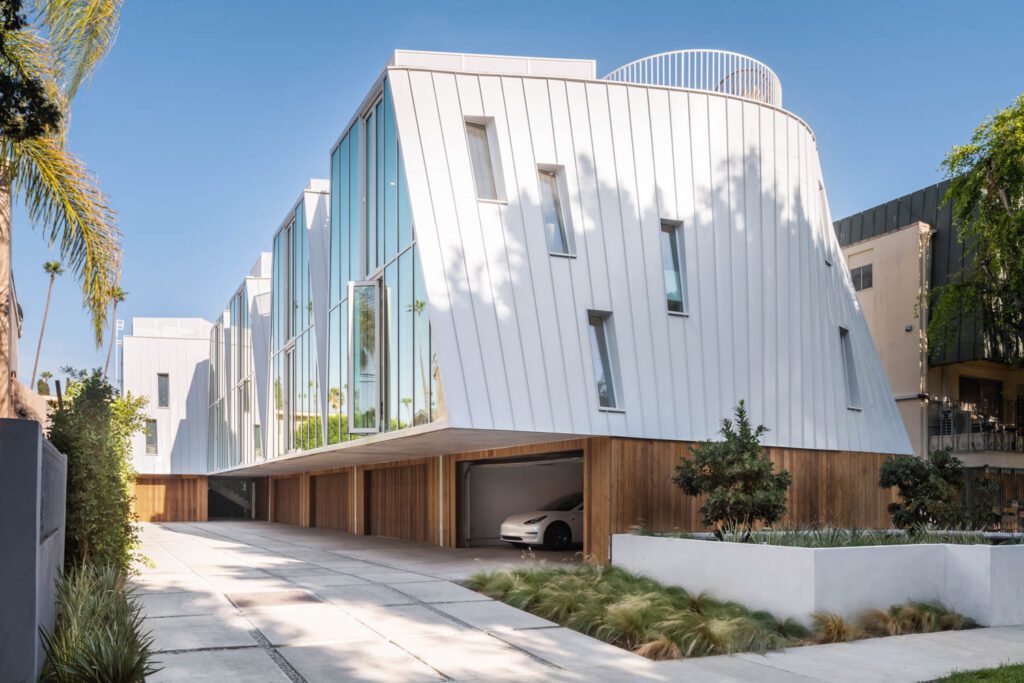 Despite compact and repetitive components, the assemblage presents a striking face to the street. Credit simplicity of form and materials. Unmistakable is an A-frame vibe. Yet O'Herlihy tilted the upper level exterior walls, peeling away edges to create a sense of identity per house and allow a degree of light to infiltrate. These walls are a system of white-painted aluminum panels with standing seam detailing. Front faces, however, are double height glazing, and sides have punched apertures. All optimize SoCal's most prized commodity of sunlight. Meanwhile, ground floors are a solid run of cedar for garage enclosures, complete with charging stations.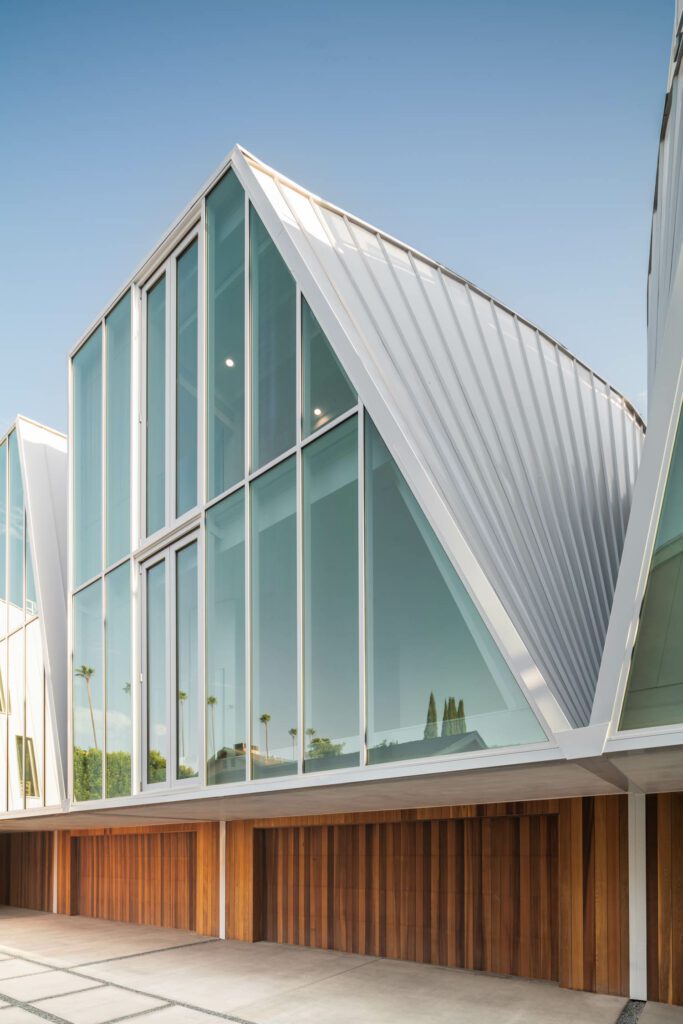 Inside, the entry and laundry room as well as garage occupy the ground floor. The second level has two bedrooms and baths while the topmost floor is an open living, dining, kitchen expanse. Everything is crisp and white, including the painted columns and beams corresponding to the structures' framing system. When it came to other finishes, O'Herlihy cut no corners. Custom cabinetry is oak with honed marble for kitchen counters and backsplashes. Sustainable hardwood flooring is imported from Belgium. Stainless steel appliances are from Bosch, while Ann Sacks supplied tile for hallway baths. Main and secondary baths feature Gascogne limestone.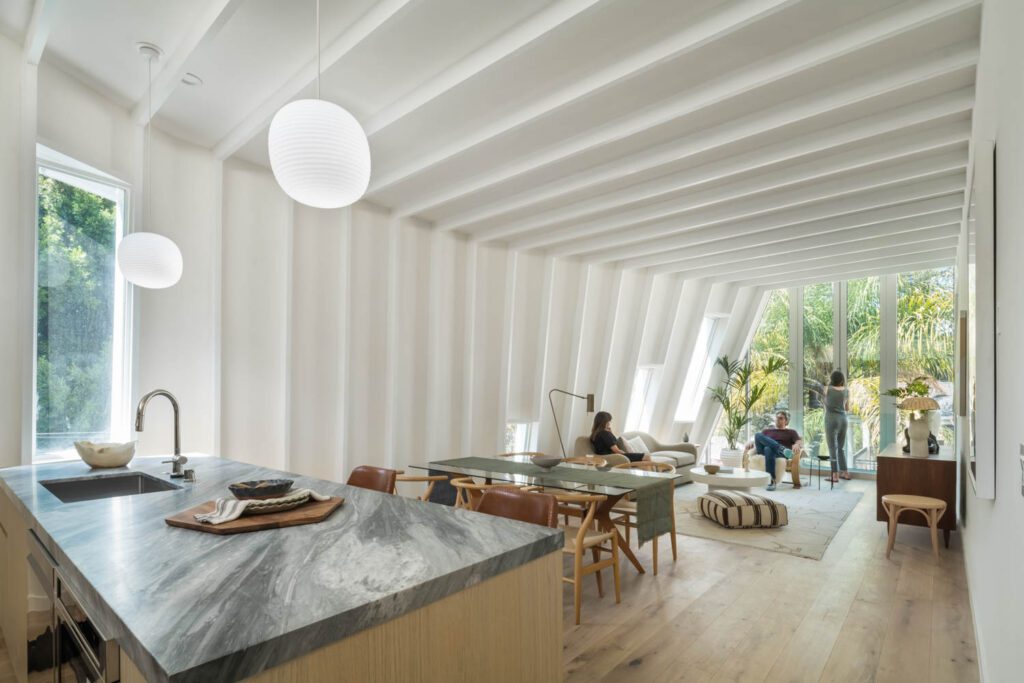 There are no backyards, but that doesn't preclude outdoor space. Instead, it is elevated to rooftop, the decks enclosed with glass handrails and accessed through folding French doors. The cost of each home is $1,520,000. Indeed, the figure seems pricey. Nevertheless, it is part of O'Herlihy's overarching strategy of "architecture for everybody. Not just houses on the hill."
---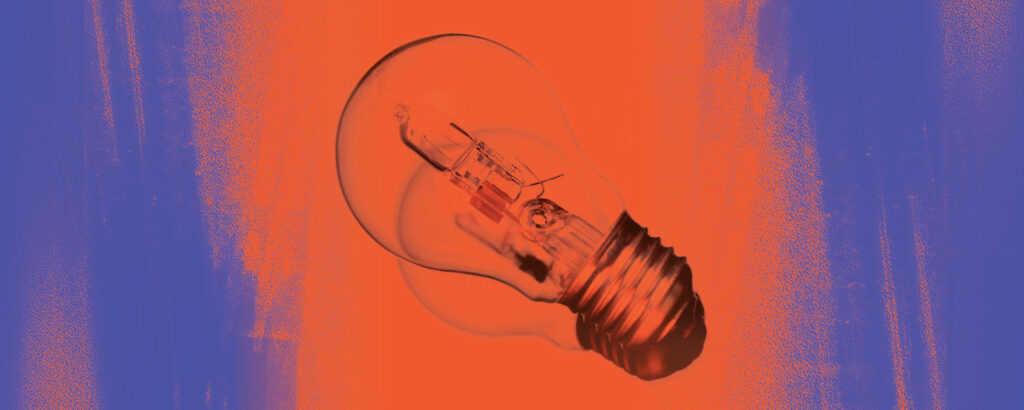 See Interior Design's Best of Year Winners and Honorees
Explore must-see projects and products that took home high honors.
---