30 Sustainable Projects Leading the Way for Green Design
Sustainability is more important than ever and is on its way to becoming a standard in architecture, but LEED certification is only the beginning. These projects prove that green design is good for all.
Editor's note: This story was updated in March, 2022, to include our latest stories on sustainable design.
1. The Miller Hull Partnership Designs a Sustainable Home Overlooking Puget Sound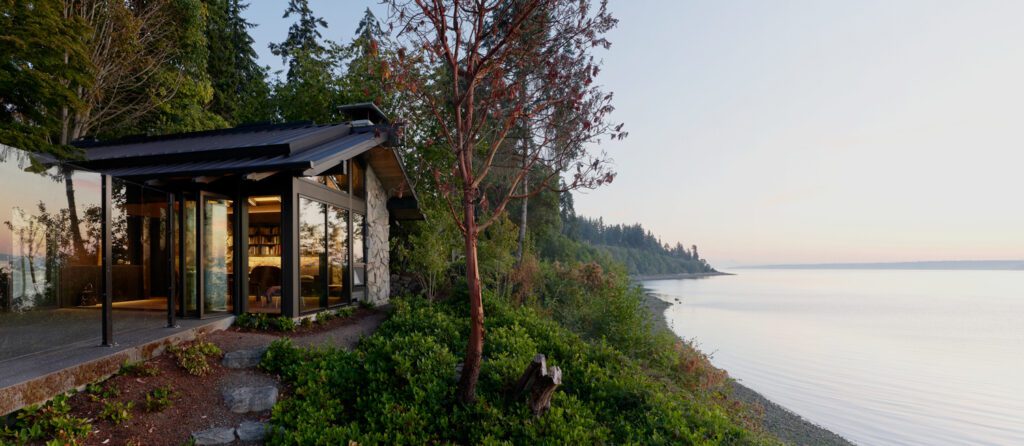 At times, renovating a home can prove more challenging than starting over from the ground up, especially when it comes to putting sustainability first. But the architects and designers behind The Miller Hull Partnership thrive on such a mission. Read more
2. Hickok Cole Creates an Eco-Sensitive Update for the American Geophysical Union's Washington Headquarters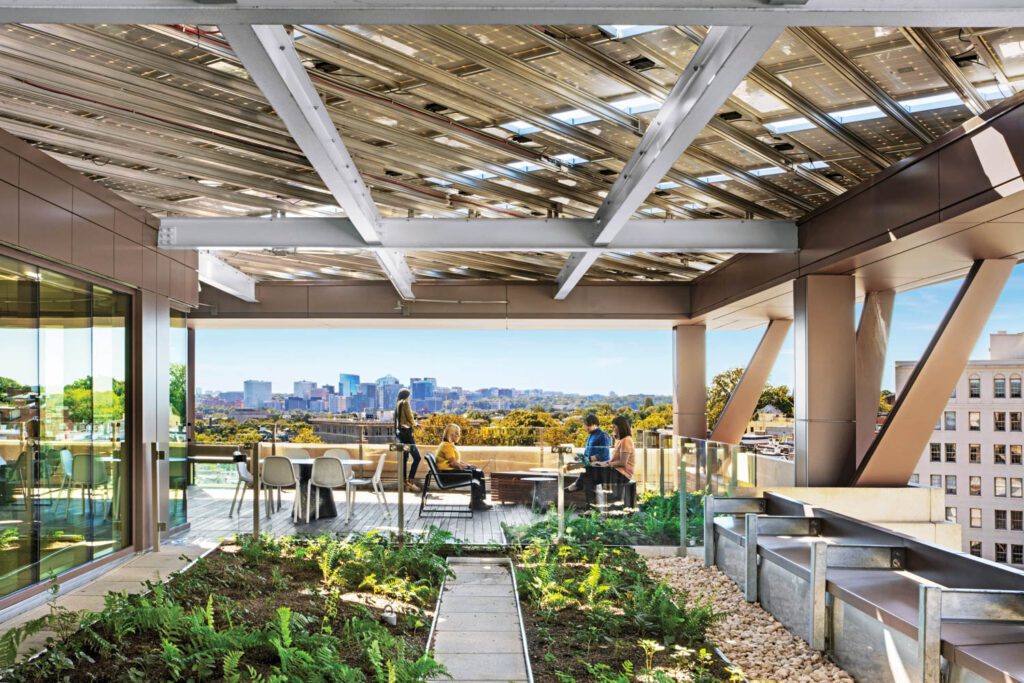 Nearly 20 white papers later, the American Geophysical Union's Washington Headquarters and Hickok Cole had mapped out a comprehensive plan of energy reduction, reclamation, absorption, and generation for the 84,000-square-foot project, which includes two underground levels (the lowest a parking garage), five above-grade floors, and a rooftop penthouse and terrace. Read more
3. Valerio Dewalt Train Marries the Industrial With the Natural for a Bike Park and Educational Center in Chicago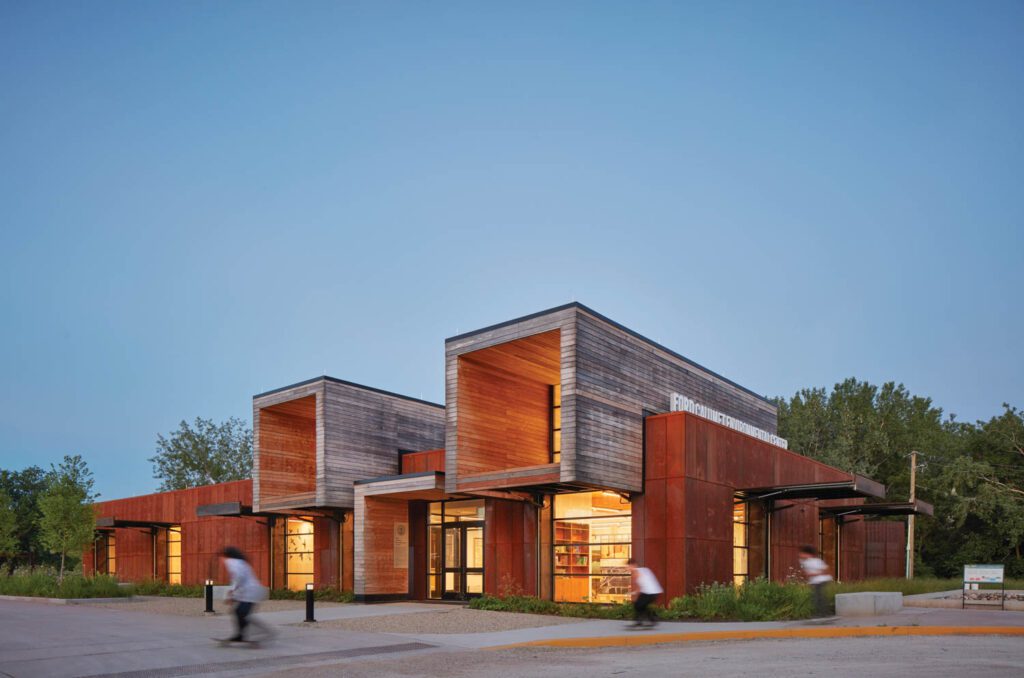 The marshes on Chicago's southeast side were once a dumping ground for slag from nearby steel mills, the casualty of little to no environmental regulation up until the 1970's. Now they're Big Marsh, a new bike park that covers almost 300 acres with walking and cycling trails plus a 9,300-square-foot environmental education center that tells the history of the site. Marrying the industrial with the natural, VDT designed a nail-laminated timber structure with hydraulic hangar doors that close over windows at night. NLT is a renewable resource, highly effective at carbon sequestration, and requires less energy to produce than steel or concrete. Read more
4. A New Cultural Center by Dorte Mandrup Celebrates and Safeguards the UNESCO-Protected Greenland Wilderness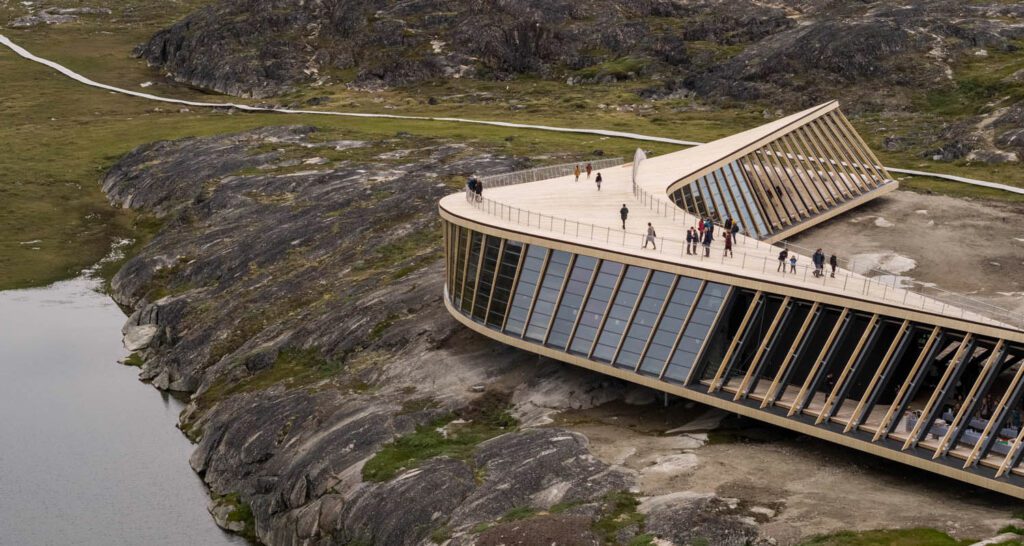 The Danish nonprofit Realdania and local governmental groups have opened the Ilulissat Icefjord Centre on the edge of the UNESCO-protected Greenland wilderness, 150 miles north of the Arctic Circle. The 16,000-square-foot winglike building is by Dorte Mandrup, an architect whose namesake Copenhagen studio won the 2016 competition to design the project, beating out such firms as Snøhetta and Kengo Kuma & Associates. Read more
5. ZGF Architects Adapts a Derelict Campus Building in Los Angeles into an Energy-Efficient Educational Space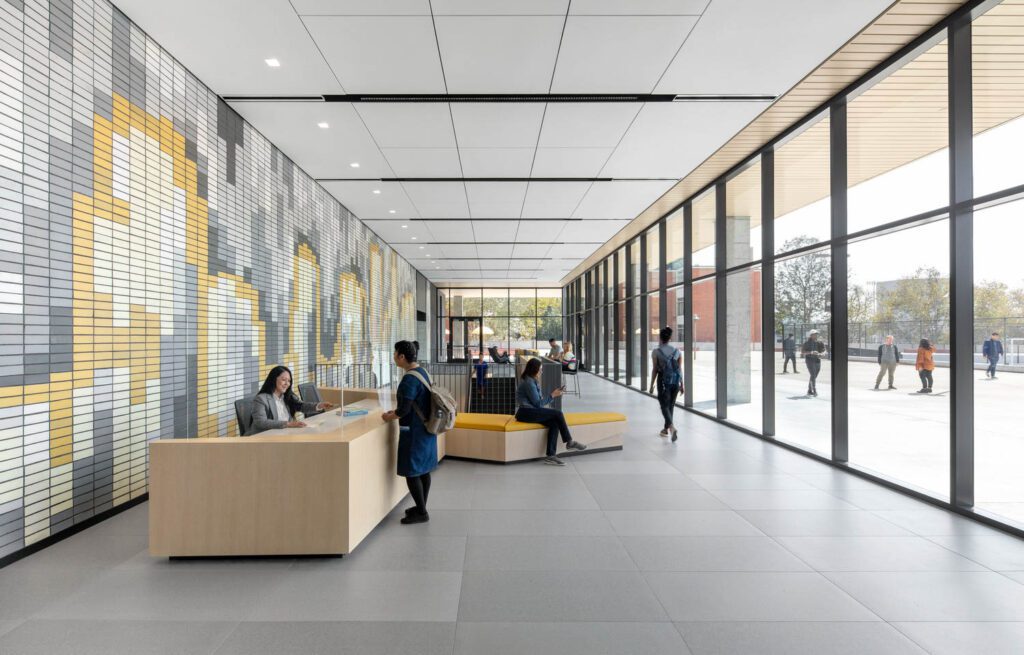 ZGF was initially commissioned for the upgrades to make the building habitable on a temporary basis for both administrative staff and student services while a replacement was being built. Then came the pivot. "We said it's such a good building with the potential for energy efficiency," Woolum continues. "Wouldn't you rather adapt and re-use and create the new building for something else?" Why not indeed. Read more
6. Nieto Sobejano Arquitectos Strikes All the Right Notes With Arvo Pärt Centre in Estonia
Spanish firm Nieto Sobejano Arquitectos won a two-phase competition to design this center with their thesis that links music and architecture. Considering the ratio of glass to metal also became essential because of the layers of thermal insulation needed to create a sustainable and easily heated structure. But first Nieto Sobejano decided what the project shouldn't have: right angles, a main facade, and a discernable front or back. Instead, what emerged was a pattern of "continuous links echoing the trees," Sobejano says. Read more
7. Sustainably Designed and Architecturally Significant Buildings in Singapore
Not only is the entire 27-floor external facade wrapped in a natural vine covered sunscreen, but the Oasia Hotel Downtown also has four lush sky terraces, 1,793 large planter boxes, and four large structural cores that allow for good cross ventilation reducing the overall energy cost. Designed by WOHA and completed in 2016, the hotel is home to over 33 species of plants and 21 species of creepers. In addition, the 314-room property is notable for its striking interior design by Patricia Urquiola. Read about 7 more sustainable buildings in Singapore
8. Warmth and Modernism Are at the Heart of 3XN's Design for Olympic House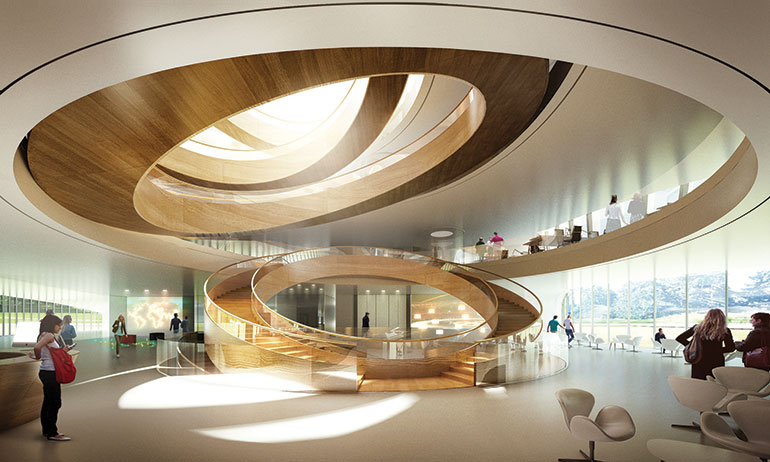 Two of the most poignant concepts International Olympic Committee President Thomas Bach wanted the design to articulate were sustainability and transparency. 3XN certainly delivered; the build is LEED platinum-certified, and has reused 90 percent of the concrete from the previous headquarters that was demolished to make way for the new build. Read more
9. ACDF Architecture Partners With Architecture49 for Mega Project Parq Vancouver
Six stories high, capped with a 30,000-square-foot roof garden, this contemporary structure "is an urban oasis,"ACDF Architecture CEO Maxime-Alexis Frappier says. ACDF partnered with Architecture49 and their response was not a looming hulk but rather a curving, low-rise presence wrapped in a mirrored facade that reflects its surroundings. Aluminum louvers, capturing sunlight, reflect pixelated images of the Rocky Mountains in the distance. The daylight resulting from abundant glazing contributes to the project's LEED Gold status, proving Parq fits into the global environment, too. Read more
10. Annapolis Residence by Bates Masi + Architects Wins 2018 Best of Year Award for Waterfront House
When a prospective client in Annapolis, Maryland, told Bates Masi + Architects' principal Paul Masi that he and his wife had recently purchased a house on the water, he really meant it: The residence's second-floor deck literally hung right over a cove in the Chesapeake Bay. However, the 1970s structure was sorely outdated, located in the flood plain, and didn't meet current energy codes. Masi's solution yielded a new, flat-roofed house, raised three feet higher than its predecessor—and LEED-certified to boot. Read more
11. TPG Architecture Makes Headlines With Its Office for the Associated Press in New York
The AP staffers have had a chance to settle into their new digs by TPG Architecture, which have since been awarded LEED Gold certification. As you might expect, good news travels fast. As Carmel says, the office "compliments who we are as an organization." That includes a bit of spirit, as seen at the perimeter of the café. There the white floor tile bursts into a confetti of colors, as if celebrating the much-decorated news agency. Read more
12. Tsingpu Yangzhou Retreat by Neri & Hu Design and Research Office Wins 2018 Best of Year Award for Green
For Neri & Hu, this project entailed repurposing and renovating existing structures—including a former warehouse that now hosts a restaurant, a theater, and an exhibition space—as well as erecting new ones, among them a lakeside pavilion containing four of the 20 suites. "The rustic materiality and layered spaces redefine tradition via a modern architectural language," says Neri. Read more
13. Studio Rianknop Creates Flexible, Sustainable Space for Amsterdam Tech Company
When an Amsterdam company that manages a file-sharing platform decided to move from the city center to a warehouse near the city limits, it shared a few tasks with local design firm Studio Rianknop: Create a flexible space for the company's staff; make it sustainable; and take advantage of the industrial space in a relaxing, inviting way. In a clever nod to the wires funneling data across the globe, a "cable tree" grows from the lower level with branches powering first-floor public spaces and a tubular chandelier. Read more
14. The Center for Fiction by BKSK Architects Brings Books and Sustainability to Brooklyn
The Center for Fiction started out as the Mercantile Library in 1821 and moved locations throughout Manhattan over the years. In 2008, it was rebranded, and more than 10 years later, the Center has a permanent home in a LEED Silver-certified building in downtown Brooklyn by BKSK Architects. In the writers' studio, locally-made custom wool felt panels are perforated with the Center's logo, an open book. Read more
15. ASID Headquarters Becomes World's First Space to Earn LEED and WELL Platinum Certification
The Washington, DC office, designed by Perkins + Will, is brimming with features that support health and wellness. One is a circadian lighting system that mimics natural daylight, paired with automated shades that follow the sun's movement to help eliminate eye strain. The design team also implemented biophilic design strategies, for instance by using a range of natural materials and patterns. Read more
16. Mohawk Group's New NYC Showroom Embraces Wellness
Located in a former textile factory in historic Chelsea, Mohawk Group's 13,000-square-foot showroom was designed by Gensler and incorporates LEED and WELL Building Standard qualifications, fully expressing Mohawk's company ethos: Believe in better. Read more
17. Huntsman Architectural Group Downsizes McKesson for Maximum Efficiency
For McKesson's San Francisco office, Huntsman Architectural Group went with undeniably contemporary furnishings. Sui generis, however, is a break room's custom bench, a repurposed conveyor belt hinting at McKesson's core business. Which brings us to the fact that the premises are going for Well Building certification as well as LEED Gold. Read more
18. Perkins + Will Creates a Contemporary Office for Nixon Peabody in New York
Perkins + Will designed this space to be easily reconfigured as needs change. A feature stair connects the office's three levels with show-stopping views of the city, and floor-to-ceiling glass walls help foster synergy between practice areas. It was also awarded LEED Gold certification. In all, the office is a balance of functionality and design statement. Read more
19. Five Global Green Projects Pay it Forward
For Park + Associates's own office, minimal intervention transformed a 1960's former school into a showcase of clean-lined design, thanks to vintage furnishings, a black-and-white palette, and painted-steel arches highlighting the reinforced-concrete barrel vaults. Read about all 5 global green projects
20. SKB Architects Creates Lively Lobby for Key Center Office Tower
No longer merely pass-through places, lobbies have become hotel-esque settings. They entice potential tenants to lease, and existing tenants get a perk that might entice them to stay. Such is the case at the Key Center office tower across the water from Seattle. After purchasing the 23-story building, Kilroy Realty Corporation opted to implement changes resulting in LEED Platinum certification and to transform the immense lobby into a "people place," SKB Architects senior principal Shannon Gaffney recounts. "That's our thing." Read more
21. Mosa Tiles Enliven Venetian Villa by JM Architecture
Italian studio JM Architecture outlined a sustainable agenda to maximize the home's energy-efficiency. Mosa's LEED-contributing ceramic tiles, which received Cradle-to-Cradle® Silver certification, join the multitude of eco-friendly features that distinguish the villa, including inlaid photovoltaic panels and radiant floor heating. Read more
22. Venable by Alliance Architecture Wins 2017 Best of Year Award for Large Law Office
Moving to a gleaming LEED Platinum palace in the booming East End, this 117-year-old law firm left behind the endless dreary silos of its former headquarters and embraced a cultural shift toward wellness and ergonomics. Thanks to Alliance Architecture, sunlight penetrates offices with clear glass enclosures, every employee has a motorized standing desk, and the café opens onto a terrace complete with barbecue grills, a fire pit, a bar, and a bocce court. Read more
23. 1 Hotel's Miami Beach Debut by Meyer Davis Studio
Meyer Davis Studio was charged with transforming the lower eight stories of a 1968 building into 1 Hotel Miami. "We paid homage to the natural landscape of south Florida," Meyer notes—versus the art deco razzle-dazzle typically associated with the area. Moves large and small rack up points in the quest for LEED Silver certification. Uses of reclaimed wood represent a virtual forest preserved. Dialing down to details, Meyer and Davis specified organic bed linens, hemp mattresses, and clothes hangers molded from recycled paper, while bedside note pads have disappeared in favor of chalkboards. Read more
24. Lotus Square Art Center by Shenzhen Dae Wins 2018 Best of Year Award for Outdoor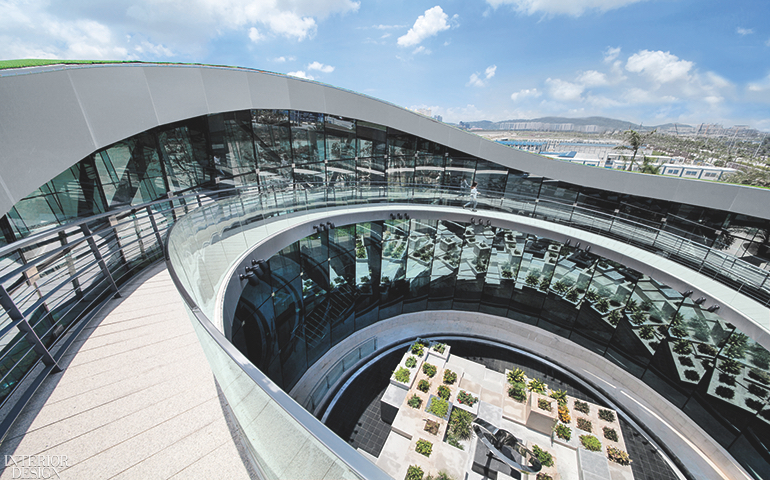 It's basically common knowledge these days that installing a green roof on a building helps reduce its energy use, absorb stormwater, and combat air pollution. This practice has become increasingly mainstream in hotter developed land masses known as urban heat islands. One such is Hengqin island, overlooking Macau. That's where this sculptural verdant roof tops an art exhibition hall. Read more
25. Six Futuristic Projects Sprouting Green Roofs
From reducing storm water runoff and city dust to energy-efficient cooling, the benefits of green roofing go beyond beautification. As costs lower and technology makes installation easier, this environmentally conscious trend is increasingly defining the facades of both existing and new buildings. A 660-foot-long undulating wave of verdant green grass forms a rooftop park at Université Paris-Est's technology and science center, the Espace Bienvenüe designed by Jean-Philippe Pargade. Read about all six green roofs
26. Kimpton Travels to the Caribbean
Amid the sea blues and sandy whites of this resort, there's a good amount of green, too: A solar array generates electricity, rainwater is harvested for maintaining the landscape, and air-conditioning is geothermal. Read more
27. Mortenhals House by Stinessen Arkitektur Wins 2017 Best of Year Award for Green
The unusual configuration of this family compound by Snorre Stinessen, comprising multiple cabins, plays with the way that the visitor slowly discovers what's hidden behind the wooden doors. Even the outdoor areas remain private, with only waterscapes or trees as neighbors. In addition to the aesthetic appeal of the design, it checks off all the eco-conscious boxes: The forest was protected during the building process, all wood was sourced locally, water is used with restraint, and electricity is primarily hydropower. Read more
28. HKS's Loretta Fulvio Decodes U.S. Bank Stadium, Site of Super Bowl LII
When designing for a Super Bowl–sized audience, there's no greater expert than Loretta Fulvio, lead interior designer for architecture firm HKS's Sports sector. When tasked with designing the U.S. Bank Stadium in Minneapolis, Fulvio and her team sought to create experiences that extend far beyond Super Bowl Sunday. In the stands, visitors can feel good about making a positive impact: 91 percent of waste is recycled, composted, or donated, due to the concession stands using compostable packaging. And the entire venue is run on wind power. Read more
29. San Vicente 935 by Lorcan O'Herlihy Architects Wins 2018 Best of Year Award for Rental Apartment Building
All apartments in this building have balconies overlooking the central courtyard. Its accessibility eliminates the need for interior, climate-controlled hallways, saving on energy consumption. For the solid faces, Lorcan O'Herlihy employed two materials that contrast each other for visual interest and also help to reduce scale. Siding is fiber cement made of recycled content. Screens, which act as a rain-shield system, are slats of ipe harvested from a local, sustainably managed forest. Read more
30. A Bamboo Kitchen Dominates This Super-Green House by Minarc
Built with prefab panels, this 2,500-square-foot structure by Minarc is sustainable to the max. Bathrooms overflow with eco consciousness. In the powder room, wood scraps stack up to form a vanity supporting a sink in recycled rubber. For a truly back-to-nature experience, right next to the soaking tub in the master bathroom, there's a lush plant wall. Read more