Cun Design Thinks Like a Client to Create Its Own Art-Filled Beijing Studio
When a firm designs its own studio, you might think it would be the perfect opportunity for creativity to reign—without the limitations set by demanding clients. But the reality is more complicated. Take the case of Cui Shu, who had decided to relocate his Beijing firm, Cun Design. "The project could not officially start," Cui notes "until we shook off our identity as designers and saw ourselves as the clients."
So he spent three months brainstorming with those clients, aka his 45-person staff, to determine what type of place everyone would like to work in. One wish list included a café on the ground level for regular caffeine fixes. Another designer felt that a workplace should have the feeling of a home. Cui ultimately came to the conclusion that the only way to address everyone's bucket lists was to think of the office not as a single entity but as a series of zones, each one its own mini universe.
He found ample space to do that at a site on one of Beijing's outermost ring roads—a onetime factory complex now home to a creative-minded redevelopment where neighbors would include shops and offices. "We liked the fact that it's an integrated complex, with businesses that operate 24/7," he says. After Cun Design leased one bay of a 40-year-old building there, Cui set about transforming it. The result needed to inspire hard work yet also be a place where events are held and where visitors can immerse themselves in Cun Design's oeuvre. "We tried our best to avoid the typical features of an office, hoping to bring in coziness and comfort," he says.
Myriad quirky objects play a major role in that effort, starting on the ground level. Right past the main entrance is a full bar, set beneath a partially mirrored ceiling that reflects a seemingly random assortment of motorcycle helmets, books, and framed photos. "I asked my employees to bring in their favorite personal belongings to individualize the space," Cui explains. "During the day, we host client conferences or have internal meetings here. And sometimes we organize evening activities or gatherings."
In his concept of distinct zones for the project, the ground level represents two important functions: to project the firm's image, for marketing purposes, and to encourage social interaction. There is a bar, including its own pantry. Then a kitchen, a café for coffee, and a pair of cigar rooms take up the remainder of this level. At the back, a white open staircase rises from a landing that also hosts a prime example from his collection of contemporary sculpture by a Beijing artist, Yang Tao—a squat, muscular human figure stands with an outstretched arm, from which dangles a small child. Suspended above is Cun Design's own artistic creation, geese playfully flocking around a Tyrannosaurus skeleton.
The staircase brings visitors up to a zone that serves as a transition between the splashy social venues below and the serious work areas to come. Designers often meet with outside contractors and suppliers in this intermediate space, which comprises the materials library, a conference room, and a slightly smaller meeting room styled as a tearoom, complete with teapots, cups, and bowls displayed on shelving inspired by a traditional Chinese moon gate. By cutting a rectangle out of the slab overhead, Cui could insert a transparent fish pond in the tearoom's ceiling. "When sun from the skylights on three shines through the water, a beam of light appears in the corner of the tearoom," he points out.
There was actually no accessible third level before Cun Design arrived. But because the building's vaulted roof soared 16 feet above the original upstairs, Cui was able to work it in. "We took advantage of the high ceiling to create a loft," he notes. That brought total square footage to 7,500. About half the floor plate on three, as on two, is occupied by an open studio, the real engine of the operation. Brick walls remain exposed, while a tree trunk with branches, suspended horizontally below the sky­lights, casts shadows that soften all the hard lines. Nearby, Cui's office suite boasts a private bath­room with a shower, a dressing room, and a separate staircase leading down to the tearoom. In front of the stairs sits a Bluetooth speaker in the form of a large red bulldog, wearing shades.
Arresting sculptures by Yang appear at every turn, from a ghostly Christ-like figure in a corridor to something that looks like a bright blue Tang dynasty horse in a restroom. "A space without art is cold," Cui says. "These pieces have become our friends." Displayed in a place of honor near the bar is a piece that turns out not to be art, however. It's optical equipment left behind by the factory's previous tenant—a visible connection bridging two worlds.
Keep scrolling to view more images of the project >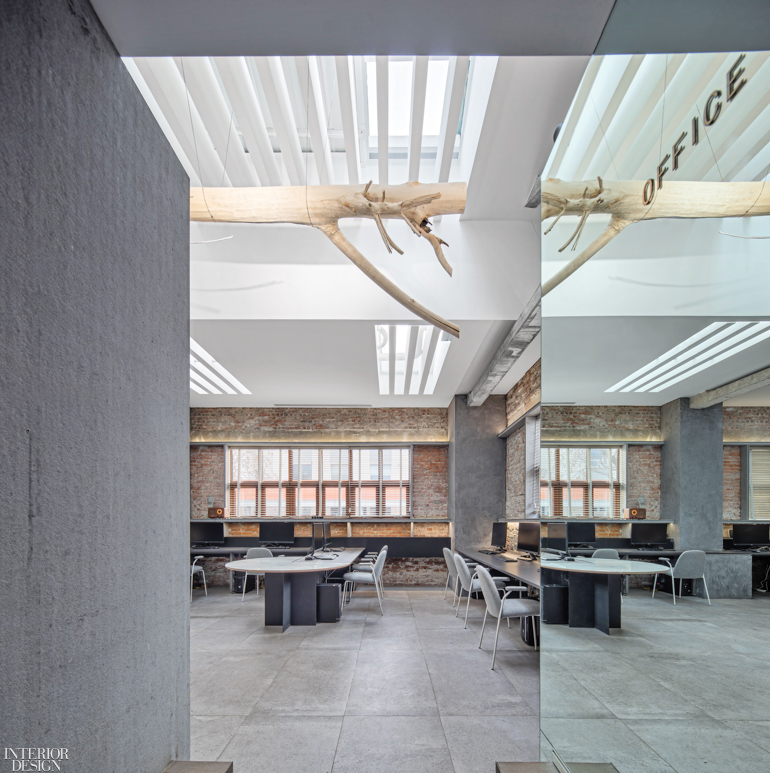 Project Team: Wang Jizhou; Miao Debao; Kong Weiqing: Cun Design. Beijing Xy­-
Creative Brand Consultant Co.: Custom Graphics. LD International Intelligent Technology (Beijing) Co.: Audiovisual Consultant. Shang­hai Iwoodstory Industrial De­velopment Co: Woodwork.
Product Sources: From Top: Jarre Technologies: Speaker (Office).